MDOCS Bundles up for Sundance
February 17, 2017
Emma Fristchel and Maryam Dewitt are students in "Festival Programming I" (fall 2016) and "Festival Programming II" (spring 2017) who attended Sundance Festival over winter break. Students learn about the history and practice of film festivals and media exhibition and have launched a Student Documentary Festival to coincide with the 2017 Storytellers' Institute Festosium, June 9–11. They report: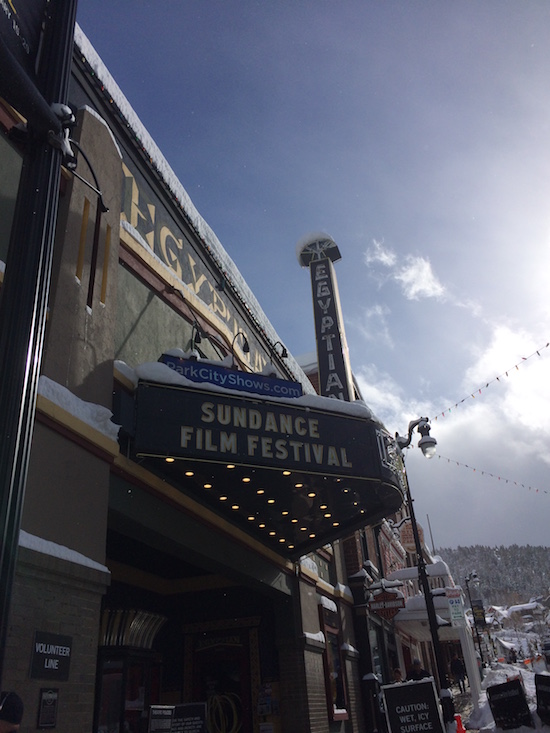 Each year close to 50,000 filmmakers, producers, media creators and film enthusiasts flock to the quaint ski town of Park City, Utah, for what is undoubtably the hub of all that is new in independent cinema, documentary, virtual reality and media work. For two weeks (plus many months of setup and break-down) the streets, restaurants and shops of Park City are transformed into experiential lounges and venues offering a dazzling and at times overwhelming array of activities, events and immersive once-in-a-lifetime moments. This year, MDOCS was fortunate to join in the scene and bring along two students from the inaugural "Festival Programming" course (parts I and II) to join in the flurry (pun intended) of excitement and gain some insight on how to program and run an A-list multimedia festival.
For first-time attendees, the vast number of panels, screenings, performances, networking gatherings and immersive lounges can be a bit overwhelming, but the team was fortunate to have along Salt Lake City native and instructor of the "Festival Programming" course Tom Yoshikami, who first attended the festival as a volunteer 20 years ago and has since returned many times with group of students. From the moment you step off the plane into the scenic beauty of the Wasatch mountain range, you are quickly swept up into the rush of waitlisting films and seeing and experiencing as much as you can pack in during your visit.
Read below for the accounts from both students who attended the trip:
Panel with documentary filmmakers at Sundance TV lounge
"After a cold, snowy, frost-bitten weekend, I can finally say, 'I went to Sundance.' I along with professors Tom Yoshikami and Jordana Dym, program coordinator Jesse Wakeman and fellow student Emma Fritschel had the opportunity to enjoy the first weekend of the 2017 Sundance Film Festival. We slid into this world of film critics, virtual viewers and anxious wait-listers very quickly. The first day of the film festival was spent in Salt Lake City, Utah, where we enjoyed the tastefulness of the Copper Onion restaurant and the premier of Generation Mars. It felt kind of like a big deal to sit front row on premiere night and not even be a major passholder.
"While the films presented at the festival were amazing, I found the networking, people-watching, and being an audience member at a few panels had the most impact on my experience. It allowed me the chance to hear from well-known and up-and-coming directors and actors and appreciate just being in an environment where everyone in one form or another shared the same interest for the digital world. I am very appreciative of this once-in-a-lifetime chance, to be able to have memories that include traveling with supportive staff and peers, getting on the wrong bus and having to trot through the snow, having anxiety about getting into events, running into old friends (including Storytellers' Institute 2015 Fellow Yvonne Welbon) and nervously asking questions of artists in the panels.
"Being awarded the opportunity to be submerged in such a mesmerizing, energetic and fruitful environment only made me more anxious to apply my experience to the "Festival Programming" class. I look forward to soliciting student work alongside my classmates, to help young storytellers get exposure and to return the feeling that Sundance gave to me: liveliness, motivation, familiarity and an overflow of opportunities.
"For some, Sundance is this glorified festival, to me it felt familiar and like home; like a place that has a place for everyone."
—Maryam DeWitt '18, social work
List of events at Sundance
TV lounge
"Before going to the Sundance Film Festival, I had only been to one other film festival before, DOC NYC, which I was able to attend during the first semester of the DS Festival Programming course. DOC NYC did not prepare me for the high energy and fast pace of Sundance. At Sundance, there was something to do every minute of the day. I constantly had to decide what screening, panel, event, or gathering I should attend. The film that I enjoyed the most was a documentary called Machines about a textile factory in India. As a fiber arts major at Skidmore, I am obsessed with textile production, so this film's subject was right up my alley. Although the film dealt with a serious issue, the shots and sounds were vibrant, intense and extremely beautiful.
"My favorite part of Sundance was the people. Everyone there is eager to talk to you, whether you're standing in line for a screening, waiting for the bus or sitting in a theater. I enjoyed meeting people from around the world who are involved in the film industry. Talking with the strangers I met helped me process the films with new perspective and exposed me to a new filmgoing experience.
"Attending Sundance made me appreciate the responsibilities of festival programmers. I didn't realize all of the different roles festival programmers play in organizing a festival. Being a festival programmer requires a lot of people skills, which is what I am most excited about this spring. I feel more prepared to program the MDOCS documentary festival after having gone to Sundance."
—Emma Fritschel '19, art
The group had a lucky run-in with documentary filmmaker and
Assistant Professor of English Cecilia Aldarondo at the shuttle stop.
Left to right: Maryam DeWitt, Jesse Wakeman, Tom Yoshikami,
Emma Fritschel, Cecilia Aldarondo