Community and Radio class visits Wave Farm
April 28, 2017
When Visiting Assistant Professor Adam Tinkle's "Community and Radio" class departed campus in the Skidmore minivan on April 25, the car was filled not with the sounds of an iPod or Spotify. Instead, the sound came over radio waves. Driving south, as radio signals faded in and out, the class was treated to a firsthand demonstration of the spatial nature of radio broadcasting.

The destination was Wave Farm, a nonprofit arts organization that facilitates and broadcasts transmission arts based in Acra, New York. As we approached the property, we tuned the radio to pick up Wave Farm's broadcasting frequency, WGXC 90.7, and we could sense we were close. The station was broadcasting a minimal and pensive piano composition unlike anything you'd expect to hear on mainstream radio.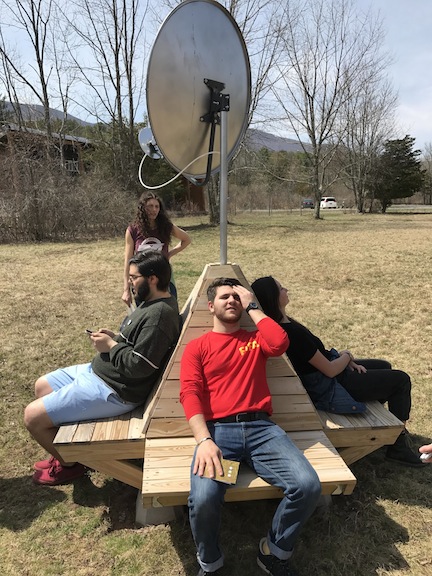 Wave Farm began in 1997 as a pirate radio collective called "free103point9." The low-power station engaged with performance and experimental sound, soon forming a community of artists who thought conceptually about transmission as a creative medium. The group was seminal in cultivating a practice of transmission arts, which they define as "a multiplicity of practices that engage aural and visual broadcast media, where in some instances works for traditional broadcast are created, and at other times artists harness, or create, transmissions for manipulation in live performance, installation and public interactive networks and tools."

In 2005, the group moved to a 29-acre farm where they could facilitate an artist residency program, host live performances and create a network of long-term outdoor installations.
When the class arrived at the Wave Farm property, there were children riding bikes and playing in the yard. We were greeted and given a tour of the property by Galen Joseph-Hunter, the executive director of Wave Farm and co-founder of free103point9. The grounds have a staggering amount of unique installations—such as an old school fire truck that transmits on AM and a synthesizer that creates sound based on weather readings.

The class was fortunate to meet one of the former artists-in-residence, Zach Poff, as he was making modifications to an installation he had built in 2015. The "pond station" is a device that floats on the surface of a pond on the property and transmits sounds from under the surface of the water 24 hours a day. Poff was in the process of making the station more turtle-proof, since some turtles had recently grown an appetite for the Styrofoam floatation.
After getting a glimpse of Wave Farm's unique organization and mission, the class headed east to Hudson, where the main studio space for WGXC is located. There the class met with the manager of the station, Lynn Sloneker, who spoke about WGXC's distinct programming structure and what it means to be a radio station by the community and for the community.

After the conversation, the class took some time to explore Hudson, piled into the car and trucked back up to Skidmore. The visit gave students an opportunity to witness a singular and experimental take on radio transmission and also how this approach can be effectively incorporated into community-oriented radio broadcasting.
Adam Simon '19 is a philosophy major who likes to play music with friends, spend time in nature and make his cat chase things on a string. He is fascinated by the social and emotional impact of storytelling and how this can be explored in abstract, experimental and personal ways.