"American Collision(s)" to interrogate "The Classless Society"
October 11, 2013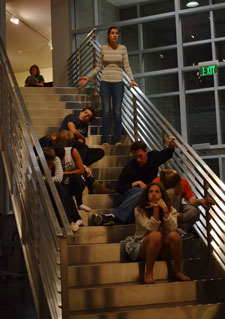 American Collision(s) cast in rehearsal. (Photo
by Aaron Ardisson)
The Skidmore College Department of Theater is partnering with the Frances Young Tang Teaching Museum to present American Collision(s) Wednesday thorugh Friday, Oct. 16 to 18.
Directed by Professor Carolyn Anderson, American Collisions is a site-specific interactive performance piece that responds to the current Tang exhibition The Classless Society. Actors and audience will physically move through themes of economics, race, class distinction, and ethnicity to explore what is the American Dream today. Said Anderson, "Creating work in the Tang is inspiring and at the same time perplexing...one is always challenged to dig deeper."
All shows are at 7 and 9 p.m. each day in the Tang. Admission is free but seating is very limited. Please call the Skidmore Theater Box Office at (518) 580-5439 or email for reservations.

[Feature (top) photo: Director Carolyn Anderson (right) rehearses the cast of "American Collision(s)," including Conor Mullen '14 (left), William Hoeschler '14, Sophia Lewis '14, Hallie Smythe '17, Jonathan Lemay '15, and Zachary Uslianer '14. Photo by Aaron Ardisson.]