Tang show probes issues of social class and the American Dream
September 27, 2013
Before you enter the Tang Museum's provocative new exhibition Classless Society, you'll be given the opportunity to vote "yes" or "no" in response to Steve Lambert's Capitalism Works For Me! True/False (2011), an electric sign positioned at the entry to the museum starting in October.
Also outside will be Mierle Laderman Ukeles' The Social Mirror (1983), where you'll see yourself reflected in a New York City Sanitation Department truck. It's a 20-cubic-yard garbage collection truck clad in hand-tempered glass mirrors made during the artist's six-year residency in the Department of Sanitation. It will be on display for the month of October.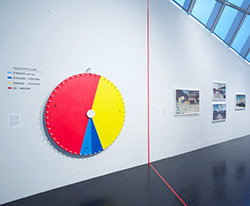 A "wheel of fortune" greets visitors
At the gallery entrance visitors have the opportunity to spin a large "wheel of fortune"— divided like a pie-chart to show the numbers of people in the lower income brackets in relation to the small sliver at the top of the heap. The wheel not only demonstrates income disparity in the U.S. but symbolically determines how much of the exhibition you would be permitted to see, if access were based on your station in life (color-coded tape marks the various sections of the show).
The Tang's Classless Society, which runs through March 9, 2014, questions how we think about class today in the current social and economic context, including the prospects for class mobility and the different ways that class is signaled and understood. Works of contemporary art and materials drawn from popular culture examine the nature of class, the viability of the American Dream, and the reasons why the myth of a classless society persist.
The exhibition is the latest collaboration between Skidmore faculty and Tang curators, who often come up with an idea for a show by asking a good question. For Skidmore economist Mehmet Odekon, that question was one that had nagged at him for much of his teaching career: Why can't students talk about class in the U.S.?
Odekon was surprised year after year to see how consistently students in his course "Economics of Income Distribution and Poverty" classified themselves as middle class. "Nobody seems to admit belonging to any other class," he says, and that also goes for the population at large. About three years ago it struck him as a question that might be explored with a Tang exhibition. He proposed the idea to John Weber, director of the Tang at that time, who had an abiding interest in social class in 20th century America. Weber jumped on the idea and serves as co-curator of the project with Odekon, English Professor Janet Casey and Tang Curator Rachel Seligman.
Casey has been fascinated by the persistence of the belief that American society is functionally classless, that anyone can move up the societal rungs to achieve the American Dream. "That's why immigrants come here," says Casey, "because they think there is a lot of mobility among the classes. But there is not."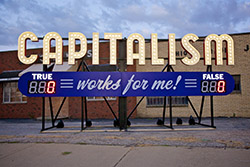 Steve Lambert's Capitalism Works For Me
The exhibition in sparking a lot of conversation on campus, with a number of Skidmore faculty incorporating it into their courses. Classless Society is a required "text" in many of the first-year Scribner Seminars and figures prominently in several courses in economics, English, and even theater, where students are developing a related performance to be offered within the exhibition in October.
Coming on the heels of the Great Recession—after which, says Odekon, "class divisions became sharper and sharper"—the topic continued to gain relevance as faculty and curators explored issues and artworks for the show. The resulting exhibition features a range of media, from the proud labor union quilts made from t-shirts to Chris Bruch's Roller Roaster (1985), a shopping cart laden with cooking utensils and a grill on which he roasted onions to hand out on streets near chic restaurants.
In his photography series Rich and Poor (1979-85), Jim Goldberg looks at the American Dream from both ends of the economic spectrum. Captions hand-written by the subjects expose some of those sharp class divisions: "We are a contemporary family. We don't want to be part of the masses. We want to live with style!" stands in contrast, for instance, to "No money means living in the pits."
In his video Vera (2003), Jason Simon trains a sharp eye on consumer culture through the candid revelations of a woman who is a compulsive shopper. Ward Shelley, in the commissioned piece Work, Spend, Forget (2013), plots the 20th-century shift from production-oriented capitalism to consumer-oriented capitalism, connecting people and social movements in a complex and evolving organism—one that notes the coining in 1940 of the phrase "American Dream."
Irving Norman's Meeting of the Elders 3 (1977), a large work in oil on canvas, offers an unsettling vision of capitalism wherein the greedy "haves" thrive on exploitation of the "have-nots." Like many works in the show, it is both visually compelling and unsettling.
Said co-curator Weber, "Some will find it controversial—hopefully. The system is not working for a lot of people, and that's very hard for a lot of Americans to think about, regardless of income."
For his part, Odekon hopes people from across the economic spectrum who view the exhibition "come out feeling they have something in common," and think and talk about what class means in American society today and what the future may hold for the American Dream.
A detailed interactive web resource, available at computers in the exhibition and online from the Tang website, explores class across a number of parameters—income, education, ethnicity, geography, kind of work—offering mini-essays, charted data, and powerful audio and video clips from last spring's Classless Society Stories Project at Skidmore, as well as a place for visitors to offer their own comments. There is also a loop of film clips (think "9 to 5," "Norma Rae," and "Good Will Hunting") and a display of magazines as artifacts of taste and economic power.
The exhibition includes work by Benny Andrews, Tina Barney, Cris Bruch, James Casebere, LaToya Ruby Frazier, Jim Goldberg, Derrick Jones, Steve Lambert, Nikki S. Lee, Peter Liversidge, Mark Lombardi, Irving Norman, John O'Connor, Michael Patterson-Carver, Doug Rickard, Aminah Brenda Lynn Robinson, Ward Shelley, Jason Simon, Mierle Laderman Ukeles, and Carrie Mae Weems.
Classless Society is organized by Janet Casey, professor of English, Skidmore College; Mehmet Odekon, professor of economics, Skidmore College; Rachel Seligman, assistant director for curatorial affairs, Tang Museum; and John Weber, former Tang director and now founding director of the Institute of the Arts and Sciences, UC Santa Cruz. The exhibition is supported by the Andrew W. Mellon Foundation and the Friends of the Tang.
The following events are free and open to the public:
-Oct. 16-18, 7 p.m.and 9 p.m.—American Collisions, performed by Skidmore theater students, based on and set in the Classless Society exhibition. Reservations required; call the Bernhard Theater box office at 518-580-5439 or email box-office@skidmore.edu
-Oct. 19, 5:30-8 p.m.—Fall exhibitions reception
-Nov. 13, noon—Curator's tour of Classless Society
The Tang Museum is open noon–5 p.m., Tuesday–Sunday, with extended hours through 9 p.m. on Thursdays, and is closed on Mondays and major holidays. For more information call 518-580-8080 or visit the Tang web site here.