Leading lights
January 21, 2016
Students become Innovation Fellows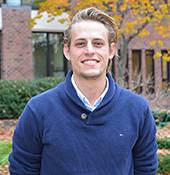 Henry Fabre '16 (photo byRebecca Fawcett '18)
Entrepreneurs Henry Fabre '16, Alexander Nassief '16, and Weston Stewart-Tennes '17 completed a six-week program to become Skidmore's first-ever University Innovation Fellows. UIFs are selected by the National Center for Engineering Pathways to Innovation, aka Epicenter, which is funded by the National Science Foundation and directed by Stanford University and VentureWell. Epicenter training prepares students to inspire their peers and collaborate with faculty and administrators to increase their campuses' engagement with entrepreneurship, creativity, and design thinking—to help students "gain the knowledge, skills and attitudes required to compete in the economy of the future and make a positive impact on the world," according to Epicenter.
Alexander Nassief '16 (photoby Phil Scalia)
Sponsored by faculty member Cathy Hill, Harder Professor of Business Administration, the three Skidmore students are determined to "create channels to develop and expose entrepreneurial endeavors and hopefully incite an innovation and entrepreneurship revolution." See their video pitch here.
Hill says each of the students came to her separately, looking for "ways to encourage entrepreneurship on campus. Even as undergraduates, they are each starting companies and making their ideas real."
Fabre was on a team that won second place in Skidmore's Freirich Business Plan Competition and in a New York State business contest; their Klicka enterprise aims to bring Internet connectivity to Limpopo, South Africa. Nassief also won a Freirich Contest prize, as part of the Rum Dogs team that ages its liquor in casks sunk in the Caribbean. Stewart-Tennes is a computer science major who has worked on three startups and has taken part in Design & Innovation for Sustainable Cities.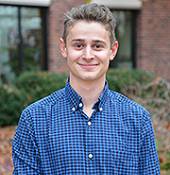 Weston Stewart-Tennes '17 (photo by Rebecca Fawcett '18)
As University Innovation Fellows, the three propose an innovation lab, either an actual space on campus or an online forum, where students in all majors can collaborate on ideas, test prototypes, and realize projects—for example, they say, "computer science majors mapping dance moves, theater majors acting out the brain with neuroscience majors, and artists creating from biology." A second idea is an annual expo to showcase student work not just to faculty and students but also to potential business investors. And they suggest energizing and uniting the entire student body with "a collegewide collaborative assignment" such as learning about a pressing problem in the world and then developing ideas, preferably in interdisciplinary teams, for a solution. They say, "We are hopeful that aside from the institutional gains from this exercise, students may provide intelligent solutions to current problems and actually make a difference."
Fabre, Nassief, and Stewart-Tennes join this year's 147 other University Innovation Fellows from 51 other colleges. Social media, conferences, and other Epicenter communications venues help keep them collaborating with mentors and each other. Over the past four years, Epicenter has trained 450 fellows at 130 institutions.