Jazz Institute brings top names
June 23, 2016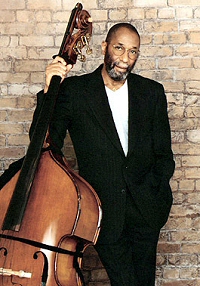 Ron Carter
The renowned Skidmore Jazz Institute is in full swing (ahem!), with rehearsals, lessons, and public performances in the next few weeks.

Kicking off the institute's popular concert series is Ron Carter, a Grammy Award-winning bassist featured on more than 2,000 albums with such greats as Tommy Flanagan, Lena Horne, B.B. King, and the Kronos Quartet. Another guest performer and recent Grammy winner, pianist Bill Charlap has worked with the likes of Phil Woods, Wynton Marsalis, Tony Bennett, and Barbra Streisand.

Skidmore's Jazz Institute is directed by bassist Todd Coolman, leading a faculty of world-class performers. Along with coaching 61 students this year in combo rehearsals, private lessons, and other classes, the faculty forms two septets featured in the concert series. The students [video from last year] perform on Friday afternoons and will attend the Freihofer's Jazz Festival at the Saratoga Performing Arts Center on June 25–26.
Bill Charlap
Public concerts (below) are held in the Arthur Zankel Music Center. Admission is $8 for adults, $5 for seniors and Skidmore community members, and free for students and children; the institute participants' concerts are free for all audiences. Tickets are available here.

Tuesday, June 28, 8 p.m.: Ron Carter Golden Striker Trio, with Donald Vega (piano) and Russell Malone (guitar)

Thursday, June 30, 8 p.m.: Faculty Septet, featuring Scott Wendholt (trumpet), Jimmy Greene (saxophone), Michael Dease (trombone), Bill Cunliffe (piano), Vic Juris (guitar), Doug Weiss (bass), and John Riley (drums)

Friday, July 1, 1 p.m.: Institute Participants

Tuesday, July 5, 8 p.m.: Bill Charlap Quintet, with Peter Washington (bass), Kenny Washington (drums), Warren Vaché (trumpet), and Houston Person (saxophone)

Thursday, July 7, 8 p.m.: Faculty Septet, featuring Jon Faddis (trumpet), Gary Smulyan (saxophone), Michael Dease (trombone), Jeb Patton (piano), Paul Bollenback (guitar), David Wong (bass), and Kenny Washington (drums)

Friday, July 8, 1 p.m.: Institute Participants

Full Jazz Institute information is here.