Colbert bandleader on campus
May 1, 2017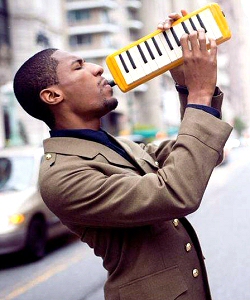 Jon Batiste
Jon Batiste, bandleader for Stephen Colbert's Late Show, will perform with his band Stay Human at Skidmore, capping this year's Stewart's Signature Series. The July 6 concert at the Arthur Zankel Music Center will begin at 8 p.m. Tickets, $30 each, can be ordered here. All proceeds will benefit the McCormack Skidmore Jazz Institute Scholarship Fund.

"Jon was a student at the Skidmore Jazz Institute in the summer of 2004," notes Todd Coolman, who directs the institute. "And Joseph Saylor, a Stay Human bandmate, was also a former student. Having Jon and Joe here as guest artists for the 30th anniversary of the Jazz Institute is especially meaningful."

Jon Batiste, a Juilliard-trained pianist who often plays a hybrid harmonica and keyboard instrument, is artistic director at large of the National Jazz Museum in Harlem and recently received the American Jazz Museum's Lifetime Achievement Award. His albums include My N.Y., Jazz is Now, and the Billboard- and iTunes-topping Social Music.