Cracking open commercial art
August 17, 2017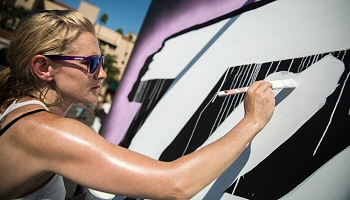 Annica Lydenberg '00
Having studied typography at Cooper Union and apprenticed in sign-painting in San Francisco, Annica Lydenberg '00 uses computer, chalk, paint, pen and ink, and screen printing to help companies with campaigns, branding, murals, and other projects. She has guided Sprout baby food and smoothies through a packaging redesign, painted messages on bathroom scales for Weight Watchers, and much more. She also teaches workshops and sells her art on Etsy.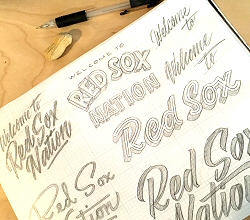 When did your passion for art and design begin?

Always ... I drew or painted on everything I could get my hands on from a very young age.

How did the beer-can project come about?
Some friends I met while painting abroad were asked to help curate artists for Anheuser-Busch's "My Team Can" series, and they recommended me. At first I was asked to do the Yankees can and I politely said no; you can't grow up in Boston and then design a can for the Yankees. I asked if I could do the Red Sox instead, and they were totally accommodating.

What are your favorite professional projects?

I love projects that provide some sense of community and support. I painted a mural with a friend in New Zealand as part of Seawalls, a project to raise awareness of the issues our oceans are facing. I also got to design a cookbook for classmate Ben Sargent '00 called The Catch, which was really exciting to see come to light.

What's a favorite memory from Skidmore?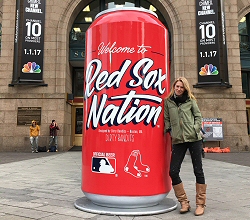 An afternoon outside of Case Center with my friend Samantha, playing on a plastic, battery-powered guitar we borrowed from a random music major called One Man Jam2; it played samples and beats, and we laughed until we cried.

Though I was an art major, one of my favorite classes was Professor Roy Meyers's "Biology of the Mind." I am fascinated with how the brain works, and this class was beyond captivating.

Any advice for Skidmore students?

The point of school isn't exactly what you learn; it's learning how to learn. So do that, because it matters. Even if the actual information never becomes relevant to your professional life, the skills of showing up, paying attention, and listening in a meaningful way will always be relevant.