Six gold medals in a row for Skidmore chefs
June 15, 2018
Skidmore College's dining services team recently earned its sixth consecutive gold medal for culinary excellence in an American Culinary Federation sanctioned competition June 8 at the University of Massachusetts Amherst. The event was a highlight of the 24th Annual Chef Culinary Conference,a premier gathering for high-volume kitchens and campus chefs.
The competition pitted Skidmore against 14 colleges and universities from throughout the northeast including UMass Amherst, Yale University, Pennsylvania State University and the University of Connecticut.
Each four-person team was challenged to create original meals from identical ingredients under strict time and style limitations. Teams do not know what the menu or ingredients will be in advance.
Read more creative thoughts behind Skidmore's culinary gold
Skidmore chefs Joe Greco, Stephen Fields, Joe Waldron and Chris McGilpin led their team through the competition by preparing a four-course meal for a panel of eight certified master chefs.
The Skidmore team's efforts earned the highest total points to garner a gold medal, a testament to the chefs' talent, motivation and preparation.
Skidmore Director of Dining Services Mark Miller says he was very proud of the Team that competed this year. He was especially happy for senior cook Joe Waldron whose team narrowly missed out on gold a number of years ago and was able to "get his cooking revenge." Miller is also excited for Chris McGilpin, who joined the culinary team about a year ago and had the opportunity to compete for the first time.
How does Skidmore keep winning gold? Says Miller, "We're passionate about food and we have a great team here on campus. There's no question about it. But we take these competitions seriously. We practice in advance on mystery market baskets, so that we are well-versed in how to create a menu. Among other things, we practiced on a variety of fish, a rack of lamb, pork, and exotic fruits, all of which happened to be on the menu."
Another aspect of the culinary competitions is that only butane burners (like the ones you see at a catering bar) can be used on three of the four courses. Thus, chefs need to be well-versed in how to poach, boil, sautée, braise and pan-sear, according to Miller. An oven is only available if you decide to make a dessert.
And what were the gold medal-winning dishes the Skidmore chefs created?
First course: Pan-seared, hazelnut-dusted monkfish, Mediterranean style
Israeli couscous salad with watercress, warm, shaved vegetable and watercress toss with pancetta dressing, smoky red-bell pepper-hazelnut romesco sauce.
Second course: Pan-roasted, aromatic herb-encrusted Colorado lamb ribeye
Yukon-shitake croquette, sautéed broccoli rabe, Yukon puree, gingered tomato vinaigrette
Third course: Fruited dacquoise
Fruited dacquoise with Italian buttercream, hazelnut ganache, fresh apricot sauce.
Fourth course: Sautéed pork medallions with herbed Dijon pan-sauce
Warm-grain medley, braised beluga lentils, haricot vert with crispy pancetta, herbed Dijon pan-sauce.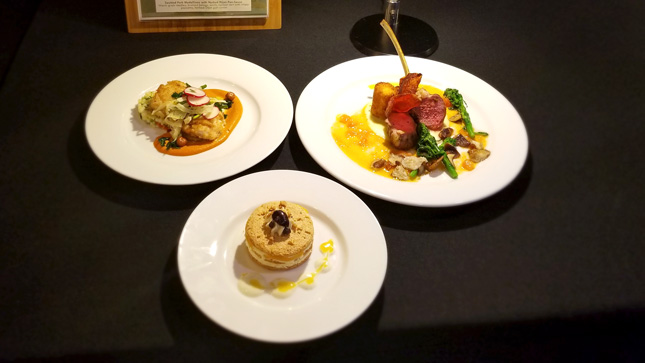 Miller says that Skidmore Dining Services first started entering culinary competitions 12 years ago and that the first year only three chefs volunteered and he had to encourage a fourth person to step forward. This time around, 14 chefs signed up for four slots.
It's not really a surprise, then, that Skidmore dining services produces some of the best college food in the nation. Several years ago, Business Insider picked Skidmore as the seventh best college food and Niche.com gives Skidmore food an A+ and a top-30 ranking.
As student blogger Brian Allan says, "This might seem cliché, but it's true. If you're a student here, you know that our dining hall is pretty amazing."