Your guide to Commencement 2019
May 8, 2019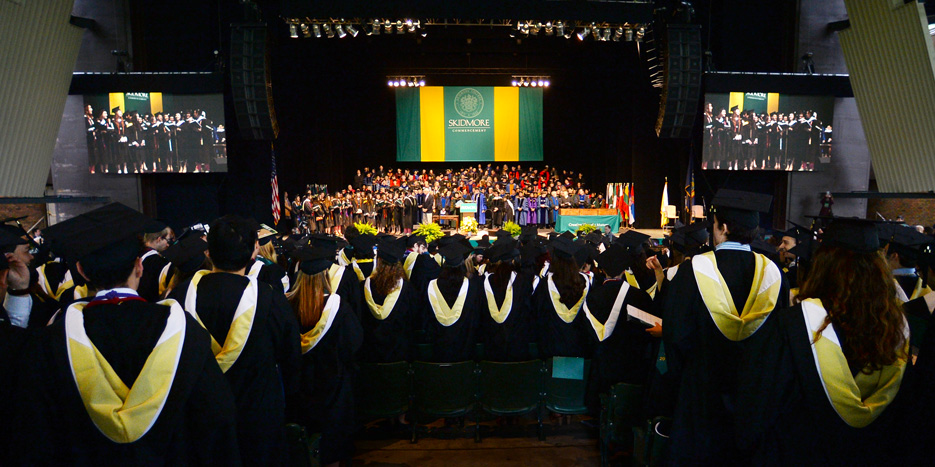 More than 600 members of the Class of 2019 are receiving bachelor's degrees at Skidmore's 108th Commencement Exercises on Saturday, May 18. The ceremony, which is open to the public, begins at 10:40 a.m. at Saratoga Performing Arts Center.
HONORARY DEGREES AND SPEAKERS
Skidmore is awarding honorary degrees to two distinguished guests: author Alan Lightman and baseball Hall of Famer Joe Torre. Lightman and Torre will also address the graduates.
In keeping with tradition, a faculty member chosen by the graduating class will also speak. This year, Kristie A. Ford, professor of sociology and director of Skidmore's Center for Leadership, Teaching and Learning, has been selected.
Read more about our honored speakers
President Philip A. Glotzbach will address the graduates and their guests, as will Nigel Smith, president of the Class of 2019, and W. Scott McGraw, chair of the Skidmore College Board of Trustees.
ATTENDING COMMENCEMENT
Here are a few tips for those attending the event:
Timing
SPAC's gates open at 8 a.m., but if you try "saving" amphitheater seats with jackets or other articles, staff will remove them. The opening processional requires clear pathways, so all audience members must be seated by 10:30 a.m.
Getting there
Use the Route 50 SPAC entrance for parking. On the grounds, security officers and volunteers will help usher everyone to their seats.
Here are more detailed directions.
Tickets
Tickets are not issued or required.
Mobility and hearing accommodations
Seating for persons with mobility impairment is available (up to three per party) in a designated section of the amphitheater. For your convenience, there is also a mobility-impaired drop-off point just stepsfrom the amphitheater.
The ceremony is presented in sign language and listening headsets are available upon request for personal amplification.
If you have not already requested arrangements for mobility or hearing needs, please contact the Office of Alumni Relations and College Events at 518-580-5669.
Photography
Photos may be taken at any time, but only from your seats. A third-party photography service snaps each of the graduates as they receive their diplomas and will invite grads to purchase photos by email.
Gifts and roses
Don't miss the pop-up Skidmore Shop set up at SPAC for Skidmore apparel and gifts for mom, dad and grad. Bouquets are available for purchase on the SPAC grounds, no pre-ordering necessary.
Check out the Commencement map for the location.

Brrr...
The amphitheater is covered but not enclosed. Even on a hot day it can be quite chilly. Dress in layers and maybe plan to bring or buy a blanket at the Skidmore Shop pop-up.
Packing
Guests can bring soft-sided coolers, umbrellas, binoculars and strollers, but not alcohol, pets or bikes. See the full list of dos and don'ts here.

Online viewing
Have friends or relatives who can't attend? Skidmore will simulcast Commencement in its entirety. To view the livestream, go to www.skidmore.edu or visit the College's official Facebook page. The show starts at 10:40 a.m.
Departure and reception
The ceremony typically ends by 1 or 1:30 p.m. and is followed by a reception at Murray-Aikins Dining Hall on campus. Graduates, families, friends, faculty and staff are invited to attend.
Questions?
Friendly helpers, at the information table and roaming with Skidmore nametags, can render aid for just about any problem on site.
For detailed information and FAQs, visit the Commencement website.