Skidmore announces 2019 Commencement speakers
March 8, 2019
Skidmore College will bestow honorary degrees upon "Einstein's Dreams" author Alan Lightman and baseball great Joe Torre during the College's 108th Commencement Exercises Saturday, May 18, at the Saratoga Performing Arts Center in Saratoga Springs, New York.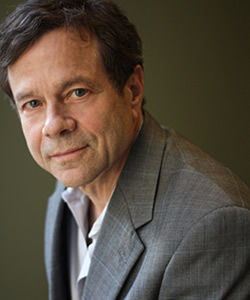 Skidmore will recognize Lightman's distinguished career as a writer, educator, physicist and social entrepreneur. Lightman is professor of the practice of the humanities at the Massachusetts Institute of Technology and the author of multiple books, including "Searching for Stars on an Island in Maine," "In Praise of Wasting Time," "The Accidental Universe" and "Einstein's Dreams." "Einstein's Dreams" was selected as the Class of 2019's First-Year Experience reading assignment and informed engaging discussions regarding the relationships between people and time. Lightman also visited Skidmore's campus in fall 2015.
Skidmore will honor Torre for an extraordinary baseball career, during which he was a nine-time All-Star, the 1971 National League MVP, a celebrated manager with four World Series wins and a respected MLB executive. In addition to his impressive baseball career, Torre overcame personal adversity and childhood trauma and has used his experience to help others by establishing the Safe at Home Foundation and Margaret's Place, organization that help children affected by domestic violence.
"Skidmore College is excited to welcome Joe Torre and Alan Lightman to our 108th Commencement exercises," said Skidmore College President Philip A. Glotzbach. "Mr. Torre's lifelong pursuit of his passion and service to others is an example for Skidmore students as they contemplate their paths after graduation. Dr. Lightman's efforts to bridge the sciences and humanities also inspire our Skidmore community. Both embody the meaning of Creative Thought Matters, and we are honored to bestow upon them honorary degrees."
Kristie A. Ford, professor of sociology and director of Skidmore's Center for Leadership, Teaching and Learning, has been selected as the 2019 Skidmore faculty Commencement speaker. Ford's academic research focuses on race and ethnicity, gender and sexuality, and social justice education. She is also the founder of the Intergroup Relations Program at Skidmore.
Ford, Lightman and Torre will each address the graduates.
Skidmore College Board of Trustees Chair W. Scott McGraw and Class of 2019 President Nigel Smith will join President Glotzbach and the speakers in offering their congratulations to the 2019 graduating class.