"Pack the Rink" with passion, it's tradition
November 18, 2019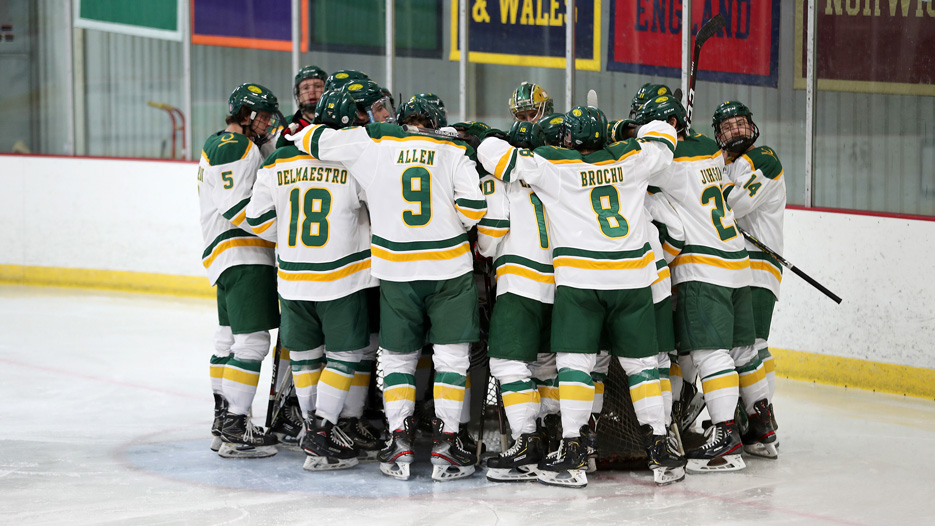 Austin Rook is an accomplished member of the men's hockey team. But, for the sophomore studying economics and business, coming to Skidmore has meant something else, too — becoming "more than just a hockey player."
"I grew up with one label for myself — hockey player. But being here, I'm that plus so much more. Now, I'm a hockey player plus an economist, plus a business consultant, plus a volunteer, plus a mentor."
Those "pluses" are a common theme for many Skidmore student-athletes. Excelling in the classroom is one feat, but to do so in the community and on the court, field — or in this case, ice — is equally challenging.
For the members of the hockey team, there's a big night each year, Pack the Rink, when the people who have witnessed their many "pluses" and talents — their professors, Saratoga Springs neighbors, family and friends — come out to fill the stands with green and yellow.
Pack the Rink is a Skidmore tradition. It started in 2010 to celebrate the start of the Thoroughbreds' winter season and draw students, and soon-to-be fans, to a hockey game. Over the years, it's evolved to represent so much more.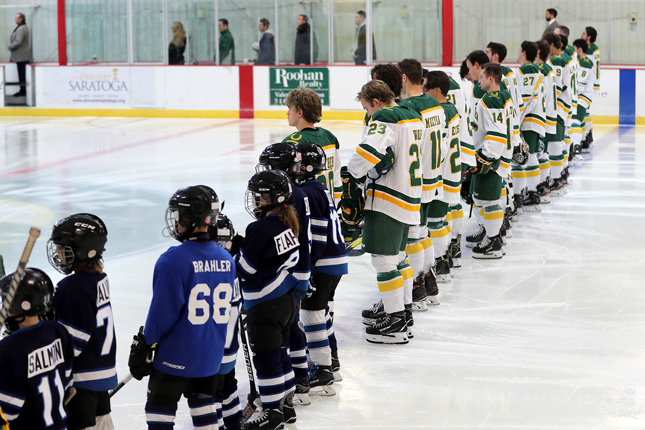 Saratoga Youth Hockey Mites join the Thoroughbreds for the national anthem during Pack the Rink 2019.
"There's something special about playing in front of that many people, representing your college but also embodying something bigger," said Matt Wolf '20, a senior team captain studying psychology and business.
Fellow captain Rook shares the sentiment. "We tell ourselves it's just a game. But, we all know deep down that Pack the Rink is about more than just hockey. It's about our community," he said. "Skating off the ice into a crowd of people I never expected, and a line of little kids who dream of playing hockey like me someday — that's pretty special."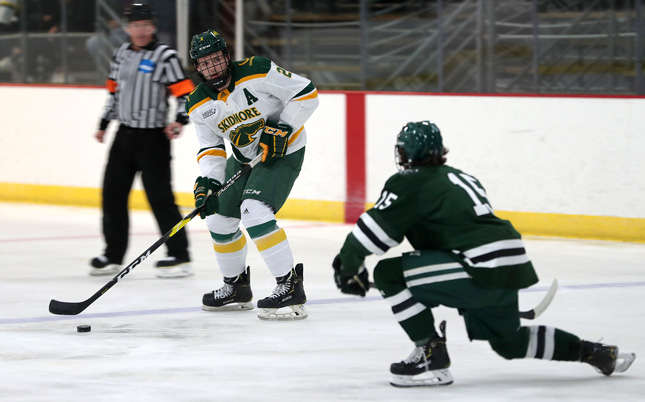 Austin Rook on the ice in New England Hockey Conference action against Castleton University during Pack the Rink. The game ended in a 2-2 tie.
Competing in one of the most challenging conferences in the country and finishing last year as a Top 25 team mean an exciting game for Pack the Rink. Add a near-capacity crowd and you get that goosebumps-triggering, head-to-toe thrill that electrifies an arena.
"The quality of the game is fantastic," said Coach Rob Hutchison '07. "We have a hidden gem here with Division 1-quality players in a small arena surrounded by a passionate community. It's exhilarating."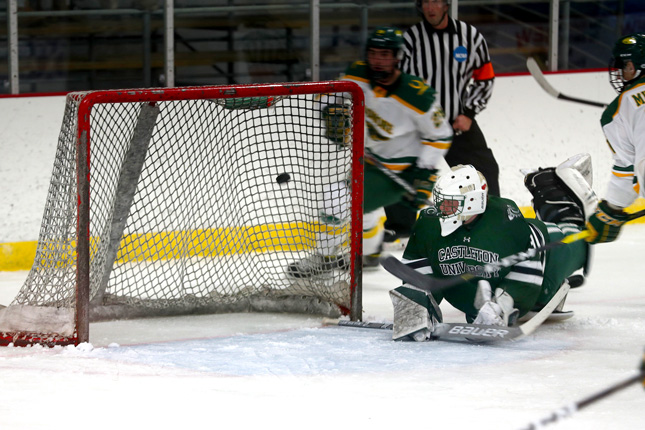 Matt Muzyka '21 sends the puck into Castleton's net with help from Matt Rutigliano '23 and Matt Wolf '20.
But the energy is fueled by more than just competition. Grateful community members — from Saratoga Youth Hockey Mites, Squirts and Peewees to representatives from the many nonprofits the team donates their time to — sit side by side with awe-struck professors and Skidmore staff members.
The event also features a canned food drive that collects hundreds of items for Skidmore Cares, a program that delivers thousands of critical items to local people in need.
Altogether, the many community touches make for a special dynamic.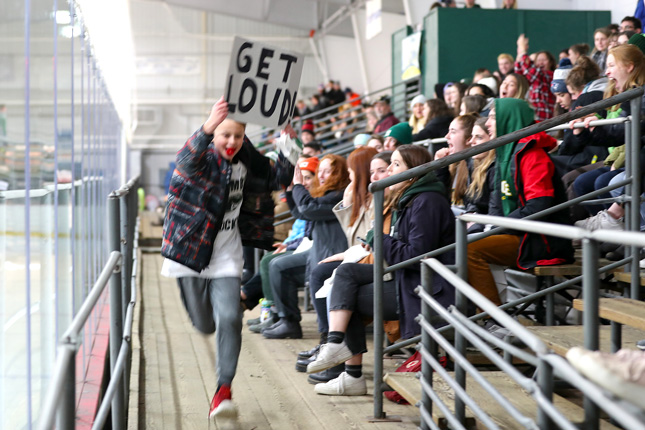 A young fan rallies the crowd as the game heads into overtime.
"All of the people who come feel personally connected to the players. And you can feel it," said Flagg Taylor, associate professor of political science and Periclean Honors Forum director. "The Saratoga people who come, their kids play hockey and look up to these guys … and I see all kinds of Skidmore people bring their whole families in Skid swag just to support the players."
If you see Taylor in the stands at Pack the Rink, or any hockey game for that matter, odds are Marc Woodworth '84, associate editor of Skidmore's Salmagundi Magazine and a lecturer in the Department of English, will be seated close by. The two are part of a dedicated faculty fan base supporting the program year after year.
What student-athletes bring to Skidmore is not only great skill in their sport but a lot of character, a strong work ethic and a wide-range of talents beyond those that define their roles as players.

Marc Woodworth '84
"These students are multidimensional, and it's rewarding to watch them succeed on all fronts, in all their passions, and certainly to celebrate them at the rink," he said.
Pack the Rink is rewarding for Woodworth for another reason, too: The Class of 1984 Skidmore alumnus once donned the Skidmore uniform on the ice himself.
"The Skidmore hockey you watch today is the program we used to dream about back when it began. And it's even more gratifying to see events like this one grow and provide a way for this community to show how much they care about these guys, and give them a crowd to play for," he said.
Skidmore students, fans and friends root for the T-breds in a near-capacity crowd.
Above all, Pack the Rink is about school spirit, the students and the athletes, including all of the fellow Thoroughbreds — basketball, lacrosse and baseball players, golfers, swimmers, riders and more — who bring the noise.
So, mark your calendars for a home game next year at the beginning of the hockey season. Then, grab your Skidmore yellow and green, your neighbors and fellow sports fans and get ready to cheer for the T-breds because it's Pack the Rink, and it's tradition.