Faculty-Staff Achievements, Feb. 18, 2014
February 18, 2014
Awards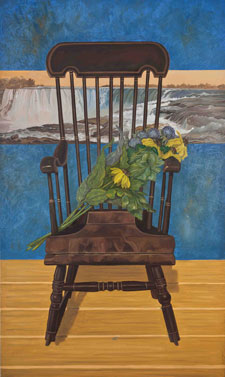 Portrait of Chair with Wildflowers and
Frederick Church's Horseshoe Falls, Niagara
(1856-57), 60 in. by 36 in., oil on canvas (2011),
Doretta Miller.
Doretta Miller, professor of studio art, received "Best of Show" at the 2013 Arkell Annual Juried Art Show, Canajoharie, N.Y. The exhibition took place Dec. 6, 2013 thru Jan. 31, 2014. Best of Show award includes a One-Person Show at the Arkell Museum and Canajoharie Library in October 2014. Ruth Daly, interim associate director of the Opalka Gallery at Sage Colleges, served as judge for the show.
Skidmore was recognized for initiatives in student recruitment and alumni relations by the Council for the Advancement and Support of Education at its district conference Feb. 10 in Baltimore.

"The Skidmore Mind," (also known as the brand book) won a Gold Award in the Visual Design in Print: Publications category, and an honorable mention in the Student Recruitment: Individual Print Pieces category. Peter MacDonald, director of recruitment marketing, and Mary Parliman, director of publications and design services, oversaw the design and production of the publication, which was sent to all accepted candidates in March 2013.
"Skids on the Loose," the alumni/student photo challenge, received honorable mention in the Best Practices in Alumni Relations category. Jessica Cellini, assistant director of alumni affairs and college events, and Daniella Nordin, social media manager, collaborated on the challenge, which was featured on the College's Facebook page.
Activity
Anne Zwick Turner, senior artist-in-residence in voice, traveled for two residencies within the past year. In January she visited Oakland University in Auburn Hills, Mich., where she presented two master classes and two lecture-presentations on opera. Last April, she went to Washburn University in Topeka, Kan., where she presented a master class and adjudicated a vocal competition at Kansas City Lyric Opera.
Publications
David Domozych, professor of biology, was lead author of a paper titled "Disruption of the microtubule network alters cellulose deposition and causes major changes in pectin distribution in the cell wall of the green alga, Penium margaritaceum," published in the February edition of the Journal Experimental Botany, Vol. 65. In addition to co-authors from the University of Copenhagen, Cornell University and the National University of Ireland were Skidmore graduates Carly Sacks and Hannah Brechka, both Class of 2012. Sacks is currently pursuing a PhD in plant biology at the University of North Carolina and Brechka is PhD student in cancer biology at the University of Chicago.
Stephen J. Ives, assistant professor of health and exercise sciences, is a co-author of the article "Vascular Dysfunction and Chronic Obstructive Pulmonary Disease: The Role of Redox Balance," published in Hypertension, Vol. 63, 2014 (American Heart Association); and referenced in an editorial commentary in the same issue.
In addition, he is a co-author with former colleagues at the University of Utah (where he earned a Ph.D. and completed a post-doctoral fellowship) of "Exploring the Vascular Smooth Muscle Receptor Landscape In Vivo: Ultrasound Doppler vs. Near Infrared Spectroscopy (NIRS) Assessments." The research was published in the American Journal of Physiology, Vol. 4, Jan. 17, 2014.
Ela Lepkowska-White, associate professor of management and business and director, International Affairs, and Katherine Imboden '13 published their research on the "Effective Design for Usability and Interaction: The Case of Art Museum Websites" in the Journal of Internet Commerce. Vol. 12, No 3. Imboden, who now works with Nielsen Holdings, conducted this research during her thesis studies with Lepkowska-White in 2012-2013.
Denise L. Smith, professor of health and exercise sciences, and Pat Fehling, professor and chair of health and exercise sciences, have published a paper titled "Effect of base layer materials on physiological and perceptual responses to exercise in personal protective equipment" in Applied Ergonomics, Vol. 45, Issue 3, May 2014. Logan Arena '11, Jacob DeBlois '10, Eric Hultquist '11, Wesley Lefferts '11, Tim Russell '12 and Annie Wu '12 worked on the study as part of summer collaborative research and are coauthors on the paper. The study was supported by a research grant from the Department of Homeland Security through a Federal Emergency Management Agency Assistance to Firefighters Grant.
In the News


Ju Money 2014 (detail), Sang Wook Lee.
Sang Wook Lee, associate professor of art, was interviewed by The Daily Gazette for an article about his current solo exhibition titled "Ju Money 2014," on display through March 30 at the Arts Center of the Capital Region. The image at left is one of two site-specific works created for the exhibition. "Ju Money 2014" is inspired by the traditional Korean costume "hanbok" and the small pouches, or "bokjumoney," associated with it. These small pouches carried by children to collect red beans, and now money, provide a symbol of good will for the New Year.

Jeffrey Segrave, professor of health and exercise sciences, was a source for "Games on guard: Fear of attack always present at Olympics in volatile region," published Feb. 11 in The Daily Gazette.

Gordon Thompson, professor and chair, Department of Music, was interviewed on several programs about the 50th anniversary of the arrival of the Beatles, including WAMC's "Roundtable" by Joe Donohue (Feb. 12), WNCE-TV's "Look News Top Stories" by Jesse Jackson (Feb. 11), and CBC's "The Bridge" by Bob Steele (Feb. 6). He was also a source for Bob Goepfert's "Presentation Commemorates the Beatles as a Cultural Phenomenon," published Feb. 6 in The Saratogian.

Please send submissions to Andrea Wise, Office of Communications.