Faculty-Staff Achievements, Sept. 15, 2014
September 15, 2014
Awards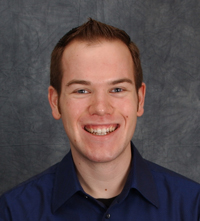 Joe Murphy
Joe Murphy and Anna Morreale, members of the residential life staff were recognized at a regional professional meeting earlier this year. Murphy, area coordinator, Office of Residential Life, was the 2014 recipient of the Outstanding Service Award at the Northeast Association of College and University Housing Officers (NEACUHO) annual conference May 28-31 at Bridgewater State University in Bridgewater, Mass. The award recognizes an individual who has most significantly contributed to the NEACUHO organization during the past year. Murphy was cited for his financial management, transparency, attention to detail, and diligence to behind-the-scenes operations. Morreale, area coordinator, Office of
Anna Morreale

Residential Life, was the 2014 recipient of the Rising Star Award at the NEACUHO annual conference. This annual award, in the form of reimbursement, is given to a new professional for the purpose of attending his/her first Association of College and University Housing Officers-International (ACUHO-I) annual conference and exposition. Funding is intended to defray registration, lodging, meals, and travel expenses (up to $1,000). This honor is sponsored by ACUHO-I.
Activities
Regina Janes, professor, Department of English, chaired the session on "The Anglo-Scottish Union of 1707," Aug. 1 at Queen Anne Is Dead! A conference to commemorate the tercentenary of the death of Queen Anne, Goldsmith's College, University of London.
Cathy Silber, visiting assistant professor of Chinese, Department of Foreign Languages and Literatures, co-presented a pre-performance talk on nüshu, a dying tradition of writing and singing practiced only by women and girls in a remote part of China's Hunan Province Aug. 15 at the Saratoga Performing Arts Center. Silber, an expert on nüshu, co-presented with Elizabeth Hainen of the Saratoga Harp Colony. Read more here.
Katie Wright and Anna Morreale, area coordinators, Office of Residential Life, presented at the Northeast Association of College and University Housing Officers (NEACUHO) Annual Conference May 28-31 at Bridgewater State University in Bridgewater, Mass. Their presentation, titled "Stand Up, Speak Out: Empowering Students Through Community Based Programming" shared the process and lessons learned from developing the "I Won't Stand For" and "Everyone Matters" events on Skidmore's campus.
In addition, Wright has been elected to the executive board of the Northeast Association of College and University Housing Officers (NEACUHO). In June she began a two-year term as a district coordinator for colleges and universities in eastern New York and Vermont, with responsibilities that include assisting in membership recruitment, supporting colleagues with professional development opportunities, and representing her district on the executive board of the organization.
Morreale also has been appointed to the executive board of NEACUHO, serving a one-year term chairing the board's Social Issues Committee, where her responsibilities include coordinating and promoting activities and programs that address issues of social justice.
Joe Murphy has been re-elected to the board of the Saratoga Springs Lions Club. He will serve another one-year term serving as treasurer, responsible for managing the receipt and distribution of all funds, developing an annual budget, and providing financial reports.
Publications & Exhibitions


Doretta Miller, Saratoga Springs, corner of Broadway
and Lake Avenue, acrylic on canvas, 2014.
Victor Cahn, professor emeritus, Department of English, is the author of a new play titled Daily with the Devil, published by Steele Spring Stage Rights, which has been described as "a fun evening of contemporary political blackmail."

Doretta Miller, professor, Art Department, has an acrylic painting on display until Sept. 27 in the "Sights + Sounds" exhibit at the Saratoga Arts Center, two gouache paintings in the Albany Institute of History and Art's exhibition of permanent works, "Small and Seductive," closing Sept. 28, and two oil paintings juried into the 2014 Artists of the Hudson-Mohawk Region, also at Albany Institute of History and Art, with public reception Sept. 27 and closing Jan. 19, 2015.
Summer submissions will continue to be published regularly during the fall. Please send news items to Andrea Wise, Office of Communications.