Faculty-Staff Achievements, Dec. 1, 2014
December 2, 2014
Activities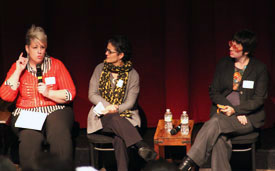 Panelists Mueller, Graney, and Chernoff
A Skidmore team of faculty and students played an important role at "Girls Rising Together: A Global Education Program for High School Girls," Nov. 14 at the Charles R. Wood Theater in Glens Falls, N.Y. The theater, Skidmore, and the World Awareness Children's Museum in Glens Falls jointly sponsored the program
Funded with a grant from the Glens Falls Rotary Foundation and personal funds from New York State Sen. Elizabeth Little of Queensbury, the program was part of the museum's strategy to broaden its offerings beyond its traditional audience of elementary age children. The four-hour program began with an ethnic dinner and the showing of the 2013 documentary Girls Rising at the theater. The film tells the stories of young women in Haiti, India, Afghanistan, Cambodia, Egypt, Ethiopia, India, Nepal, Peru and Sierra Leone, all of whom struggled to rise from poverty.

A panel featuring Kate Graney, government, Carolyn Chernoff and Jennifer Mueller, sociology, and Maria Fernanda Lander, Spanish, followed the film. In addition, there was a tour of the museum and small group discussions based on artwork from 80 countries in the museum's collection. Mariah Guevin '15, Kevin Berry '15, Clare Kenny '15, and Elizabeth Collins '17 joined the faculty to lead discussions. High school students from Glens Falls, South Glens Falls, Hudson Falls, Queensbury, Fort Edward, Lake George, Whitehall, Greenwich, Saratoga Springs, and Schuylerville were invited.

Established in 1994, the World Awareness Museum at 89 Warren St., Glens Falls, has a mission to promote peace, tolerance and diversity through children's art and culture.

Eunice Ferreira, assistant professor, Department of Theater, was a co-translator (with Christia S. McMahon) of Alone Onstage, a play from the Cape Verde Islands by Mário Lúcio Sousa. This first-ever translation will be presented Dec. 10, a first step in preparing the play for its world premiere in English.
Joe Murphy, area coordinator, Office of Residential Life, presented at the Northeast Association of College and University Housing Officers (NEACUHO) Fall Drive-In & New Professionals Conference Nov. 7 at Syracuse University. His presentation, titled "Budgeting as a New Professional," discussed monthly personal budgeting techniques, including handling debt and saving/investing for the future. Ann Marie Przywara, interim director, Office of Residential Life, also presented at the NEACUHO event. Her presentation, titled "Why Put Off Feeling Good?" discussed the benefits of health and wellness in the workplace, shared examples from Skidmore, and focused on making health a priority.
Publications
Catherine Domozych, senior teaching associate, and David Domozych, professor, both Department of Biology, are co-authors of an invited paper published in the November edition of Frontiers in Plant Science and titled, "Multicellularity in green algae: upsizing in a walled complex" (doi: 10.3389/pls.2014). This paper explores the role of the cell wall and its evolution with the emergence of multicellular plants. In addition, David Domozych was author of an invited paper published in the November edition of Plants, Vol. 3, titled, "Penium margaritaceum: a unicellular model organism for studying plant cell wall architecture and dynamics." This paper describes the biology of the unicellular green alga, Penium and reports on current microscopy-based, biochemical and molecular approaches used in the study of this model organism.
Jay Rogoff, visiting professor of English, has published a poem, "Ends of Empire," in Literary Imagination, Vol. 16, No. 3 (2014). "The Englishness of Ashton, Sarasota Style," an essay-review of the Sarasota Ballet's spring 2014 Frederick Ashton Festival, has appeared in The Hopkins Review, Vol. 7, No. 4 (Fall 2014).
In the News
Cathy Hill, F. William Harder Professor of Business Administration, was a source for a story titled "Colleges band together to revive Accelerate 518," a story published Nov. 21 in the Albany Business Review.
Please send submissions to Andrea Wise, Office of Communications.