Faculty-Staff Achievements, Oct. 12, 2015
October 12, 2015
Activities
Giuseppe Faustini, professor of Italian, delivered a paper titled "Storia e cultura nel cinema italiano," March 14 at Iona College, NY.

Denise Smith, professor of health and exercise sciences, presented research she conducted on cardiovascular and and carcinogenic risks to firefighters during a panel discussion at the Univerisity of Illinois Fire Service Institute in late June. The discussion was videotaped and received a significant amount of media attention.
Publications and Exhibitions
Nurcan Atalan-Helicke, assistant professor of environmental studies, is co-author (with G. Marten) of "Introduction to the Symposium American Food Resilience" published in the Journal of Environmental Studies and Sciences, Vol. 5, No. 3, 2015.
The article introduces a special issue of the journal, which is published by the Association of Environmental Studies and Sciences. The authors were guest editors of this special issue. Part 1 of the Symposium on American Food Resilience (13 articles) has been published in the September 2015 issue of the Journal of Environmental Studies and Sciences. Part 2 (14 articles) will be in the December 2015 issue. The entire collection presents an exciting range of coverage, as experts on various aspects of the food system draw upon their disparate perspectives to throw light on a single high-stakes theme— the resilience of our food system. A major goal of the symposium is to frame this theme in a way that points to what scientists, teachers, and other professionals can do through research, education, community action, or other means to make the food system more resilient.
Jordana Dym, professor of history, is the author of "Mapitas," Geografías Visualizadas and the Editorial Piedra Santa: A Mission to Democratize Cartographic Literacy in Guatemala, published in Academia.edu, Vol. 14, No. 3, October 2015, a special issue on mapping Latin American geographies.
Campus PRISM—the restorative justice model that sociology Professor David Karp advocates, writes about, and teaches—was cited in a recent New York Times editorial as an alternative approach to campus justice.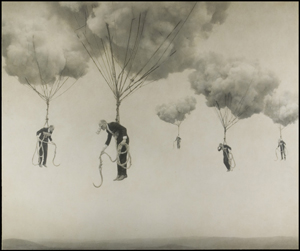 Mixed Media Photography
by Robert ParkeHarrison
Robert ParkeHarrison, the Ella Van Dyke Tuthill '32 Professor of Studio Art, had work featured in the World of Wearable Art (WOW) festival Sept. 24 to Oct. 11 in Wellington, New Zealand. His artwork was the guiding force behind all the visuals and themes for the two-hour performance that combines theater, dance, music and art into a multimedia production. The WOW awards show is New Zealand's largest arts show, with over 50,000 people from around the world attending every year. He attended the opening.
Skidmore College was well represented at "Art on the Lake," a season pop-up gallery installed in Bolton Landing, N.Y. by the Lake George Arts Project July 1-27. Participating artists with a Skidmore connection included Katie DeGroot, director of the Summer Studio Art Program; Vicky Palermo, visiting assistant professor of art; and the following alumnae: Leslie Ferst and Beverly Mastrianni, Clas of '76; and Jill Fishon-Kovachick '81.
Mary Zeiss Stange, professor of women's studies and religion, is the author of a review of Helen Macdonald'sH Is for Hawk, just published in the September/October issue of the Women's Review of Books. Here is a link to the online edition:
In the News

Gail Cummings-Danson, director of athletics and interim vice president for student affairs, was a source for "Women hitting athletic director glass ceiling," published Sept. 26 in the Albany Times Union.
Robert P. Mahoney, professor emeritus of biology, is the author of a letter to the editor of The New York Times, published June 29, 2015.
Ron Seyb, Joseph C Palamountain Jr. Professor of Government, provided insight on the political fallout of the summer decline in stock market for an Aug. 24 story that aired on WNYT News Channel 13.
Mary Zeiss Stange, professor of women's studies and religion, was a source for an Associated Press story titled "The Thrill of the Hunt: More women are signing up for it," published Oct. 12 in The New York Times and other media throughout the ountry. She also was the subject of a feature titled "Girls with Guns: 8 Facts About Mary Zeiss Stange" published July 23 on Newsmax.com
Please send submissions to Andrea Wise, Office of Communications and Marketing.