Faculty-Staff Achievements, Nov. 17, 2015
November 17, 2015
Activities
Robert Boyers, professor of English and editor of Salmagundi, gave the opening address, titled "The fate of ideas today," at a conference titled "Little Magazines and the Conversation of Culture in America" held Nov. 12-13 at the New School for Social Research. The conference celebrated the 50th anniversary of Salmagundi and the launch of the new M.A. in creative publishing and critical journalism at the New School.
Tim Harper, Management and Business, Barbara Norelli, Scribner Library, and Mary Taber, Math, presented a paper titled
 "Case Selection: A Case for a New Approach" at the Oct. 27-31 meeting of the Southern Management Association Meeting in St. Pete Beach, Fla.
Christopher Mann, assistant professor of government, was in Washington, D.C., Nov. 16 to present on two panels at the "What We Know and What We Need to Know: Voter Registration and Turnout in the U.S." conference at American University's School of Public Affairs. He presented research on voter registration and pre-Election Day voting on one panel and research about using "social pressure" to increase voter turnout on the other panel.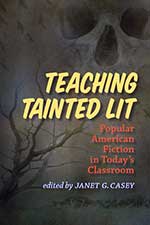 Publications
Janet G. Casey, professor of English and director, First-Year Experience, is the editor of a new book titled Teaching Tainted Lit. According to its publisher, the University of Iowa Press, "The essays in this collection presume that the popular is here to stay and that its instructive implications are not merely noteworthy, but richly nuanced and deeply compelling. They address a broad variety of issues concerning canonicity, literature, genre, and the classroom, as its contributors teach everything from Stephen King and Lady Gaga to nineteenth-century dime novels and the 1852 best-seller Uncle Tom's Cabin." Read more here.
Please send news items to Andrea Wise, Office of Communications and Marketing.