Faculty-Staff Achievements, Feb. 2, 2016
February 3, 2016
Recognition
Corinne Moss-Racusin (Eric
Jenks photo)
Corinne Moss-Racusin, assistant professor of psychology, has been selected a "Rising Star" by the Association for Psychological Science. The award recognizes "outstanding psychological scientists in the earliest stages of their research creer post-PhD whose innovative work has already advanced the field and signals geat potential for their continued contributions." Moss-Racusin's research explores sterotyping, diversity, gender roles, implicit social cognition, and evidence-based diversity interventions. Awardees span all areas of psychology; Moss-Racusin was the only honoree from a liberal arts college. More information is available here.
Amber Wiley, assistant professor of American studies, was one of 12 college faculty and staff from throughout the country named an "Emerging Scholar" by Diverse Issues in Higher Education.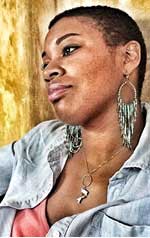 Amber Wiley
The recognition "highlights under 40 scholars from around the country who are making their mark in the academy thorugh teaching, research, and service. Scholars are selected based on research, euciaonl background, publishing record, teaching record, competitiveness of fields of study, and uniqueness of field of study, according to Maya Minter of Diverse Issues in Higher Education.
Wiley, whose research interests are centered on the social aspects of design and how it affects urban communities—architecture as a literal and figural structure of power—was called a "professor of place" by the magazine, which featured her on the cover of the Jan. 28, 2016 issue.
Activities
Larry Britt, associate director of Campus Safety, was elected a director-at-large on the board of the Northeast Colleges and Universities Security Association at its 62nd annual conference in 2015. New officers were announced Jan. 5 by NECUSA.
Tom Lewis, emeritus professor of English, discussed his new book, Washington: A History of Our National City (Basic Books, 2015), during a Dec. 4 interview with Joe Donahue of WAMC-FM at Northshire Books. On Monday, Feb. 8, Lewis will deliver the Overbeck Lecture at Hill Center. Read more here.
Publications and Exhibitions
Susan Bender, emerita professor of anthropology, has published a summative article on her multi-year Colorado research program, "Modeling Forager Settlements of Mountainous Landscapes," in Plains Anthropologist, Vol. 60, No. 236, November 2015.
Ariel Osterweis, visiting assistant professor in dance, contributed a chapter titled "Geo-Choreography and Necropolitics: Faustin Linyekula's Studios Kabako, Democratic Republic of Congo," to the edited volume, Choreographies of 21st Century Wars (Eds. Jens Giersdorf and Gay Morris, Oxford University Press, 2015). And her article, "Public Pubic: Narcissister's Performance of Race, Disavowal, and Aspiration," is published in TDR/The Drama Review (TDR Consortium Special Issue, Ed. Rebecca Schneider), Winter 2015, T228, 60.1, 101-116).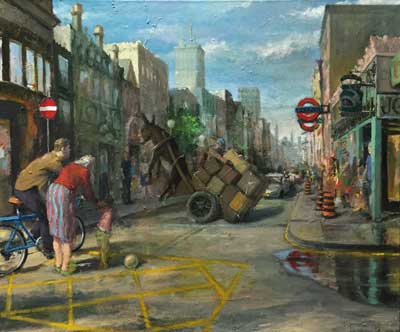 London Circus (Street Scene), Paul Sattler, 18x24 in., oil on canvas, 2015
Paul Sattler, associate professor of art and director, Schick Art Gallery, has a solo exhibition through Feb. 24 at the Alpha Gallery on Newbury Street, Boston. The exhibition includes new works produced during Sattler's sabbatical, including new personalized variations of and works inspired by Joachim Wtewael's The Wedding of Peleus and Thetis, 1612 (Clark Art Institute). In a recent Boston Globe review, critic Cate McQuaid wrote, "Allegorical narrative can seem fusty in this age of irony and anti-heroes, but Sattler makes it work with his nimble technique; his brushwork fleetly moves us from physical reality into the ether — that equally potent world of spirit, memory, and imagination."
Jeffrey Segrave, professor of health and exercise sciences, is the author of "The Rio de Janeiro 2016 Olympic Games: Current Issues and Problems," which will be published in Russia out of the Naberezhnochelninsky Institute of Socio-Educational Technologies and Resources in the Journal of Pedagogical-Psychological and Medico-Biological Problems in Physical Culture and Sports.
Mary Zeiss Stange, professor of gender studies and religion, has a chapter titled "A Big Bang for 'the Little Woman:' Firearms and Feminism in Contemporary America," in the just-released three-volume work Guns and Contemporary Society: The Past, Present, and Future of Firearms and Firearm Policy, edited by Glenn H. Utter, and published by the Praeger imprint of ABC-CLIO. Stange's chapter appears in Volume 2, Cultural Issues Related to Firearms in the United States.
In the News
Paul Arciero, professor of health and exercise sciences, earned a "senior superlative" from WAMC's "Academic Minute." In a year-end round-up that aired Dec. 28, Arciero was listed as "Most Likely to Change the World" for an invigorating analysis of the proper way to exercise, which the station said "will be helpful for all of us as we attempt to lose all those holiday pounds!" Arciero's most recent "Academic Minute" on the quality of exercise aired Nov. 6, 2015.

In addition, he was a source for "6 ways your health suffers when you stop working out" published Dec. 13 by The Express Tribune on tribune.com and republished since then on a number of web sites, including menshealth.com and prevention.com
Ian Berry, Dayton Director of the Frances Young Tange Teaching Museum and Art Gallery, had a half-hour segment Jan. 21 on WAMC's "Roundtable," discussing spring programming at the Tang with "Roundtable" host Joe Donahue.
Jennifer Delton, professor of history, is the author of "Salvaging Wilson's legacy," published Dec. 16 in the Albany Times Union as a tu+ article, which is password protected.
Catherine Golden, professor of English, was a source for "Rediscovering Mr. and Mrs. Henpeck," which aired Dec. 28 on National Public Radio.
Tom Lewis, emeritus professor of English, was interviewed by Elizabeth Floyd Mair of the Albany Times Union about his new book Washington: A History of Our National City (Basic Books, 2015). Titled "His capital idea is now history," the article was published Jan. 10 as a tu+ story, available to subscribers only.

Ron Seyb, Joseph C. Palamountain Jr. Professor of Government, was interviewed Jan. 28 by WNYT-TV, Ch. 13 about the impact of Donald Trump in the last Republican debate prior to the Iowa caucus.
Research by Sheldon Solomon, professor of psychology, was cited by Vox.com for "A fascinating psychological experiment could explain Donald Trump's rise" published Dec. 17.

Please send submissions to Andrea Wise or Paul Dwyer, Office of Communications and Marketing.