Faculty-Staff Achievements, Feb. 29, 2016
February 29, 2016
Publications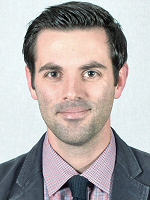 Andrew Lindner
Andrew Lindner, assistant professor of sociology, published an article titled "Editorial Gatekeeping in Citizen Journalism" in the journal New Media & Society.


Jeffrey Segrave
Jeffrey O. Segrave, professor of health and exercise sciences, had an article titled "The magical world of Quidditch" published in Aethlon: The Journal of Sport Literature (Volume 31, Fall 2013/Winter 2014).

In the News

Thomas P. (Pat) Oles, associate professor and chair, Department of Social Work, is the author of an opinion essay titled "Internal contradictions hurt conservatives" published Feb. 27 in the Albany Times-Union, as a Tu+ feature (paywall protected).


Please send submissions to Andrea Wise or Paul Dwyer, Office of Communications and Marketing.