Faculty-Staff Achievements, October 24, 2016
October 24, 2016
Activities
Minita Sanghvi
Minita Sanghvi, assistant professor of management and business, recently gave a talk about gender in the 2016 presidential election titled "A Woman's Place ... is in the White House" at Franklin and Marshall College.

Jeffrey O. Segrave
Jeffrey O. Segrave, professor of health and exercise sciences, along with Olympic silver medalist and author Ginny Gilder, recently gave a presentation at the Harvard Club in New York City titled "The history of Title IX and the quest for Olympic gold."


Publications and Exhibitions

Sonya Chung
Sonya Chung, assistant professor of English, wrote an essay titled "How I Learned That Beauty Doesn't Have To Hurt" in BuzzFeed. Chung is the author of the novels The Loved Ones (2016, Relegation) and Long for This World (Scribner, 2010).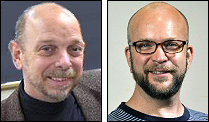 Gordon Thompson, Ben Harwood
Gordon Thompson, professor of music, and Ben Harwood, lead instructional technologist in Academic Technologies, have been invited by the Council of Independent Colleges to introduce their open-learning experiment, an online video-lecture supplement to "The Beatles: An Introduction," at the "Information Fluency in the Disciplines Workshop on the Arts: History, Theory and Criticism" workshop, sponsored by the Council of Independent Colleges, in New Orleans in April. Thompson also will be a featured speaker at "Summit of Creativity: A Celebration of the Fiftieth Anniversary of the Beatles' Sgt. Pepper's Lonely Hearts Club Band" at the University of Michigan at Ann Arbor in June.

In the News
Michael Lopez
Michael Lopez, assistant professor of mathematics, was quoted in an Oct. 17 article titled "Ex-inmate's 'second chance' includes $300K fantasy football win" in the Westminster, Md., Carroll County Times. Lopez discussed statistical analysis as it relates to fantasy football.

Chris Mann
Chris Mann, assistant professor of political science, was quoted in an Oct. 19 Daily Gazette story titled "Clinton leads poll, but New Yorkers like others better." Mann discussed Wendy Long, who is challenging incumbent U.S. Sen. Chuck Schumer, and the public attitude toward President Obama.


Please send submissions to Paul Dwyer in the Office of Communications and Marketing.
mailto:pdwyer@skidmore.edu