Faculty-Staff Achievements, February 20, 2017
February 20, 2017
Publications and Exhibitions

Catherine Golden
Catherine Golden, professor of English, has a new book, Serials to Graphic Novels: The Evolution of the Victorian Illustrated Book (2017, University Press of Florida). According to the publisher, the book examines illustrated texts such as The Pickwick Papers, Oliver Twist, and Alice in Wonderland, and explores factors that contributed to the popularity of the illustrated book—the growth of commodity culture, a rise in literacy, new printing technologies—and that ultimately created a mass market for illustrated fiction. In her final chapter, Golden calls graphic novel adaptations of Victorian classics an heir of the Victorian illustrated book and examines how canonical texts have been refashioned visually for new generations of readers.

Jeffrey Segrave
Jeffrey Segrave, professor of health and exercise sciences, published an essay titled "Anthem, symphony, and Olympic Games idealism." in Olympic Studies Reader Vol. 2 (2016, Beijing Sport University Press)
Leigh Wilton
Leigh Wilton, assistant professor of psychology, was a co-author of a study titled "Stigma by Prejudice Transfer: Racism Threatens White Women and Sexism Threatens Men of Color," published in Psychological Science. The research studied "prejudice transfer," where members of a stigmatized group expect that someone who is prejudiced against another group will also be prejudiced against them.


In the News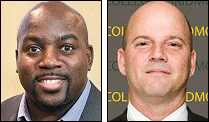 Darren Bennett, Joe Burke
Darren Bennett, women's basketball coach, and Joe Burke, men's basketball coach, were quoted in a Feb. 11 Saratogian article titled "Skidmore sweeps Big Green Scream." The women Thoroughbreds topped Hobart and William Smith Colleges 75-57 and the men defeated Hobart 87-83 Feb. 10 at the Williamson Sports Center.
Adele Einhorn
Adele Einhorn, director of special projects for the Office of Advancement, was quoted in a Feb. 13 Saratogian story titled "Horse show, Yaddo reach tentative deal." Einhorn expressed her confidence that the new site will bring more riders and exhibitors to the show.
Sheldon Solomon
Sheldon Solomon, professor of psychology, was quoted in a Feb. 11 Newsweek story titled "How to Conquer Fear of Death? Try Love." Solomon has done extensive research on the effect that the fear of death has on people's attitudes and beliefs. He is the author of author of The Worm at the Core: On the Role of Death in Life.


Please send submissions to Paul Dwyer in the Office of Communications and Marketing.