Faculty-Staff Achievements, April 24, 2017
April 24, 2017
Activities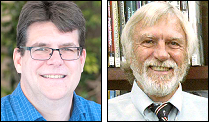 John Cosgrove, Jeff Segrave
John Cosgrove, access services librarian, and Jeff Segrave, professor of health and exercise sciences, presented a paper titled "Sport in Jef Mallett's comic strip Frazz" at the Popular Culture Association / American Culture Association Conference in San Diego, Calif.
Jennifer Delton
Jennifer Delton, professor of history, was named to the Organization of American Historians (OAH) Distinguished Lectureship Program—one of 31 speakers nationwide this year. According to the OAH, the lecturers "promote understanding and appreciation of all facets of U.S. history from the 1600s through the present, an essential component of the organization's mission."
Michael Emery
Michael Emery, senior artist-in-residence in music, was featured soloist with the Orchestra of Santa Monica in February.

Deb Hall
Deb Hall, associate professor of art, has work included in the juried 39th Annual Albany Photography Regional at the Albany Center Gallery. The exhibit is up through April 21. Hall's work was mentioned in both the Daily Gazette and the Albany Times Union. Hall was also invited to speak March 28th at SUNY Adirondack in Glens Falls about her work. Her talk was titled "The Art Part: Creating with Digital Media."



Michael Janairo
A poem by Michael Janairo, assistant director for engagement at the Frances Young Tang Teaching Museum and Art Gallery, has been nominated for a Pushcart Prize. The poem, titled For Your Own Safety, was originally published in Star*Line, the newsletter of the Science Fiction & Fantasy Poetry Association. The Pushcart Prize recognizes poems, stories and essays published by small presses and journals and collects them in an annual anthology.
Jan Vinci
Jan Vinci, senior artist-in-residence in music, was a featured guest artist at the Oklahoma Flute Society Flute Fair. Her CD, "American FluteScape" (including compositions by Mark Vinci, private music instructor) has been praised by Fanfare as "superbly performed."


Michael Lopez
In the News
Michael Lopez, assistant professor of mathematics, was quoted in an April 7 Wall Street Journal article titled "Students Wield Statistical Analysis to Make Sense of March Madness." Lopez designed the Pick 'em Upset Challenge, discussed in the article.


Please send submissions to Paul Dwyer in the Office of Communications and Marketing.