Faculty-Staff Achievements, May 15, 2017
May 15, 2017
Activities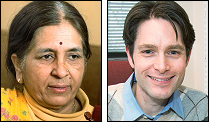 Veena Chandra, Tillman Nechtman
Veena Chandra, private music instructor, and Tillman Nechtman, associate professor of history, recently collaborated on a musical and historical presentation, "East Meets West," April 30 at the Saratoga National Historical Park. Chandra performed a concert of 18th-century Indian music, and Nechtman spoke about the relationship between 18th century India and the American Revolution. The event was sponsored by the New York State Council on the Arts.
Feryaz Ocakli
Feryaz Ocakli, assistant professor of political science, won the Frank Cass Prize for Best Article by a Young Scholar in the journal Democratization (Volume 23, Issue 4) for his essay, "Political Entrepreneurs, Clientelism, and Civil Society: Supply-Side Politics in Turkey." The Cass prizes are awarded annually for articles that "most enhance our knowledge and understanding of democratization."

Mary Zeiss Stange
Mary Zeiss Stange, professor emerita of women's studies and religion, attended the General Assembly of the International Council on Game and Wildlife Conservation April 27–29 in Montreux, Switzerland. As a member of the US delegation, an expert member of the organization, and vice president of its Artemis Working Group on Women and Sustainable Hunting, Stange addressed the conference on the subject of "Urban and Rural Perceptions of Women and Sustainable Hunting in the U.S." Earlier, she attended the annual "Rendezvous" of the conservation group Backcountry Hunters and Anglers, April 7–9 in Missoula, Mont. She served as moderator in a workshop session on hunting ethics.
Gordon Thompson, Ben Harwood
Gordon Thompson, professor of music, and Ben Harwood, lead instructional technologist in Academic Technologies, spoke at the Council of Independent Colleges' "Information Fluency" workshop April 21 in New Orleans. The topic was "Advances in Resources for Arts Education." They described how they created an integrated online component to Thompson's Beatles course. Thompson also facilitated conversations between teams from liberal-arts colleges looking to articulate information literacy and fluency policies in their curricula.



Please send submissions to Paul Dwyer in the Office of Communications and Marketing.