Faculty-Staff Achievements, June 26, 2017
June 26, 2017
Activities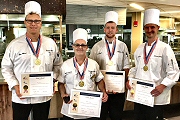 Skidmore Dining Services team
A Skidmore Dining Services team consisting of (pictured, left–right) Ben Niese, Stephen Fields, Cody Pepper and Joe Greco won a gold medal at the 23rd annual Chef Culinary Conference, "The Power of Food," June 4–9 at the University of Massachusetts at Amherst. The team was judged on meal consisting of four courses: pan-seared bronzini (bass) fillet, pan-roasted chicken roulade, chocolate semi-sphere cake, and a "Thai-inspired" seafood stew buffet. Competing teams included the Culinary Institute of America, University of Illinois at Urbana/Champaign, Johnson & Wales, Notre Dame, Ohio State, Penn State, Syracuse University, and Tufts.


Paul Sattler
Paul Sattler, associate professor of art, has three paintings in the 2017 Exhibition by Artists of the Mohawk-Hudson Region. One of the longest-running regional art exhibitions in the country, the annual, juried exhibition pays tribute to artists working within a 100-mile radius of the Capital District. The exhibition is open June 17–September 3 at the Albany institute of History and Art.
Denise Smith
Denise Smith, professor of health and exercise sciences, received an official commendation from the Hanover Park (Ill.) Fire Department for her work in helping establish the department's Fire Corps Rehab Response Team. According to Hanover Park Fire Chief Craig A. Haigh, it is rare for a civilian to be honored with an official fire department commendation. Smith was also a featured speaker at the Fire Department Instructor's Conference in Indianapolis, Ind., April 23–28.

Mary Stange
Mary Stange, professor emerita of women's studies and religion, served as a consultant to the Pew Research Center on a major report titled America's Complex Relationship with Guns. Stange was the first person credited on the report's acknowledgements page for her "invaluable advice" on the development of the questionnaire used to gather data for the study.


Publications and Exhibitions
Erin Covey
Erin Covey, photographer/videographer in the Office of Communications and Marketing, had a photo published in a June 18 New York Times article titled "Messages to Graduates: Stand Up, Fight Back, Speak Out." The photo showed Oprah Winfrey at the lectern during Skidmore's 2017 commencement.

Please send submissions to Paul Dwyer in the Office of Communications and Marketing.