Skidmore Spotlight: Raymond Apholz
August 10, 2018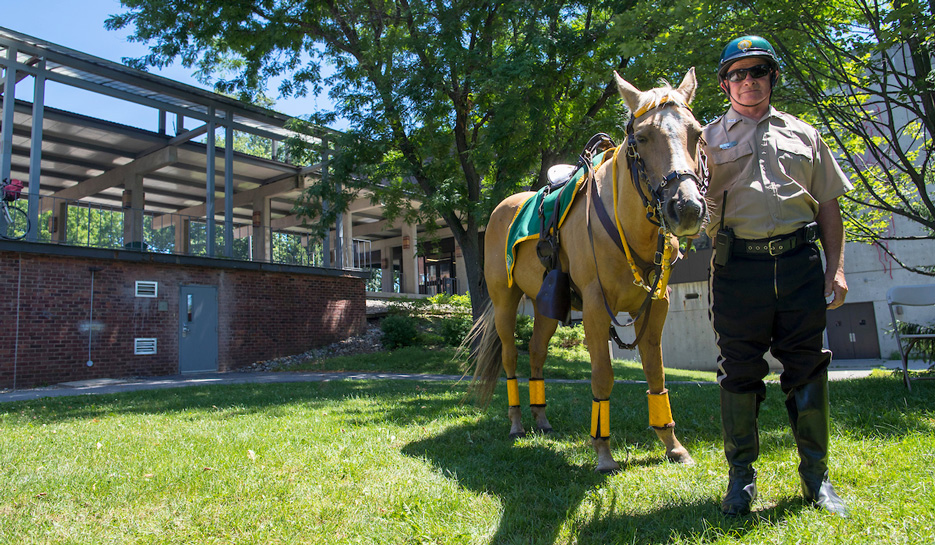 Raymond Apholz works as a campus safety and mounted security officer in the Department of Campus Safety. He joined Skidmore 15 years ago and has held numerous safety positions, including working at the Campus Security desk and as a patrol officer.
Before Skidmore, Apholz served 27 years in the Military Police Corps, the uniformed law enforcement branch of the United States Army. After retiring from the police, he worked as a Junior ROTC instructor at a high school in New Jersey.
Apholz said the two things he enjoys most about working at Skidmore are the great people and the chance to ride his horse, Myles. Myles is a male, fifteen-year-old Palomino. Before Myles, he spent many years patrolling campus with Lady, who is now 34 years old and retired.
Some of Apholz's favorite Skidmore events are Fun Day, graduation and the admissions open houses and accepted candidate days. Apholz said he "especially enjoys welcoming first-year students and families as they arrive at Skidmore." He and Myles are often the first faces (human and horse) to welcome people through Skidmore's main gate.
In addition to his time at Skidmore, Apholz is also the owner of Farr Meadow Stables, a horse boarding facility in Greenfield Center.
"A number of Skidmore faculty members and families come Farr Meadow to visit me or take horse-riding lessons," said Apholz. "I love connecting with the Skidmore community both at and outside of work."