Faculty-Staff Achievements
December 13, 2018
Publications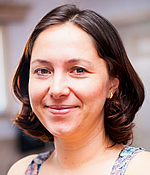 Nurcan Atalan-Helicke, associate professor of environmental studies and sciences, has published "'You Can Never Give Up Siyez If You Taste It Once': Local Taste, Global Markets and the Conservation of Einkorn, an Ancient Wheat" in Gastronomica: The Journal of Critical Food Studies.
Sarah DiPasquale, assistant professor of dance, and Caroline Kelberman '17, published "An Integrative Dance Class to Improve Physical Function of People with Developmental and Intellectual Disabilities: A Feasibility Study" in Arts & Health.


Honors
Evan Mack, teaching professor of music, has been named a Top 30 Professional of the Year by Musical America. The magazine noted that Mack was "considered one of the most gifted composers of his generation by industry insiders."
June Paul, assistant professor of social work, has been awarded the Society for Social Work and Research's 2019 Outstanding Social Work Doctoral Dissertation Award for "Under the Radar: Exploring Support for Lesbian, Gay, Bisexual, Transgender, Queer and Questioning (LGBTQ) Youth Transitioning from Foster Care to Emerging Adulthood," which she prepared at the University of Wisconsin.
In the Media

The Wall Street Journal published a review of "Then They Came for Me: Martin Niemöller, the Pastor Who Defied the Nazis" (Basic Books, 2018) by Matthew Hockenos, Harriet Johnson Toadvine '56 Professor in Twentieth-Century History.
We welcome submissions from faculty and staff related to professional accomplishments and scholarly endeavors. Please send submissions to the Office of Communications and Marketing.