Returning home
For the first time since the onset of the COVID-19 pandemic, hundreds of joyful alumni returned to their alma mater for a bustling Reunion Weekend filled with opportunities to catch up with dear friends, learn about exciting developments at Skidmore, and honor classmates and fellow alumni.
Over 700 alumni with class years ending in 2 and 7 and their guests returned for Reunion from June 2 to 5, the first of two weekends dedicated to alumni celebration. The weekend included tours of Saratoga Springs and campus, including the new Billie Tisch '48 Center for Integrated Sciences; cherished Skidmore traditions, such as the Parade of Classes; opportunities to return to the classroom and learn about timely topics from Skidmore faculty; a Tang Teaching Museum exhibition dedicated to talented alumni artists; and much, much more.
"I've dreamed about this moment – a live, in-person Reunion, with the bagpipes and the sunshine," said President Marc C. Conner. "And the dream has come true."
Skidmore also honored outstanding alumni for their service and achievements and paid tribute to those the community has lost. Live music, dancing, and a spectacular fireworks display topped off a weekend of renewed connections and excitement for Skidmore's future.
Alumni Awards
On Saturday, June 4, the Skidmore College Alumni Association bestowed honors upon 13 exceptional alumni who have given back to the College and demonstrated achievement in their careers after graduation.
"In these awards, we see a history of our institution and we also see what we value as an institution," President Conner told alumni at a recognition ceremony. "We celebrate today those who embody those values and that history and show us who we want to become and who will become role models for our students and our future alumni."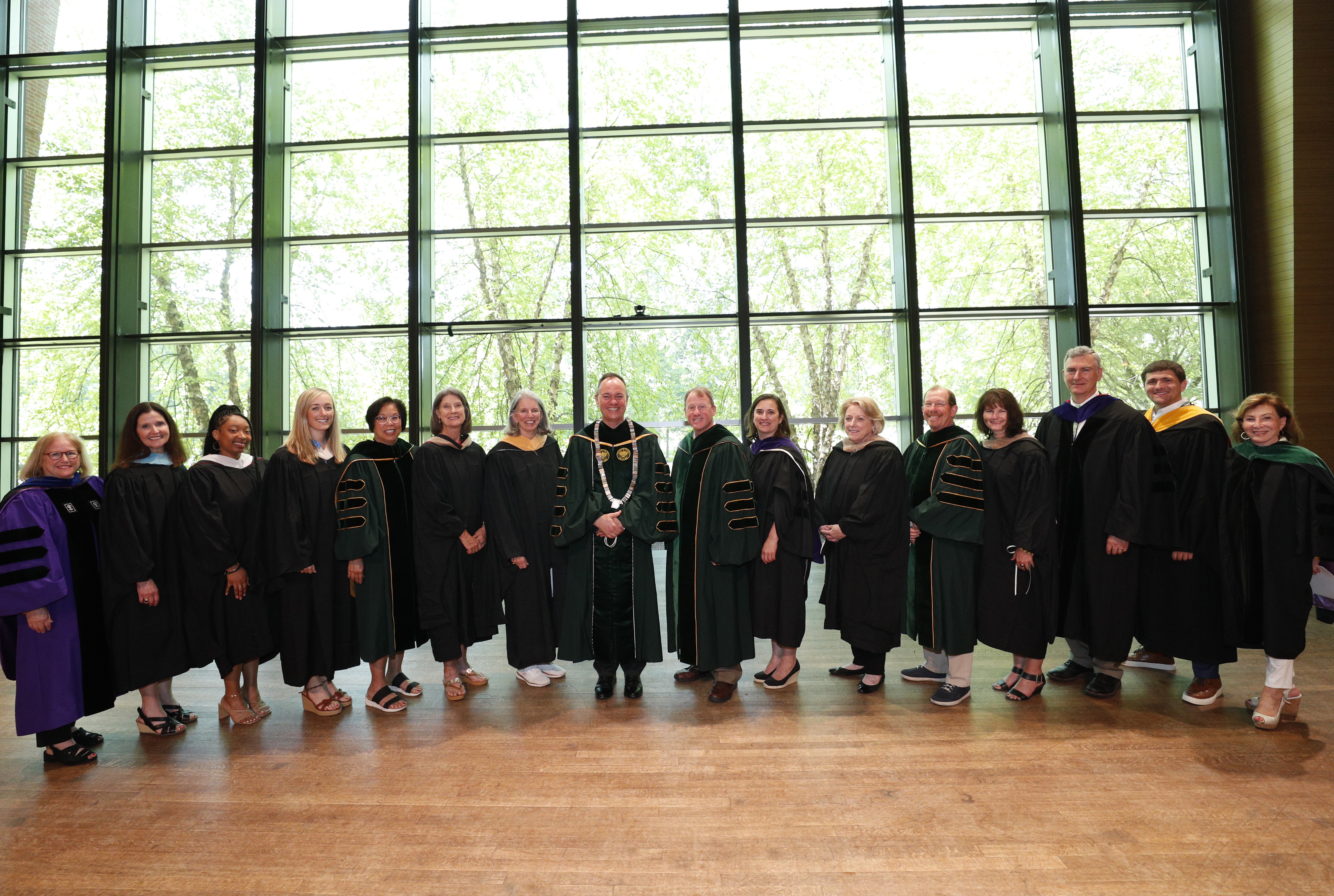 Congratulations to the 2022 Alumni Association Award recipients!
Pictured (from left to right) are Jane Feinberg Karlin '72 P'03, Presidents Society chair; Jennifer Aborn Hart '82 P'16, Chair of Reunions, Outstanding Service Award recipient; Rashawnda J. Williams '17, Alumni Association Diversity and Inclusion Leadership Award recipient; Christina Fagan Pardy '12, Joseph C. Palamountain Award for Young Alumni Achievement recipient; Millie Tan '77, Outstanding Service Award recipient; Deborah Sehl Coons '72, 50th Reunion Service Award recipient; Suzanne Corbet Thomas '62, Jacqueline M. Jung '61 Lifetime Service Award recipient; Skidmore College President Marc C. Conner; Robert Resnick '88, president of Skidmore's Alumni Association; Dana R. Metes '90, Alumni Awards Committee chair; Nancy A. Brennan '72, Jacqueline M. Jung '61 Lifetime Service Award recipient; Jon P. Achenbaum '77, Outstanding Service Award recipient; Stephanie E. Friedman '92, Outstanding Service Award recipient; David A. Castle '87, Outstanding Service Award recipient; Matthew J. Lueckheide '17, David H. Porter Award for Young Alumni Service recipient; and Felicia B. Axelrod-Porges '62, Distinguished Achievement Award recipient. Not shown is Patricia "Trish" Passmore Alley '72, who received the Creative Thought Matters Award of Distinction.
Read more about the alumni award recipients here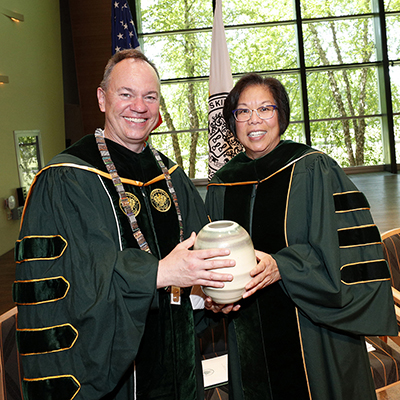 Reunion 2022
Watch the ceremony
The Awards Ceremony was filmed for those unable to attend the program and those who wish to share the special event with family, friends, or classmates.

Watch the awards ceremony livestream
Reunion Class Giving
There was much to celebrate this year, including 14 new class records and five new records for Reunion giving, which totaled $10,598,528, thanks to 1,206 alumni spanning Reunion classes from 1942 to 2017. This year's total Reunion giving was the highest since 2009. Donors included 535 members of the Loyalty Circle, recognizing three or more years of consecutive giving; 168 members of the Presidents Society; and 170 Legacy Society members. This display of generosity was made possible through the support of the Skidmore community and the efforts of 200 fundraising and Reunion volunteers.
Members of the Classes of 1942 and 1947 together contributed nearly half a million dollars, giving $5,513 and $480,603 respectively.
The alumnae of 1952 showed their support with an impressive seven Presidents Society donors — a new Reunion record. They also contributed $100,144 overall. The Class of 1957 demonstrated similar leadership and spirit, setting a new Reunion record with their gift $261,763 through the Skidmore Fund. The class contributed a total of $985,538.
For their 60th Reunion, the Class of 1962 proudly achieved a new class and Reunion record for gifts through the Skidmore Fund ($419,030), as well as a new class record with a total gift exceeding $2 million ($2,642,906).
Celebrating their 55th Reunion, the Class of 1967 raised $166,678 through the Skidmore Fund, helping bring their total Reunion gift to more than $1 million ($1,378,310).
Inspired by their milestone 50th Reunion, the Class of 1972 broke class records for Presidents Society donors (29), Skidmore Fund Giving ($238,694), and overall giving ($1,610,904). They also had an impressive 48% participation rate. The Class of 1972 fundraising effort was led by Fund Chairs Diana Kenney Woodhouse and Jane Feinberg Karlin, Presidents Society Class Chair Nancy Brennan, and Gift Planning Chair Joan Baptie Barkan.
The Classes of 1977, 1982, and 1987 all set new class records for overall giving, contributing $313,563, $902,978, and $469,390, respectively.
Graduates from the Class of 1992 marked their 30th Reunion, setting an impressive Reunion giving record of $261,202 toward the Skidmore Fund. They also set a Reunion and class record in overall giving by contributing a generous $1,189,335.
Celebrating its 25th Reunion, the Class of 1997 set new class records for Skidmore Fund giving ($54,797) and overall giving with a total gift of $118,491.
The Class of 2002 marked their 20th Reunion with notable Skidmore Fund giving ($51,345) and helping to set a new class record for their overall gift ($257,883).
The Class of 2007, honored their 15th Reunion with donations to the Skidmore Fund ($16,790) and overall giving ($98,576), showing that every gift matters.
Young alumni also made a major impact, setting both Skidmore Fund and overall giving records. The Class of 2012, celebrating its 10th Reunion, raised $13,438 through the Skidmore Fund, a class record, and made a total gift of $34,199. Just five years after graduation, the Class of 2017 celebrated their first Reunion and raised $4,317 for the Skidmore Fund. Members of the class contributed an overall gift of $10,195, a new class record.
On behalf of the College, President Conner offered his sincere thanks to all who participated, noting the continuing generosity of the alumni community enables Skidmore to support students and faculty in myriad ways.
Photo Gallery