Eve Aschheim: New Drawings




November 8 - December 16, 2007*
*Note: Gallery closed for the Thanksgiving holiday November 21 - 25
Opening Reception: November 8, 6:30-7:30 pm
Gallery Talk: November 13, 3:00 pm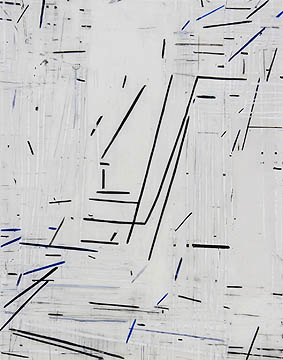 Triple Steel, 2006, gesso, black gesso, ink and graphite on Duralene Mylar, 12 x 9 inches
Eve Aschheim was born in New York City and studied art at the University of California, Berkeley (BA, 1984) and the University of California, Davis (MFA, 1987). Her work has been exhibited in museums and galleries in the United States and Europe. Aschheim has said of her quietly evocative yet compelling works, "I want to create a composition that is open, where the viewer can imagine." In this realm of possibility and movement, the discovery of new notions of abstract space is permitted. The Schick exhibit will contain mainly small works in gesso, ink and graphite on Mylar.
A selection of Aschheim's recent solo exhibitions include Lori Bookstein Fine Art (New York, 2006), University Gallery at the Fine Arts Center, University of Massachusetts (Amherst, 2003), Galerie Rainer Borgemeister (Berlin, 1999 and 2000) and Galleri Magnus Åklundh (Lund, Sweden, 1999). In 1998 her work was included in the exhibition Drawing Is Another Kind Of Language at the Arthur M. Sackler Museum, Harvard University Art Museums, which traveled to the Kunstmuseum Winterthur; Kunstmuseum Ahlen; Akademie der Künste, Berlin; Fonds régional d'art contemporain de Picardie and Musée de Picardie, Amiens; and the Parrish Art Museum, Southampton, NY.
Recent group exhibitions including Aschheim are Twice Drawn at the Tang Museum (Saratoga Springs, NY, 2006), In Black and White at Lori Bookstein Fine Art (2005), About Painting at the Tang Museum (2004), New Views: Modern New York Cityscapes at the New York Historical Society (New York, 2004) and Ins Licht gerückt - Aus der Grafischen Sammlung at the Kunstmuseum Bonn (Germany, 2004).
Aschheim has received fellowships from the Elizabeth Foundation, the Pollock-Krasner Foundation, the New York Foundation for the Arts, and the National Endowment for the Arts. Her honors include the American Academy of Arts and Letters Purchase Award and the American Academy of Arts and Letters Richard and Hinda Rosenthal Award.
Her work belongs to numerous collections, including the Arkansas Art Center, Little Rock, AR; the Fogg Art Museum, Cambridge, MA; the Hamburger Bahnhof, Berlin; the Kunstmuseum, Bonn; the Museum of Modern Art, New York; the National Gallery of Art, Washington, DC; the New York Historical Society and the Yale University Art Gallery, New Haven, CT.
In 2003 Aschheim was appointed Director of the Visual Arts Program at Princeton University. She lives in Manhattan with her husband John Yau and their daughter.

No Accidents , 2006, gesso, black gesso, ink and graphite on Duralene Mylar, 12 x 9 inches