Driven to do both, a dance major adds documentary filmmaker to repertoire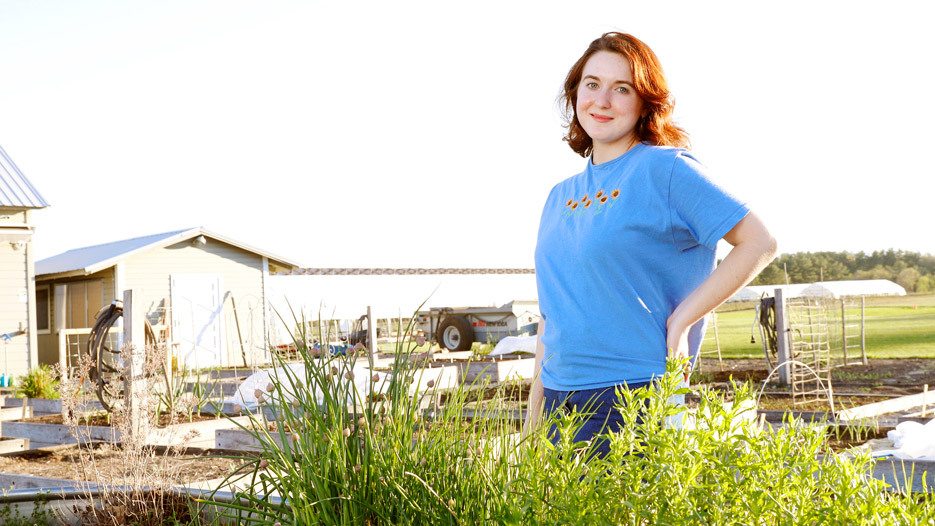 "Skidmore's Dance Department is what drew me in, but it was the liberal arts experience, where I could get a well-rounded education and do a lot of dancing, that helped me choose," said Kathryn Brodie '22, a dance major turned documentary filmmaker.
Today, the alumna, who grew up in rural Virginia, is proudly launching her career as a video editor in Boston. But she says she wouldn't be there if it weren't for a few key projects, several kismet moments, and the "out of this world" offerings at Skidmore.
"I will say that when I started, I was a little singularly focused on dance," said Brodie, reflecting on her Skidmore journey. "But the COVID-19 pandemic arrived during my sophomore year and everything changed. Suddenly I didn't have the access or drive to pursue the same things. I felt my curiosity wandering."
Early in her time at Skidmore, Brodie was exposed to cinematography through her dance major. Working with Sarah DiPasquale, associate professor and chair of the Department of Dance, Brodie learned to film and edit videos for Dance to Success, a program that helps educators integrate dance into classroom lessons.
"I'd always loved the film industry," she said, but the resources and encouragement she found at Skidmore set the gears in motion. "I began filming dancers across campus, working with various professors, and eventually it was recommended to me that I consider enrolling in Media and Film Studies courses."
Studying at the intersections of two passions – dance and film – Brodie stretched her interests and expanded her talents. In film classes, she learned about various documentary mediums, production, and post-production, and in dance classes, she studied the way people move and express themselves.
One of Brodie's early projects, "Tang Montage," highlights the intersections of her interests.
With the support and coaching of peers and faculty, Brodie was accepted into the John B. Moore Documentary Studies Collaborative's (MDOCS) prestigious Storytellers' Institute, a five-week documentary residency that allows creators to work on independent projects around a shared theme. Surrounded by other storytellers in the intensive program, Brodie's documentary perspectives – and opportunities – shifted again.
"I began to be see this work as an opportunity for explanatory journalism, activism, and sharing unique stories," she said. She also took a risk with a new subject: farming.
"I started just by going to Pitney Meadows Community Farm in person and meeting the workers there," Brodie said. "I volunteered with them, picked sweet potatoes in the field for hours, and bought some of their produce. I was in awe at how amazing of a place it was, and that it's right down the street from Skidmore in the outskirts of Saratoga."
She realized there was a great story to be told, of a women-led farming community that teaches people of all ages about food justice, sustainability, and agriculture.
"I was so inspired that the land was being used entirely for education and community development," she said. "It's a natural space dedicated to the health of those who use it."
Along the way, she made mistakes and learned from them, and learned the ins and outs of lighting, transporting equipment, scheduling, audio, re-shoots, and scripts.
"Another Way to Farm" a Pitney Meadows Community Farm Documentary by Kathryn Brodie
"Another Way to Farm" was shared among faculty and students, where it recieved wonderful feedback in September of 2021. Brodie considers it to be one of her greatest accomplishments at Skidmore. It, and a portfolio of other interdisciplinary experiences and lessons, launched her into her post-graduate life.
"I know my experience is not like everyone's," she said. "But the thing about Skidmore is that once you pay attention, and take advantage of what's around you, the offerings are out of this world."