Q&A with Allison Dalton '19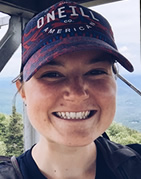 Hometown: Falmouth, Massachusetts
High School: Falmouth High School
Majors: Psychology and Exercise Science
Why did you decide to transfer to Skidmore?
In high school, I put a lot of pressure on myself to have a college plan, so I figured I would go to business school because that seemed like a concrete path I could follow. When I arrived though, I found that business school was not for me. I realized I needed to be patient, explore my options, and have the freedom to change my path. Thus, I decided to transfer to a liberal arts college. I chose Skidmore specifically because I appreciate the care it has for a true liberal arts experience. I have had wonderful opportunities to become a well-rounded thinker and a more creative problem-solver through the diversity of people I've met, the classes I've taken, and the experiences I've had.
What does Skidmore offer you that your previous college did not?
An environment of eager learners. At my previous institution, there was a feeling among my peers of, "I'm here for the degree so I can get a job." Of course, Skidmore students are also diligently planning for the future, don't get me wrong, but I have noticed a lot more engagement with the community both in and out of the classroom. It seems to me that people (myself included!) enjoy being here and creating a meaningful college experience.
What advice do you have for others considering transferring to Skidmore?
When I first realized I wanted to transfer, about halfway through my first semester of my first year in business school, I tried to ignore how I really felt. I'd tell myself over and over that the spring semester would be better. By pushing aside what my gut was telling me, I only created more unhappiness and struggle for myself. My best advice would be to honor your gut. It doesn't matter what everyone else is doing or saying, if you feel like you need to be someplace else to be at your best, go for it.
Are you glad you transferred?
Yes, which is not to say that I hated my time at my old college. However, through the process of transferring, I learned a lot about myself and what kind of environment I can thrive in. Also, I've met some of my closest supports throughout the process. It has been quite heartening to meet people who are rooting for my rise.
What's the best part of Skidmore so far?
Having the opportunity to take classes that I really enjoy. I love that I can tailor my studies just the way I like, with a balance between psychology and physiology. Coming in at a close second though would have to be Skidmore's location. Saratoga Springs is absolutely beautiful and it's also so close to the Adirondacks.
What are your future hopes/plans?
I am on the pre-nursing track here at Skidmore. After graduating I want to become a nurse practitioner. Currently, I am quite interested in mental-health nursing and holistic nursing and am hoping to combine these two interests. I also want to run a marathon.