Q&A with transfer student, Stanley Langyintuo '21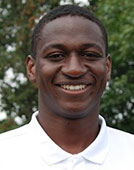 Hometown: Tamale, Ghana
High School: International School of Kenya
Major: Computer Science major
Why did you decide to transfer to Skidmore?
I decided to transfer to Skidmore because I wanted to attend a school that has a very diverse and culturally tight-knit community. With aflexibility in learning afforded by its liberal arts curriculum.
What does Skidmore offer you that your previous college did not?
Located in a small town, it has the advantage of lots of greenery, a quiet environment, and a short walk away from the beautiful Saratoga Springs. There is also a tight student community, with many students living on campus andparticipating in numerous extracurricular activities.
What advice do you have for others considering transferring to Skidmore?
Skidmore is a welcoming place to all transfer students. It's a place that lets you participate in many different clubs and groups. Some clubs might not seem like a fit at first but be open minded and try new things.
Are you glad you transferred? Why? Why not?
Coming from Ghana and having lived in several different countries, I thought I knew a lot about different people and cultures. However, joining various clubs and meeting new people here at Skidmore, I have learned so much more about the world than I thought possible.What's the best part of Skidmore so far?

The best part of Skidmore is its community. It's been great meeting new people from all over the world and creating friendships that will last a lifetime.
What are your future hopes/plans?
Continue to work hard.