Endurance, resilience, grit
Skidmore College conferred 570 degrees to the Class of 2021 during in-person Commencement Exercises that celebrated graduates' perseverance during a challenging senior year.
The ceremony — celebrated at Saratoga Performing Arts Center on Saturday, May 22 — brought with it the assurance of a traditional academic ceremony but also reflected the challenges of the times.
Wearing caps, gowns, cords and stoles, most of the 371 graduates to receive Bachelor of Arts degrees and 199 recipients of Bachelor of Science degrees attended to receive their diplomas in person.
Special recognition of remote students
At the same time, in line with the careful measures that allowed Skidmore to offer in-person learning throughout the 2020-21 academic year, graduates wore specially designed masks and remained socially distanced throughout the celebration.
Cornel West, one of America's leading public intellectuals, and Janet Guthrie, the first woman ever to compete in the Indianapolis 500 and the Daytona 500, received their honorary degrees from Skidmore virtually.
The ceremony also included a special video tribute to Samantha Sasenarine '21, and a degree issued to Sasenarine in memoriam was presented to friend and classmate Brian Lora '21. An English major, an educational studies minor and a strong advocate for inclusivity and diversity, Sasenarine died Feb. 5. A tree was also planted in her memory during Senior Week.
In her welcoming Commencement remarks, Nancy W. Hamilton '77, chair of the Board of Trustees, reminded the graduates of how the College and senior class remained steadfast over the past year, even as some colleges and universities only offered online learning.
Nancy W. Hamilton '77
"Skidmore persevered through these hardships, skepticism and incredulity, and refused to accept that there was 'nothing before us.' Instead, you all chose to see that you had everything before you."
President Marc Conner led his first Skidmore Commencement after successfully steering the College through the pandemic during his first year in office.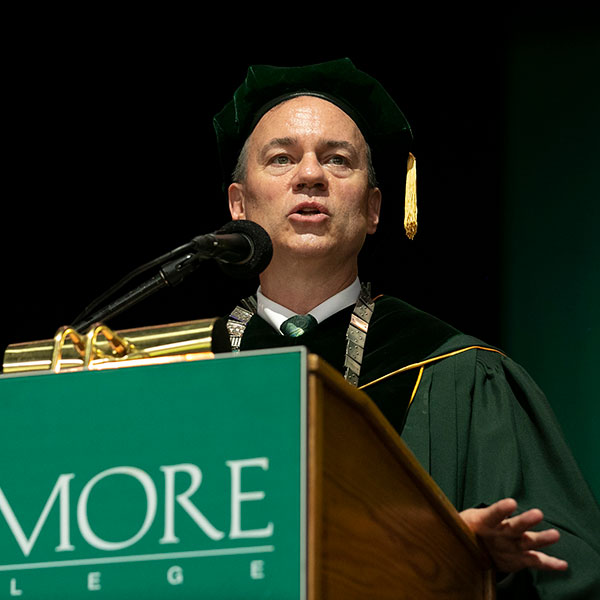 Marc C. Conner
"Class of 2021, savor this triumph. You've been part of something huge in this century. And you've endured. Endurance, resilience, grit — these are virtues that are not flashy, but this is how the world moves forward: By those who endure. Those who get knocked to the mat and get back up with fight left in them."
"Does anyone really think this generation is not tough?" Conner asked. "Let me show them the Skidmore Class of 2021, the class who finished this year not just with triumph, but with style."
West, who participated in two previous Skidmore engagements during the spring semester, spoke laudingly of Skidmore, noting that the Doctorate of Humane Letters he received from the College was the first honorary degree he had accepted in more than two decades.
West called for graduates to think critically, love deeply and act courageously.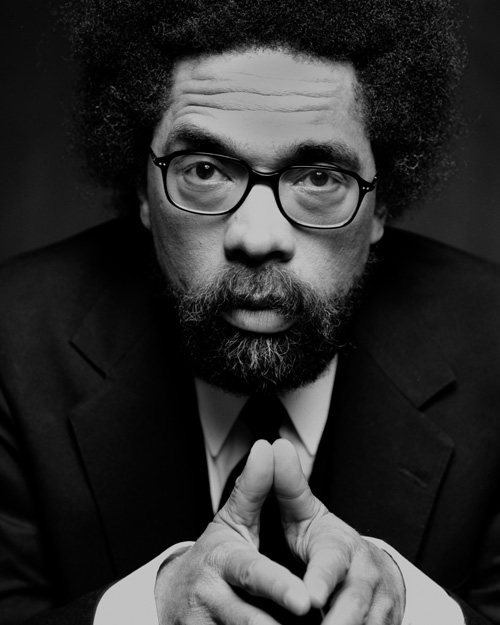 Cornel West
"Precious brothers and sisters of all colors graduating this day at Skidmore College ... I would hope you would take seriously the great Socratic legacy of Athens, which means mastering the courage to think critically for yourself — questioning, scrutinizing, calling into question, and being a counterweight against any forms of orthodoxy and dogmatism and narrowness, but also greed and hatred and hypocrisy."
Guthrie, who was honored with a Doctorate of Laws degree, spoke about how she was initially uncertain about her decision to study physics, but her course of study allowed her to work as a research and development engineer on programs that were precursors to NASA's Project Apollo in the 1960s. Similarly, her embrace of auto racing eventually opened doors in a historically male-dominated sport.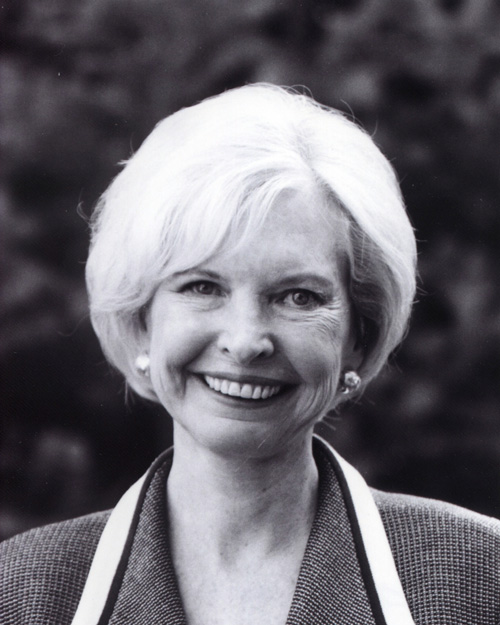 Janet Guthrie
"I made two big choices in my life that I thought were going to be financially disastrous, but I chose what I loved, and it led to unexpected success. So for you, graduates, find what you love to do, have the courage to follow your heart and intuition, and you'll know it when you find it."
Selected by the Class of 2021 as their faculty speaker, Bradley Onishi, associate professor of religious studies, drew on his favorite TV show, "The Office," and Albert Camus' novel "The Plague" as he spoke about how the smallest things can also be regarded as the grandest.
"When I look out from the stage today, I see a graduating class that endured an unforeseeable and harrowing final three semesters that demanded mental fortitude, patience and revised expectations. To be here now is a testimony to your character and your strength," Onishi said.
Bradley Onishi
"I'm not going to tell you to depart after a year and a half spent in purgatory, in uncertainty and in mourning, to go into the world to be heroes. I'm only going to ask that you keep doing — keep being — what you have already shown yourselves to be: Grand figures. Rebels. And, most of all, as human as it gets."

Class President Raymi Ramirez '21, a physics major who has been accepted into a graduate program at UCLA, encouraged graduates to be curious, to be kind, to avoid forgetting the experiences of the past year, including nationwide protests for racial justice, to recognize the impact that each could have on the world, and to forgive.
Raymi Ramirez '21
"This is your time, and from this point forward, never hold back the power you hold. Whether we talk again or not, just know I'll always be a supporter of all your accomplishments and feats."

Honoring the memory of Samantha Sasenarine, Ramirez relayed a special message to students of color and first-generation students.
"For some of us, there was no backup plan. There's no plush that we could rely on if college didn't work out. We came here not only to make ourselves proud, but our entire family, and some of us even our country," Ramirez said. "Some of us are the very first to do it. Breaking generational curses with an 8 a.m. (course) is not what any of us expected, but it's what we did."
As the Class of 2021 looks forward to the next chapter in their lives and careers, Robert F. Resnick '88, president of the Alumni Association, reminded the graduates that Skidmore will remain with them always.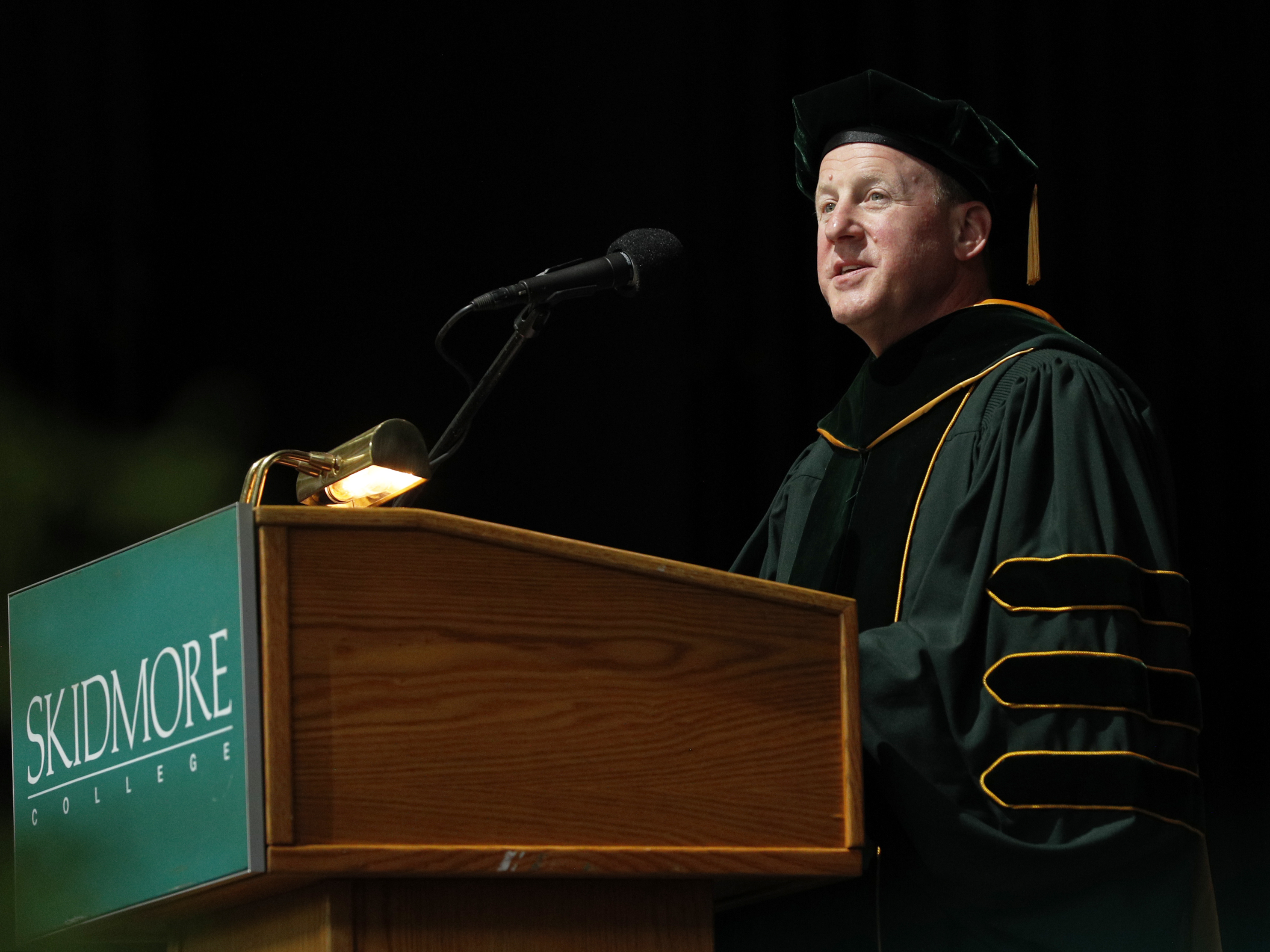 Robert F. Resnick '88
"The important things in life never come easy. You have to fight for the things you want to achieve. The good news is that you have your families and friends standing with you, you are armed with the Skidmore education, and you now have the entire alumni community as well."
Commencement, which followed a series of modified Senior Week events on campus, included traditional elements of the ceremony, such as a processional accompanied by bagpipers and a moving rendition of Skidmore's alma mater performed by seniors Jonathan J. Goff, Thabi Khumalo, Atticus Rego and Destiny Donelson.
Family and friends of the graduates were able to view the ceremony via a livestream on the Skidmore homepage, and some opted to attend an in-person viewing party held at Saratoga Springs City Center or a Zoom watch party that appeared on the large screens at SPAC, to replicate the presence of loved ones for the graduates.
Senior Gift Chairs Katherine Collin and Abd Aljabbar Abo Shokur urged seniors to give back to the College. Abo Shokur spoke of his experience growing up in a Palestinian refugee camp in Damascus, Syria, of becoming a refugee in Europe at age 15 and how his Skidmore classmates inspire him every day.
"The fact that we gather here today is what Skidmore stands for: a community with endless support," he said.
A bright future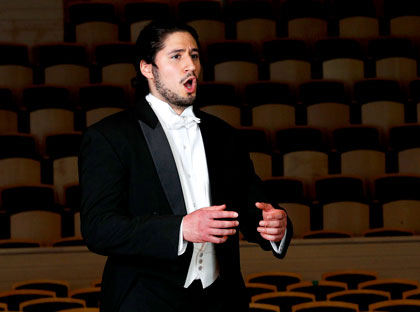 What comes next? Class of 2021 goes forth
As we look forward to celebrating the Class of 2021's future career successes and life adventures in the coming months and years, several members already have some exciting news to share.
Read the story
Roll call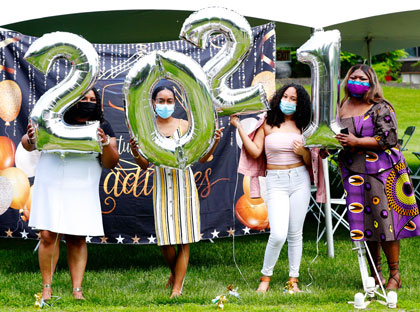 Meet the Class of 2021
Over the past four years, the members of the Class of 2021 have made their mark on Skidmore. As the graduates transition from students to alumni, we take a look at some of what makes this group stand out.
Read the story
T'bred memories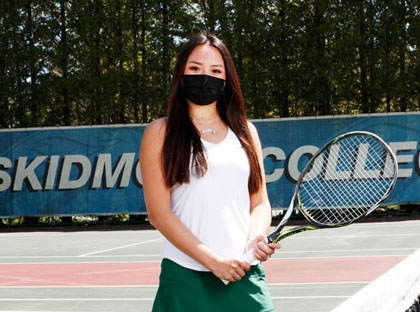 "No matter the score, keep going forward."
What does it mean to graduate from Skidmore as a student-athlete? Before they become alumni, we caught up with two decorated competitors to find out.
Read the story
Photo Gallery