Director's Note: Nov/Dec 2016
December 20, 2016
As a historian, I have a comfort zone when it comes to documentary work. No matter how creative the format, I respond most fully when the evidence suggests I could reach an independent insight or sets me up to explore independently. Historians are interpretive beings; we can read the same documents, hear the same speeches, watch the same footage, and still come up with diametrically distinct meanings. At a time when people doubt both the evidence and the interpretation of journalists, social media and even communities and leaders, the importance of keeping evidence in sight and verifiable seems to me fundamental to the mission and purpose of documentary. In a visit earlier this month to the Media Burn video archive in Chicago, and in conversations with the amazing collaborative at Kartemquin, I found inspiration and models for documentary that relies both on stewardship of the materials that form the bases of the stories that matter, and the communities that work together in the name of a stronger, just and equitable society.
Fortunately for me, Skidmore students and faculty seem to share a sense of documentary's mission and the importance of incorporating evidence into narrative. MDOCS closed a busy fall semester with a two-night Student Showcase hosted and organized by the "Festival Programming" class, which shared more than a dozen works in film, sound and exhibit that spanned the MDOCS curriculum and skill set. With more than a hundred fellow students, community members, faculty and even some dedicated parents in attendance, it was clear that Skidmore students are finding their way to storytelling that matters here, with a few young makers poised to tell stories that resonate beyond campus.
Audience members at the
Student Showcase
24 films and two audio pieces were shown
over the course of two nights.
After-party at Falstaff's with multimedia
interactive exhibits by Advanced Audio.

It's increasingly hard to believe (from this vantage point) that two years ago we were preparing to launch the first classes. In the past three months, led by dedicated faculty and staff (thanked below) students took full advantage of a cornucopia of options. Students learning how to shoot their first film produced public service announcements on sexual and gender-based misconduct, smoking, bullying and conservation. MDOCS' first crew-
based production class, "Story to Screen," under the guiding hand of Vickie Riley and Nicole Coady, researched and collaborated on four evidence-driven scripted shorts that made us laugh, gasp and shiver thanks to four teams of dedicated writer/directors, cinematographers and sound designers. Interviewing 101 students produced oral histories of the Flurry Festival and Beekman Street Arts District for the Skidmore-Saratoga Memory Project. Advanced audio doc students developed site-specific installations with stories ranging from poignant personal histories to reflections on race-based privilege in media as radical as sound-on-smoke. Students in documentary film production helped a largely North American audience connect to the perspective of a fellow student who came to Skidmore from the Middle East, and a majority white audience appreciate the harm that stereotypes and negative views of dark skin color have on the self esteem of the black women students who are their friends and classmates.
And documentary on campus is most definitively not limited to "DS" activity. Faculty across the curriculum, from Liz Macy in music to Bernardo Rios in anthropology, had students learning the theories and getting hands engaged in a variety of projects. Eric Morser and six students continued and deepened the work they started last spring to tell the story of the MacGregor State Penitentiary, expanding their work in oral history in preparation for a visit by the show Sites of Incarceration to the Tang Museum in Fall 2017. Students working with Cecilia Aldarondo (English) engaged with how documentary filmmakers have addressed HIV/AIDS and prepared film treatments. In Marc Woodworth and Ron Taylor' new class, a dozen mined the archives of the literary magazine Salmagundi, which Marc edits, to create multimedia projects, including one that grew from an interview with poet Chase Twitchell.
Shout out to Dorothea Trufelman '16 and Emma Lanier '16, whose short piece, From a Distance, was short-listed in Third Coast Picks in the 2016 Short Doc Challenge: Radio Cinema, and can now be heard on the international audio festival's website, alongside submissions from largely professional radio producers and artists.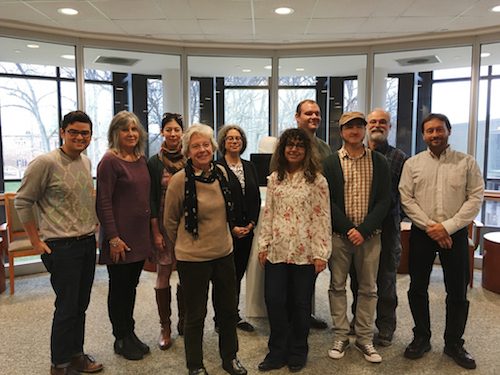 MDOCS Fall and Spring Faculty
As we wrap up 2017, I also extend special thanks to Jesse Wakeman and Judy Soukup, who joined the program this past year, to the program' enefit, and keep MDOCS humming. Also a year-end shout out to MDOCS' dedicated advisory board of Marta Brunner, Dan Curley, Dan Nathan, Michelle Paquette-Deuel and Jeff Segrave, and the faculty who have pushed us deep into documentary territory this fall: Nicole Coady, Eileen McAdam, Vickie Riley, Nicky Tavares, Ron Taylor, Adam Tinkle, Marc Woodworth and Tom Yoshikami, who always go above and beyond the call of duty and as far as student dedication will take them, and to the dedicated fall MDOCS student assistants Sam Grant, Urvi Kalra, Jill Moossmann, Emily Rizzo, Eli Ruben, Josephine Wong and Michael Zhou, who produce media and write for the newsletter, teach workshops, provide timely advice, design our graphics and show us on a daily basis how and why this program matters. To all, have a wonderful and well-deserved break, safe travels and return to campus.
We at MDOCS owe so much to a lot more folks on campus, from the dean's office and Advancement to Project Vis, Special Programs, the library, the Tang, Information Technology and Media Services, to Dining Services, Facilities, Print Services, Human Resources and Financial Services. Plus a lot more. To all of you, individually and collectively, thanks for supporting the vision and contributing to a strong compass that intertwines research and creativity, teaches humility and collaboration, and produces strong the people and stuff of tomorrow.
In January, a few faculty and students, including Cecilia Aldarondo, hit the screens at Sundance. In the spring, MDOCS is delighted to be hosting a workshop on grant writing (to get those documentary projects funded), and visits by filmmaker and alum Céline Cousteau, and filmmaker-scholar duo Lisa Blackmore and Jorge Domínguez Dubuc, as well as archival storytellers, sound artists and more.
See you in 2017 in Saratoga, Sundance, New York and beyond.
Jordana Dym
Director