Archive and Documentary
February 27, 2017
This winter in upstate New York, there's more than just snow in the air. For students in documentary seeking to tease out the origins and threads of multi-layered stories, this semester offers courses and programming highlighting the power of the archive to shape, reveal and challenge understanding.
Multiple projects are under way on campus and the Saratoga area. Students in Archival Storytelling are working in MDOCS' new attic workspace, spreading out and organizing decades' worth of a theater company's papers and identifying stories to share on the organization's 40th anniversary in 2018. Arts Administration Program Director David Howson has brought the administrative and performance files of The Depot Theatre of Westport, New York. A site visit is planned for later this spring, along with a chance to connect to longtime Depot volunteers and supporters. By the end of the semester, the class expects to present ideas for an exhibit and multimedia project the Depot can use in its 40th anniversary festivities.
David Howson introduces the Depot archive
Archival storytellers sort materials
SUNY Albany professor Sheila Curran Bernard's textbook Archival Storytelling, which directs students interested in incorporating archival footage and materials into documentary films, and French historian Arlette Farge's ruminations on The Allure of the Archives and stories she coaxed from Paris' 18th-century judicial records, helped start a conversation that ranges from the role of material objects in historic house museums to virtual exhibition. Conversations with the archivists and cataloguing experts in the Scribner Library Special Collections, Jane Kjaer and Wendy Anthony provided a framework for undererstanding metadata and collection hierarchy.
Public history students working with Associate Professor Tillman Nechtman have partnered with the New York State Historic Site Grant's Cottage, a historic house museum in nearby Wilton, and are considering the role of preservation and storytelling in this space occupied by a former president as he wrote his memoirs in the final weeks of his life. Faculty are looking into the history of the Erie Canal to prepare a partnership with the Albany Symphony Orchestra's summer Water Music to commemorate the 200th anniversary of work digging the canal. A Skidmore club is planning a fall 2017 exhibit in collaboration with MDOCS and Scribner Library to celebrate 25 years in operation, with oral histories and documentary exhibit in the works. Community partners in the Saratoga County Historian's Office are drawing on archival sources, audio and video, to create a documentary film about the Great Sacandaga Lake.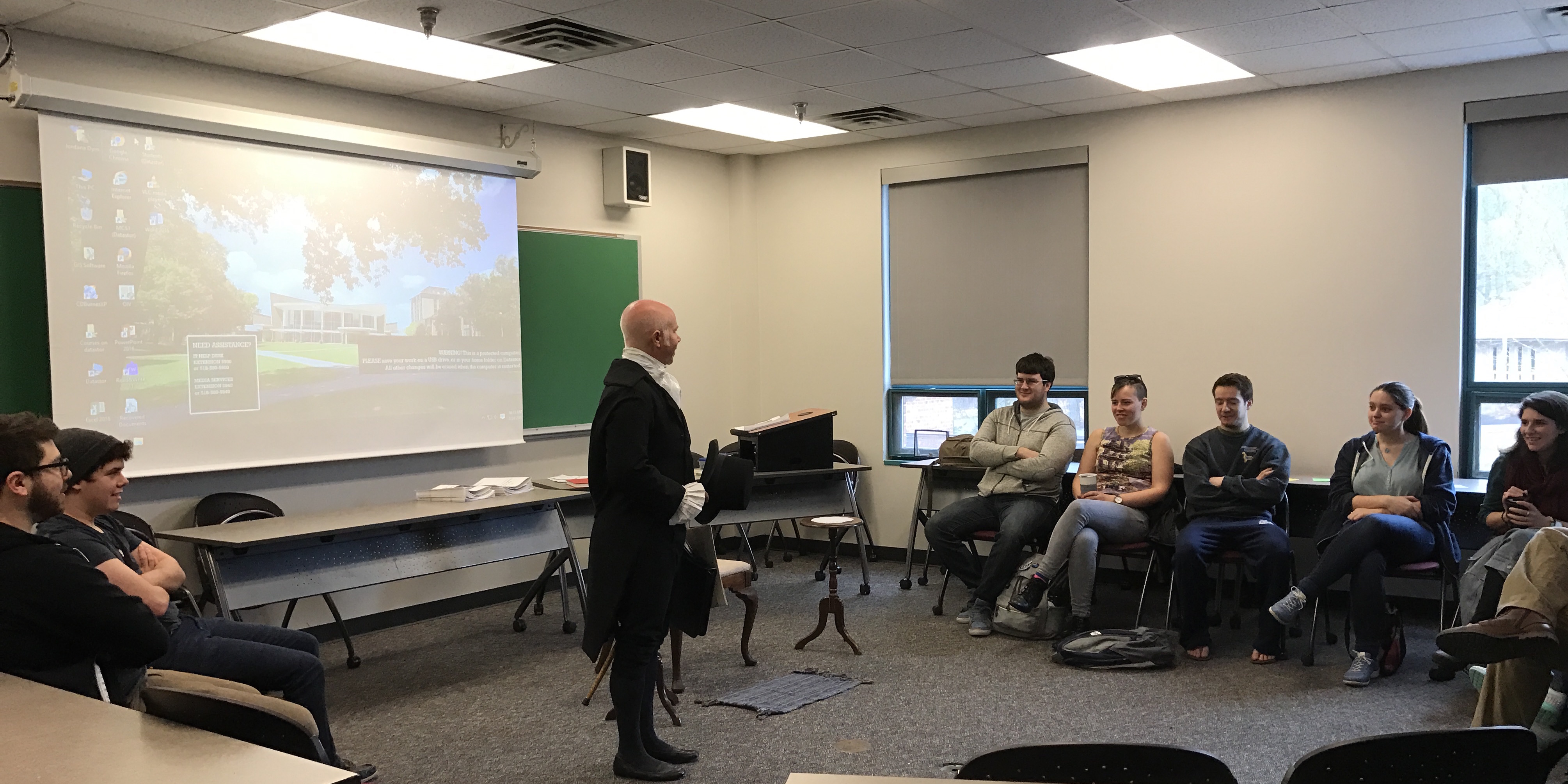 Left: Rachel Fidler workshop with "Interviewing 101" students;
Right: "President Madison" with public history students
Spring programs and visitors are helping us to explore the importance of archival research for documentary interpretation and storytelling, whether the archive takes the form of documents in collections, human memory, or traditional or digital media and with modes of storytelling ranging from live interpretation to film. On February 20–21, supported by the Jacob Perlow Lecture series, MDOCS hosted Rachel Fidler of the Los Angeles Museum of the Holocaust (LAMOTH). Fidler offered a lecture, class visits and workshops on "Bringing the Past into the Future" by having young people work with elders to share their story in digital media. LAMOTH's model interested area cultural and historic groups, and might inspire a Skidmore-Saratoga Memory Project.
With a distinct approach to the archival storytelling, Kyle Jenks performed as James Madison and talked about the work of interpretation to students in public history on February 23; he will present on the War of 1812 from President Madison's perspective at the New York State Military Museum on March 11. Students were charmed to be greeted by a former president and learn about his educational travels. The complexities of bringing a historic personage to life in a way that is true to competing and incomplete source materials sparked the beginnings of what promises to be an ongoing conversation.
March and April archival-tinged visits as well, who take us into and out of digital and media archives:
March 6: Alumnus Teddy Kunhardt, of Emmy-award winning Kunhardt Films, will be on campus to screen Becoming Warren Buffett (2017) a story that brings a new perspective to one of America's best-known investors, which relies on the filmmakers' access to the Buffets' family history, including photos and videos.
March 28: Tara Merenda Nelson, curator of moving image collections, will lead a dinner talk titled "Artists and Archives: The History of Visual Studies Workshop" (RSVP required).(Co-sponsored with Project Vis.)
March 29: "The World According to Sound" with Chris Hoff and Sam Harnett, a listening experience drawn on their recordings and radio show showcasing the unique sounds of the world around us.
April 3: Amelia Wong, Stories in (not Outer) Space from the Getty Museum digital archives (co-sponsored with Media and Film Studies).