2017 MDOCS Summer Courses
February 23, 2017
Summer at Skidmore presents the opportunity for MDOCS to offer special courses with practitioners outside of the regular Skidmore faculty body. For an intense five-week session, students learn documentary skills that build upon the regular academic-year curriculum in a space filled with inspiration and focus-driven work. In addition to being able to take these often one-time offerings, students can partake in the public events hosted by the Storytellers' Institute and will have the opportunity to converse and potentially collaborate with the guests MDOCS and other programs bring to campus during the months of June and July.
Below are the courses offered by MDOCS this summer, click to register.
Summer Session 1: May 30–June 30, 2017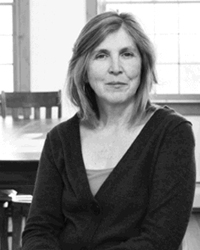 Intro to Audio Documentary + Podcasting Workshop
An introduction to the technologies, tools and skills of creating audio documentaries. Students explore podcast storytelling by using different microphones and incorporating archival sound to create relevant stories.
Instructor: Eileen McAdam, Sound and Story Project of the Hudson Valley
Eileen McAdam fell in love with sound recording 10 years ago when she first put on a pair of headsets, held a microphone in her hand and pushed the red record button. A whole new world opened up to her, and she has not stopped recording since. In 2006 she co-founded the Sound and Story Project, whose mission is to share the stories of everyday people in the Hudson Valley. Through original recordings and library and museum oral history collections, she uses the latest digital technologies and new and traditional media to connect people, place and community through radio programs, audio tours and new media productions. She is the recipient of three New York Council on the Arts individual artists awards and is currently working on a long-format audio documentary about life inside the Bedford Hills Correctional Facility, the only maximum security prison for women in New York State.
The Documentary Film Business
In this introductory course, students learn about documentary film business from development to distribution.
Instructor: Yvonne Welbon, Chicken & Egg Pictures
Yvonne Welbon is an award-winning independent filmmaker, originally from Chicago. She received her Ph.D. in radio/TV/film from Northwestern University and is a graduate of the American Film Institute's Directing Workshop for Women. She has successfully produced and distributed more than 20 films, including Living With Pride: Ruth Ellis @ 100, winner of 10 best-documentary awards, including the GLAAD Media Award for Outstanding Documentary, and Sisters in Cinema, a documentary on the history of black women feature-film directors. Her films have screened on PBS, Starz/Encore, TV-One, IFC, Bravo, the Sundance Channel, BET, HBO and in more than 100 film festivals around the world including Toronto, Berlin and Sundance. Recently she produced the award-winning documentary The New Black, directed by Yoruba Richen, and is working on her first trans-media project, Sisters in the Life: A History of Out African American Lesbian Media-making, a web-based online community-building project that also includes a book of essays (Duke University Press), a documentary (in production), an archive and a mobile application (in development). She is currently the interim creative director at Chicken & Egg Pictures.
Introduction to Documentary Filmmaking
This course teaches the critical and technical skills needed to produce nonfiction video. Subjects are regionally focused on the layered history of the small towns and cities of the Hudson River Valley.
Instructor: Jonna McKone, WYPR
Jonna covers education, youth and housing for WYPR. She's also a documentarian, media artist and educator. Her stories and audio documentaries have been broadcast on All Things Considered, Here and Now, Marketplace, The World, Living on Earth, WAMU and Virginia Public Radio. In 2014 Jonna was awarded an Equal Voice Journalism Fellowship. A Maryland native, Jonna is a graduate of Bowdoin College and holds an MFA from Duke University.
Summer Session 2: July 3–August 4, 2017
Storytelling for the Screen
In this course, students learn the classic three-act structure for telling their visual story through the various visual mediums available to 21st century storytellers.
Instructor: Nicole Coady, Prinroc
With more than 20 years of screenwriting experience, Nicole Coady has written for such companies as MTV, New Line Cinema and 20th Century Fox. In addition, she authored two video games for the top-selling toy company MGA. Currently she is in preproduction on a feature film, The Twelve Dancing Princesses. She is very excited to pass on her years of industry knowledge on how to write successfully for the screen.
For full course descriptions, visit MDOCS 2017 Summer Courses.