A winning design for Beatlemore
October 21, 2016
by Blair Warren '17
The year was 1966. The Beatles were flourishing and assured in their work. They produced their 7th studio album, Revolver, spinning their creativepower into a 14-song sonic explosion.
The year is 2016. Beatlemore Skidmania preparations are under way, centered on the Revolver album and with the event's poster design by Ben Cohen '17 in the forefront.
The winning poster design for 2016 Beatlemore Skidmania, designed by Ben Cohen '17.
For the past five years, art professor Deb Hall's "Communication Design II" course has taken up the responsibility of creating the Beatlemore poster. The design competition stirs "a lot of excitement with the students," says Hall. Since her class has been in charge of the designs, Beatlemore has doubled its charitable contributions as more faculty, students, and community members have been buying T-shirts and posters.
For this year's design, Hall explains, "we first researched the year 1966: the colors, the fonts, the illustrators (like Revolver designer Klaus Voorman, who won a Grammy for best album cover that year). We went 50 years back to try to capture the Beatles at that time, what they looked like, and what was going on then." Ben Cohen '17 acknowledges it was difficult to emulate the look of the pre-computer 1960s while using today's Adobe Suite software, so he scanned his own hand-drawn illustrations, including font design, to incorporate into his computer-generated imagery. He also incorporated Skidmore's Arthur Zankel Music Center into his imagery, since Beatlemore is "a unique event that Skidmore truly makes its own," he says.
After two weeks of creating and critiquing, the 18 student designs were presented to the Beatlemore board, consisting of Music Department faculty member Joel Brown and four students. Hall was there to help explain the design aspects of each poster. Looking for a poster that was readable and appealing but also accurate, down to hairstyles and guitar placements, the board debated for two hours before choosing Cohen's design to represent 2016's Beatlemore Skidmania.
Now the work only heated up for Cohen, who handled everything from editing the list of bands in this year's event to sending the design out to T-shirt manufacturers. It required late nights and long hours, which he says were "both fun and stressful. It was cool to learn the business side of it as well." And of course he listened to the Beatles while working, especially to Revolver.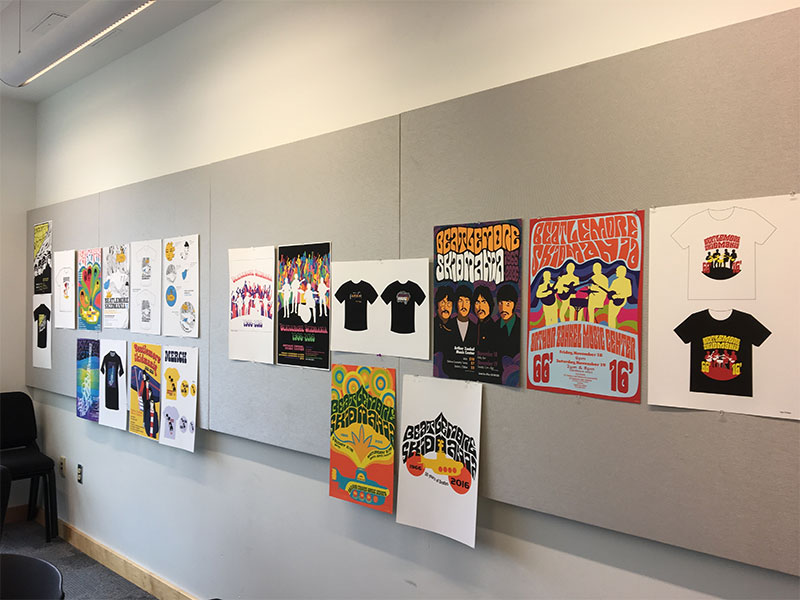 In the future, Cohen is interested in pursuing an independent, artistically focused career, likely in a design field.
Beatlemore performance dates are Friday, Nov. 18, at 8 p.m. and Saturday, Nov. 19 at both 2 and 8 p.m. All shows are in the Zankel Ladd Concert Hall. Tickets are $10 for adults, $7 for seniors and the Skidmore community, and $5 for students.