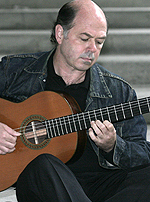 Joel Brown
Distinguished Artist-in-Residence
Guitar
"…sensuality and emotional warmth characterize his extraordinary musicianship. He makes music that both soothes and excites. It is the union of opposites that makes Brown so special." (Albany Times-Union)
Guitarist Joel Brown's actively eclectic performances as a soloist and chamber musician have included appearances with the Chamber Music Society of Lincoln Center, the Festival of Contemporary Music at Tanglewood, the Saratoga Chamber Music Festival, the Caramoore Festival, and the Killington Festival. Internationally, he has played in British Columbia at the Music in the Mountains Chamber Music Festival, in the Czech Republic at the Mikulov Guitar Festival as concerto soloist with the Martinu Chamber Orchestra, and in Asia with the Singapore Chinese Orchestra. Notable appearances in the United States include Carnegie Hall with soprano Dawn Upshaw, recitals on both coasts with mezzo-soprano Frederica von Stade, and with the Boston Pops Orchestra. Brown has also performed on NBC's Today, CNN's Showbiz Today, on NPR, and on the BBC.
Brown is the founding member of Tritonis, a flute, guitar and cello trio that appeared at the Guitar Foundation of America conference in Miami, at National Flute Association conventions in New York and Boston, and in universities and recital halls across the nation. Brown also commissioned new music for their critically and internationally acclaimed CD, Five Premiers—Chamber Works with Guitar (Albany).
Brown performs regularly as a member of Chris Brubeck's Triple Play, a crossover group blending jazz with blues and folk music. The trio has played in almost every state of the Union, and in 2006 performed at the Monterey Jazz Festival with the legendary Dave Brubeck Quartet. Their CDs—Triple Play Live and Watching the World (Blue Forest Records)—have won them fans around the world.
Brown's recordings also include Bach to Brubeck (Koch International) with the London Symphony Orchestra, Chords and Thyme (Dorian Records) with English guitarist Edward Flower, King's Court and Celtic Fair (Telarc) with the Empire Brass, and Across Your Dreams (Telarc) with Frederica von Stade. In 2002, Brown joined Dawn Upshaw, Fredirica von Stade, Meryl Streep, Chris Brubeck and the late Bill Crofut on Dance on a Moonbeam: A Collection of Songs and Poems (Telarc). Brown's most recent CD,Christmas Cedar and Spruce (Albany) has received rave reviews.
Joel Brown is a Senior-Artist-in-Residence at Skidmore College in Saratoga Springs, New York.
---
J. S. Bach, "Praeludium for Lute (BWV 997)" [arranged by Chris Brubeck] from Bach to Brubeck with the London Symphony Orchestra (Joel Revsen, conductor). [Koch International Classics 3-7485-2 H1]
"I Wish" [arranged by Edward Flower] from Chords & Thyme: English Folksongs for Guitar, Edward Flower and Joel Brown, Guitars. [Dorian DOR-90204]