Beatlemore poster winner named
October 27, 2015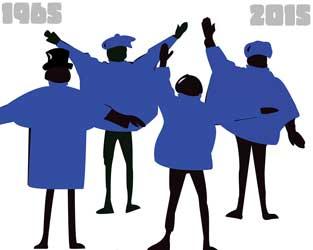 Excitement for the 15
th
annual Beatlemore Skidmania is starting to build on campus, as the student organizers have selected the winning design for the concert's marketing plan.
Sophia Baraschi-Ehrlich '16
, a studio art major enrolled in Professor Deb Hall's Communications Design II course, designed the poster selected by event organizers. Student talent is at the center of the entire production, from poster design to event planning and execution, to performers.
Beatlemore Skidmania 2015 is scheduled Nov. 20 and 21 in Arthur Zankel Music Center. Tickets may be purchased from the Arthur Zankel Music Center web site.
For the past five years, students in Hall's course have been given the chance to participate in the Beatlemore Skidmania Poster Design Competition. Baraschi-Ehrlich's design was selected out of 20 submissions. A member of the Beatlemore Student Committee, Roslyn Wertheimer '16, said that Baraschi-Ehrlich's poster stood out because "she did a great job in the detailing of the Beatles' faces," which made the design "extremely inviting." George Dilthey '16, another committee member, said, "The panels at the top of her poster look like the Zankel panels above the stage, so it's a cool shout out to Zankel's 5th anniversary."
Joel Brown, distinguished artist-in-residence in the Music Department, is the faculty member organizing Beatlemore Skidmania this year while event founder Gordon Thompson is on sabbatical. Brown provided Hall's students with information about this year's theme—1965—and shared his collection of vintage Beatles posters and records for inspiration.
Baraschi-Ehrlich's design is featured on t-shirts and posters, which are for sale in the Skidmore Shop, at the Zankel Box Office, and at all performances on Nov. 20 and 21. T-shirts are $15 ($5 for performers) and posters are $5 (free for performers). All proceeds will go to benefit Skidmore Cares and Student Financial Aid. In 2014, more than $12,000 was raised from all Beatlemore Skidmania proceeds.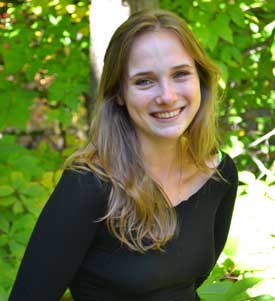 Sophia Baraschi-Ehrlich
Lisa Fierstein '16, a former Beatlemore Student Committee member and currently a student writer in the Office of Communications and Marketing, recently interviewed Baraschi-Ehrlich about her winning design.
LF: What did you do to prepare for designing the poster?
SBE: Joel Brown came to our class with his collection of Beatles paraphernalia to give us a sense of the group in 1965. He talked a lot about the albums, Help and Rubber Soul—particularly the Rubber Soul album cover and how the Beatles' faces were distorted and elongated. He talked especially about the font of Rubber Soul and how that was also distorted and weird, bright and orange, and how he thought it highly influenced a bunch of other designs at the time. In 1965, the Beatles were becoming more of their own people—they were goofier and less posed. If you look at photos of them from 1965, they're so funny and you can see their personalities, and I wanted to capture that aspect in my design.
LF: What were other sources of design inspiration?
SBE: We had a whole inspiration wall in the classroom. I looked up a bunch of photos of the Beatles in 1965 by their photographer Robert Whitaker. I also looked up 1965 rock music advertisements and Life magazine from that year, which was all about the Beatles. I found a photo of them being silly and looking down out a window and I thought it be cool if they were looking at the Beatlemore Skidmania name. A lot of the graphics during this time were imperfect because they didn't have the technology that we have, which I definitely took into consideration. My professor, Deb Hall stressed that our posters should look and feel as if they were made in 1965.
LF: How did you feel after learning you were the winner?
SBE: I was extremely surprised because there is so much talent in the class. I was shocked and really nervous once they said it was mine because it'll be going everywhere. I've never had my work shown like that before. It's an amazing opportunity and it's going to have such great reach. I'm lucky to have gotten the chance for all this exposure. And I love the Beatles and grew up listening to all their music! It's an honor because Beatlemore is an awesome event. I love how students take Beatles songs that are really well known and reinterpret them rather than trying to imitate what the Beatles were doing. I wanted to do something similar with my poster—take the influences that were from that time and make something new.
LF: Do you plan on pursuing a career in graphic design, post-graduation?
SBE: I started doing graphic design at internships and in various classes. When I came to Skidmore I thought I was going to be a double art and math major because I really like math. It's going to sound odd, but the exact and precise qualities of graphic design and figuring out what goes and fits where is just as satisfying as finding the value of x. A millimeter makes a world of a difference. I think I'll definitely use graphic design going into the "real world" to support myself. This poster showed me how much creative freedom you can have in this field. I've been saving for a long time and it would be nice to go work on a farm somewhere, but I will definitely try to pursue graphic design in my future career. ~ By Lisa Fierstein '16