President Glotzbach: Liberal arts prepare students for complex challenges
November 13, 2019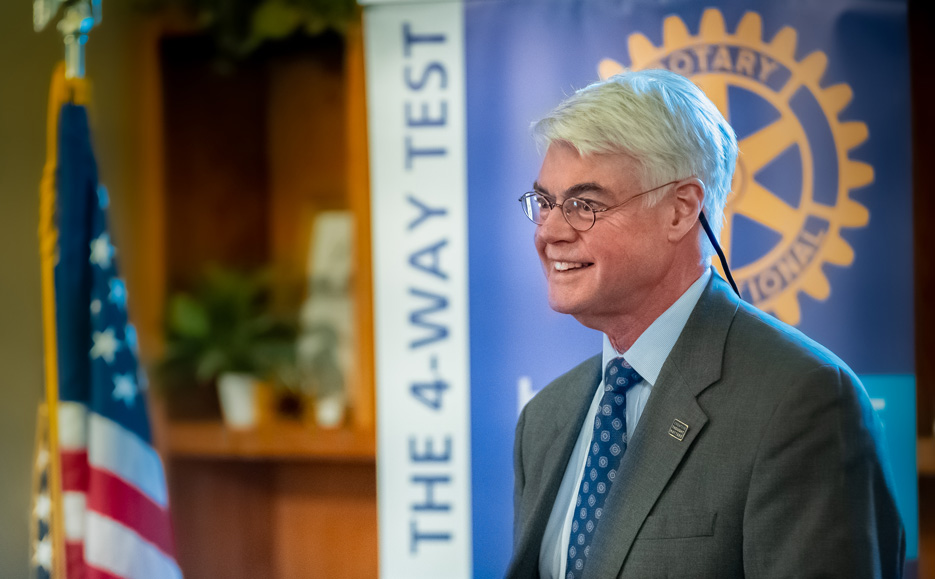 President Philip A. Glotzbach emphasized the enduring value of a liberal arts education and the many contributions of Skidmore College to the local community and broader society in a recent address to the Saratoga Springs Rotary Club.
Speaking at the Club's Nov. 6 meeting, Glotzbach noted that the world's most pressing challenges, such as climate change, are "multidisciplinary in nature" and added that a liberal arts education provides the tools to tackle complex issues of the future.

"Liberal arts colleges are perfectly positioned to be an important part of the solution — to prepare graduates to become critical thinkers and, most importantly, become informed, responsible citizens who can tackle those important issues that our society faces," said Glotzbach, who was recognized for outstanding community service by the Saratoga Springs Rotary Education Foundation in 2016.
Glotzbach was introduced by Jim Frey, president of the Saratoga Springs branch of the international service organization whose motto is "Service Above Self."
Glotzbach outlined Skidmore's impact on the local community through service-learning courses, thousands of hours of student volunteer hours each year, Skidmore Cares, a campus-wide giving initiative that benefits community agencies, and Skidmore-Saratoga Consulting Partnership, a program in which Skidmore students provide consulting services at no cost to businesses and nonprofit organizations in New York's Capital Region.
"In many ways, Skidmore also exemplifies what the liberal arts mean for a local community. Being a good neighbor is also very important for us," said Glotzbach, who encouraged local residents to visit the campus, explore exhibits at the Tang Teaching Museum and attend performances at the Zankel Music Center. "We're excited to be able to share so much of what happens on the Skidmore campus with the larger community."
Glotzbach noted the College has hosted Nobel laureates, Pulitzer Prize winners, activists, scientists, political leaders and many others over the years, and many of those events have been open to the public.
"We're excited to bring those voices not only to our campus, but to this city of which we are part," he said. "We want to share our excitement about the liberal arts and our conviction about the importance of our educational mission in today's world. We want Saratoga to be proud of Skidmore."