Alumni Association Board of Directors Award Recipients
We are thrilled to be able to honor our 2020 and 2021 Alumni Association Award Winners virtually and look forward to recognizing them in person next year during our special Reunion Weekend - June 10-12, 2022.
Reunion 2021 Awards Recipients
David Miner '91

The Creative Thought Matters Award of Distinction
Few individuals have transformed the comedy landscape like David Miner. A producer, talent manager and partner at 3 Arts Entertainment, he tapped into his deep roots in improvisational theater to bring some of the most innovative comedy series to the small screen in decades. As executive producer of NBC's "30 Rock," David earned three primetime Emmy Awards — following up with a string of Emmy-nominated hits, all bearing his unique creative stamp and keen eye for comedic talent. These include "Parks & Recreation," "Brooklyn Nine-Nine," "Master of None," "Unbreakable Kimmy Schmidt" and "The Good Place." Founder of the College's first student comedy group, the Ad-Liberal Artists, David is the architect of The National College Comedy Festival, still hosted annually by Skidmore.
Angelina Chambers '76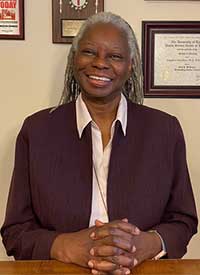 Distinguished Achievement Award
A distinguished nurse clinician educator and administrator, Angelina has been practicing as a certified nurse-midwife for over 40 years. Associate dean of the Peavy School of Nursing at the University of St. Thomas in Houston, Texas, she holds the Cullen Trust for Higher Education Endowed Chair in Nursing. Angelina earned a PhD from the University of Texas at Galveston and is an expert on maternal-infant bonding and attachment in incarcerated women. Her research focus extends to the impact of government policies on reproductive health practices from an international perspective. Angelina is also founder of Midwives of African Descent-Houston (MAD-H), a grassroots organization aimed at decreasing the maternal and infant mortality rates among African Americans.
Wendy Wilson '96

Diversity and Inclusion Leadership Award
Award-winning journalist Wendy L. Wilson has been reporting and directing news coverage for the past 20 years. You can find her work in the pages of Essence, Ebony and Jet magazines as well as the online news and culture platform, TheGrio, all of which keenly focus on storytelling encompassing the African American experience. The New York City resident currently leads the digital editorial team as the Executive Editor at BET.com (Black Entertainment Television). Wendy was one of a handful of journalists granted insider access to the Presidential campaign and White House of Barack Obama, she has interviewed Nelson Mandela and Maya Angelou. She has been a trusted source of accurate and authentic coverage for Black Americans during some of the most impactful events in recent history, including nationwide protests sparked by the killings of Floyd George and Breonna Taylor. Former chair of diversity on Skidmore's Alumni Association Board of Directors, Wendy was also a founding member of the Alumni Diversity & Inclusion Steering Committee.
Sibyl Waterman Haley '71

Jacqueline M. Jung '61 Lifetime Service Award
For over 40 years, Sibyl Waterman Haley has helped shape Skidmore's evolution from regional gem to premiere national liberal arts college. She has served multiple terms as an alumna trustee and Alumni Association president; was a key member of the Friends of the Presidents and several campaign executive committees; and played a role in bringing Marc C. Conner to campus as president. Former assistant director of admissions at Skidmore, Haley brings a deep appreciation of institutional history to her myriad roles. She celebrates her 50th as Presidents Society chair.
Ellen Tanner '71

50th Reunion Outstanding Service Award
Ellen Tanner has been an active Skidmore volunteer for decades; planning reunions, serving as a class agent and coordinating regional alumni events. After retiring from a distinguished career as a New York state HIV program administrator in 2010, she further amped up her volunteer efforts. Local arts, education and civic organizations are the recipients of her time and talent, but Skidmore is the chief and longest-running beneficiary. Co-historian for her 40th Reunion and social media co-coordinator for her 45th, Ellen reprises both roles to celebrate her 50th. "The highlight of my work with Skidmore has always been the opportunity to collaborate with so many enthusiastic and talented fellow volunteers," she says. "I learn so much from the experience — and it's a lot of fun!"
Zelda Jacobson Schwartz '61

Outstanding Service Award
Zelda Jacobson Schwartz is a retired psychotherapist and former director of family therapy at Jewish Family Services in Worcester, Mass. Drawing upon her professional insights and expertise, Zelda agreed to offer classmates an exclusive workshop on the influence of feminism and societal change at their 20th Reunion in 1981. Appreciation of what is fondly referred to as "Zelda's Thing" has made it a Reunion highlight ever since. In addition to facilitating this special forum, Zelda is also a longtime class agent. She's served multiple terms as class president and celebrates her 60th Reunion in that role.
Eileen Crowley Sullivan '76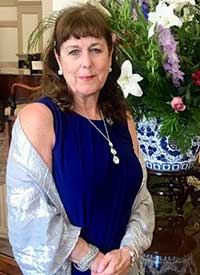 Outstanding Service Award
Eileen Crowley Sullivan retired in 2018 after a rewarding career in higher education; she was a longtime Boston University faculty member, associate dean at the Feinstein School of Education and Human Development at Rhode Island College and dean of students for an online university. The Skidmore physical education major and multi-sport athlete has enjoyed a parallel career as an alumna volunteer. A class agent since graduation, she is also a seasoned reunion planner. Eileen officially celebrates her 45th as social media chair and dedicated reunion volunteer. She's already offered to serve as co-chair for the 50th.This spirited alumna is easily identified wherever she goes by her SKID76 license plate.
Joshua Boyce '81

Outstanding Service Award
A leading researcher on the immune basis of asthma and other allergic diseases, physician/scientist Joshua Boyce, MD, is the Albert L. Sheffer Professor of Medicine at Harvard Medical School. He leads one of the largest and most successful asthma and allergy research and training programs in the country as the Chief of Allergy and Clinical Immunology at the Brigham and Women's Hospital. He also served as chair of a National Institutes of Health Expert Panel on the Diagnosis and Management of Food Allergy. At Skidmore, the biology-chemistry major was "carefully mentored" by faculty who inspired his pursuit of a career in science. For more than two decades, Josh has been "paying it forward" by offering full-time research assistant positions to Skidmore graduates (26 to date) as well as laboratory internships to scores of other Skidmore students. As a former alumnus trustee, Josh was among the most passionate advocates of the Center for Integrated Sciences. He celebrates his 40th as a reunion volunteer.
John Melligon '81

Outstanding Service Award
An investor and former corporate executive, John Melligon has been lending his expertise to Skidmore for years. He's is a member of the College Board of Trustees who has held leadership roles on several key committees. An active contributor to the most recent Creating Our Future Campaign Executive Committee, John also served as a member of the Parents Council and co-chaired the Senior Family Parent Project in 2018. But the Men's Lacrosse alumnus considers his most significant contribution to be his role as co-founder of the Friends of Skidmore Athletics. When Men's Ice Hockey was cut from the College's athletics budget in 2003, John was instrumental in rallying the entire athletic community to successfully advocate for its restoration. John's Skidmore family includes wife Kathy Melligon '81 and their son, Chris '18, who also played lacrosse for the Thoroughbreds.
David Levine '91

Outstanding Service Award
When West Coast native David Levine arrived at Skidmore, he found the diversity of backgrounds, ethnicity and ideas at Skidmore exhilarating. He thrived in an environment in which faculty and staff were readily accessible. While pursuing a degree in economics bolstered by the liberal arts, he came to know President David Porter well. President and CEO of Presidio Mortgage Holdings LLC, David is active in civic life in San Francisco. This "proud Skidmore alumnus" has given back to his alma mater in numerous roles, including stints as a regional volunteer and member of the Nominating Committee. He celebrates his 30th as class Presidents Society chair and reunion volunteer. A longtime admissions contact, David also continues his service on the Tang National Advisory and President's Advisory councils.
Jared Leigh Greenbaum '11

The David H. Porter Award for Young Alumni Service
For Jared Leigh Greenbaum, serving the Skidmore community as an alumnus volunteer has simply been a continuation of his active involvement during his student days. Consultant and executive director of strategy at higher education consultancy Keeling & Associates, he traces the beginnings of a successful professional life back to Skidmore faculty mentors and a campus culture that values "diversity of thought." While he pursued a self-determined major in arts administration, Jared was a lighting designer and member of the management staff for the Theater Department, SGA treasurer, head tour guide, pre-orientation and orientation advisor, and a Business Department student coach. The depth of his involvement earned the honors graduate a President's Award. Since then, Jared has enthusiastically served as an alumni admissions contact, Presidents Society chair and a Regional Events Committee member. He celebrates his 10th Reunion as class co-president and reunion chair.
Michael Letko '11

The Joseph C. Palamountain Award for Young Alumni Achievement
Michael Letko is a molecular virologist who spent the last five years developing a platform to identify viruses that can transmit from animals to humans. Scientists have stored sequenced genes of viruses in a public database for years, but it went largely unused until Michael noted similarities among coronaviruses – and developed a tool to synthesize the data. An assistant professor at Washington State University, he opened a laboratory of functional viromics at WSU's Paul G. Allen School for Global Animal Health in summer 2020. The Skidmore biology major went on to complete a doctorate in microbiology at the Icahn School of Medicine at Mount Sinai and conducted postdoctoral research at the National Institute of Allergy and Infectious Diseases. He currently directs his own lab at Washington State University.