Campus visit tips from Thoroughbred Ambassadors
August 19, 2019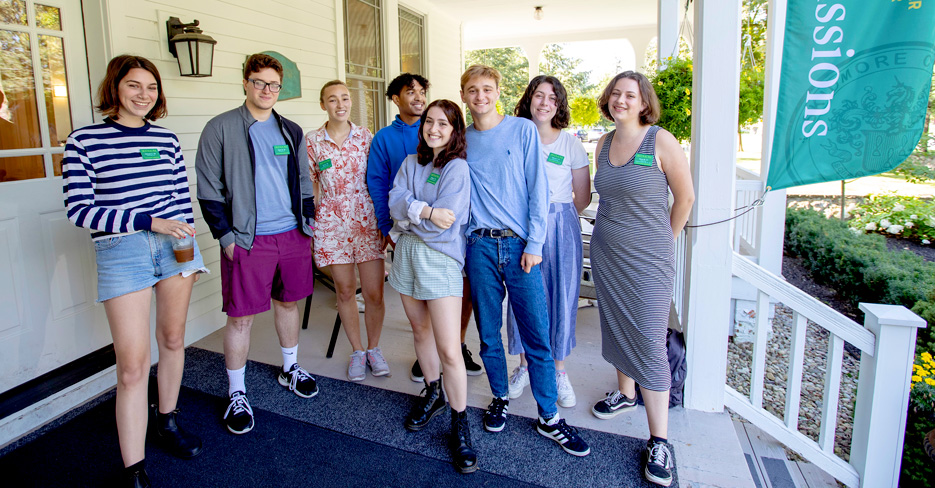 There's a lot to consider when choosing a college: "What can I study?" "Where will I live?" "Will I have access to internships and faculty mentors?" "Will I find friends, clubs or teams?"
And perhaps the hardest question of all: "Can I picture myself here?"
For those who are able, one of the best ways to help address your questions — even the hardest ones — is with a visit to campus.
You can also take a virtual tour here.
As a Skidmore student who went through a similar rite of passage, and as a Thoroughbred Ambassador who has guided many prospective students through campus, I've collected some tips to make your visit to Skidmore even more memorable.
Consider this a checklist to get you started, but keep in mind that this is a big moment in your life, so feel free to ask your Admissions hosts for what you'd like to see, experience or do to help with your decision.
Don't skip Murray-Aikins Dining Hall.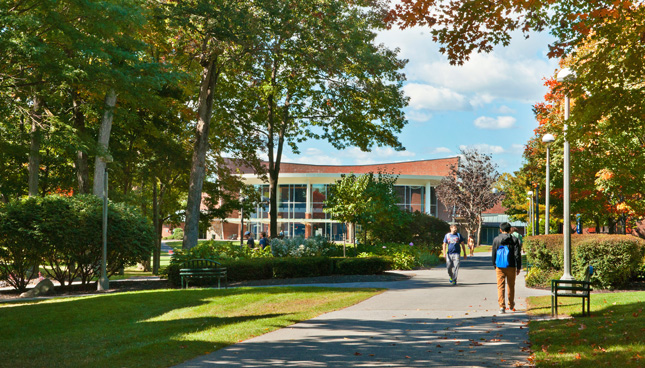 Our award-winning Murray-Aikins Dining Hall provides nutritious and sustainable food while also functioning as a social hub for students running between classes during the day or extracurriculars in the evening.
Your tour guide will bring you through here, winding you through the many stations and delicious smells — Supremo's for Pizza, Emily's Garden for vegetarian dishes, The Diner for hot meals and more.
Tips
Eat a cookie. For some reason, each time we stop for our famous chocolate chip cookies, our visitors become shy. Yes, they are amazing. Please have one. It will energize you through the tour!
Look beyond the food. You're there to check out the food. But the dining hall, or D-Hall as we call it, is also a great place to people-watch. And not just the students. Also look for our amazing and friendly dining staff. They'd love to meet you.
Shadow a class.
While your tour guide will take you around the campus, you can also get a taste for our classroom experience through Skidmore's day-hosting program.
The program runs during the academic year (mid-September to early May) and gives high school juniors and seniors the opportunity to spend a morning or afternoon on Skidmore's campus with a current student. You can also attend a class and have a meal in our dining hall.
TIPS
If shadowing a class interests you, be sure to register at least two weeks in advance so our Admissions team can try their best to match you with someone in your area of interest.
Our faculty members are also eager to have you attend one of their classes on your own. All you have to do is use our Master Schedule to find a class and email the professor of your choice to sign up.
Bring your questions.
Take full advantage of your time with your tour guide. Bring all of your questions. Even if there isn't time during the tour, we're often available before and after as well. Many of us are also happy to share our email address if something comes up later. Just ask!
Tip
Here are a few questions that go beyond "What do you think of Skidmore?"
What's your favorite thing to do on the weekends?
What's the best class you've taken recently?
What do you know now that you wish you knew when you were applying to college?
Do people really think Creative Thought Matters?
How do people get around campus and town?
Also, we're more than happy to do all the talking, but we love to hear from you, too! My favorite part of the job is learning where you're from, what you're interested in and what your concerns are. Your input makes us better tour guides.
Sign up for an arts or sciences tour.
In addition to the general tour, which is offered three times a day, Skidmore's tour guides also offer art- and science-focused tours. If you have an interest in either area, these special tours will give you a closer look at our Tang Teaching Museum, the art studios in Saisselin or our science facilities in Dana Science Center. These tours tend to be smaller groups, allowing for a nice, personalized experience.
Stroll around Saratoga Springs.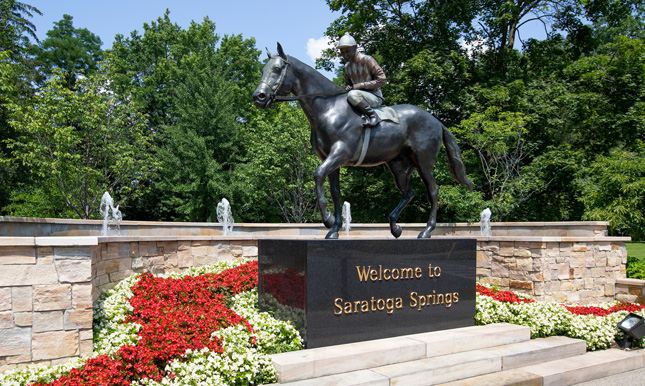 A significant part of Skidmore's charm is the ever-lively Saratoga Springs. If you haven't already heard, Travel & Leisure calls Saratoga Springs one of "America's Greatest Main Streets" as well as "one of the best college towns in the nation." Money magazine has ranked it as one of the nation's top 100 places to live, and The Princeton Review describes it as a "perfect college town" that's "extremely fun and accepting of college students."
But really, for us, it's about taking a stroll down Broadway (our main street), browsing our bookstores, grabbing coffee from a locally owned shop and dining at one of the 40+ restaurants within three miles of campus.
Tips
Get a restaurant list. Our tour guides maintain a colorful list of restaurant recommendations. Don't leave the Admissions office without asking for a copy!
Take a $5, 30-minute tour. Downtown, in the heart of Congress Park, is one of the most convenient ways to learn about our small city. The Saratoga Springs History Museum, in the Canfield Casino, tells the story of Saratoga Springs from its beginnings.
Leave time for a stop on your way out of town. Check out Saratoga Spa State Park. The historical landmark has biking and hiking trails and hosts the famous Roosevelt Baths, Hall of Springs and Saratoga Performing Arts Center.
Remember your tour guides, too.
Personal experiences are integral to life at Skidmore and our tour guides work hard to ensure that you have a productive and eye-opening look at our campus, its culture and the many available resources afforded to us as students.
For that reason, it's always nice to receive feedback from visitors. Be it right after the tour or later by email, we love to know what was great and what we could do better. And, if you're so inclined, don't be afraid to finish your day with a round of applause or two!