A student's tour of Saratoga's coffee scene
June 6, 2018
Everyone likes their morning cup of coffee, especially college students. And when you live in a place like Saratoga Springs with dozens of options, it's no surprise that friendly debates are common over which coffee spot's brew is best.
Maybe you choose based on location, preferring something within walking distance? Perhaps you're an artistry and flavor aficionado? Or a straight black and traditional no-fuss mug consumer? We found that each favorite spot is as individual as members of the Skidmore community. And luckily, there's an option for every taste.
Curious what's out there? I toured 10 popular places to give you a head start in finding your own favorite. At each one, I asked the talented baristas for their most popular order and I think you'll find that, even in coffee, Creative Thought Matters.
Locally owned and loved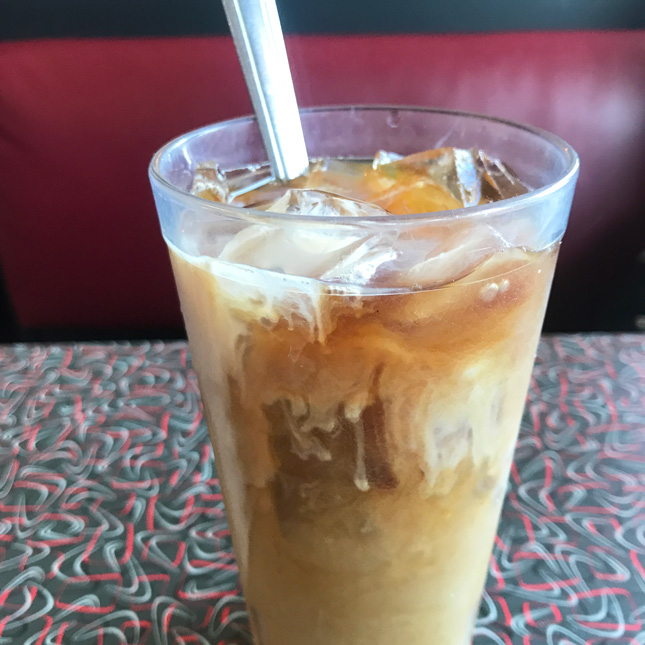 Triangle Diner
400 Maple Ave., SARATOGA SPRINGS
Most popular drink: Iced coffee
Students and Skidmore community members love this classic diner, known for its large servings and hearty spins on menu favorites. If you're there for breakfast, prepare for a wait and cozy seating. And of course make sure to pair your house iced or hot coffee with a heaping side of potatoes.
Saratoga Coffee Traders

447 Broadway, Saratoga Springs
Most popular drink: Death Wish coffee
You know you're well-engrained in the local culture when the phrase "Death Wish" now means a cup of the "world's strongest coffee." At Saratoga Coffee Traders, you'll get a hipster vibe and a full menu of coffee and tea options. But hands down, the Death Wish coffee is notorious both locally and across the country (thanks to that Super Bowl ad the company won in 2016). Death Wish will give you the spark you need to last all day—or night—long. And with large tables for group gatherings and a helpful student discount, Saratoga Coffee Traders is a Skidmore favorite.

Stewart's Shops

Various locations (there's always one near you)
Most popular drink: House blend brew
The college student budget is no joke. Thus it's no wonder that Stewart's Shops' house brew, which costs less than $2 for a small, is a Skidmore staple. A classic convenience store, Stewart's gets bonus points for having a number of other grocery items at student-friendly prices and nearly a dozen locations in Saratoga Springs. You're a true Saratogian after you make your first Stewart's run.
Kru Coffee

46 Marion Ave., SARATOGA SPRINGS
Most popular drink: French toast bullet latte
With live music, gourmet drinks and pet-friendly perks, Kru is an experience unlike the others. Popular with students, professors and the community alike, it's the type of place to grab a rich and flavorful drink and linger over conversation. Though it does require a quick car ride and pricing is a bit higher than your average cup of joe, the experience is worth every penny.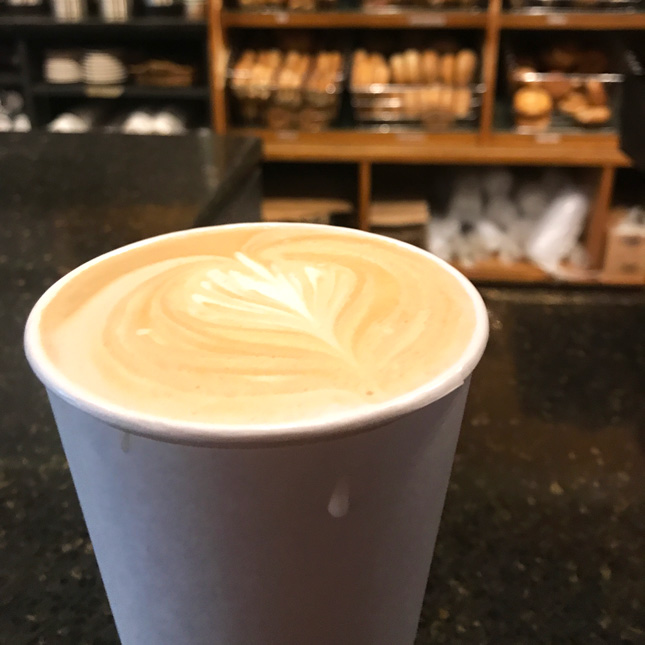 Uncommon Grounds

402 Broadway, SARATOGA SPRINGS
Most popular drink: Medium latte
No Skidmore-Saratoga experience is complete without a visit to Uncommon Grounds, a longtime anchor in the community. With beans roasted daily, Uncommon Grounds pours only the freshest coffee. And while it's often a spot students choose to bury themselves in work, be prepared—this bustling business is also a scene to be seen in, and you'll likely end up procrastinating with a friend. Grab a table as soon as it opens and enjoy people-watching your morning away.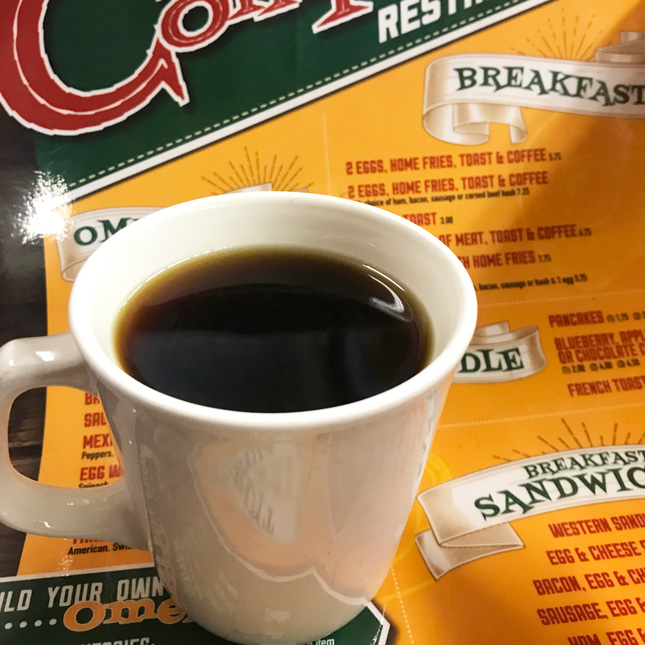 Compton's Restaurant

457 Broadway, SARATOGA SPRINGS
Most popular drink: "A cup of hot coffee"
Are you up really early or … still awake from last night? Compton's opens at 4 a.m. to serve both industry crowds and late-night revelers. This no-frills diner has that oh-so-distinct smell of fried food and serves the straightest, simplest cup of coffee in town. At Compton's you can pop in a booth, place a full breakfast order and be happily caffeinated and fed in less than 10 minutes and $10.
Commercial delights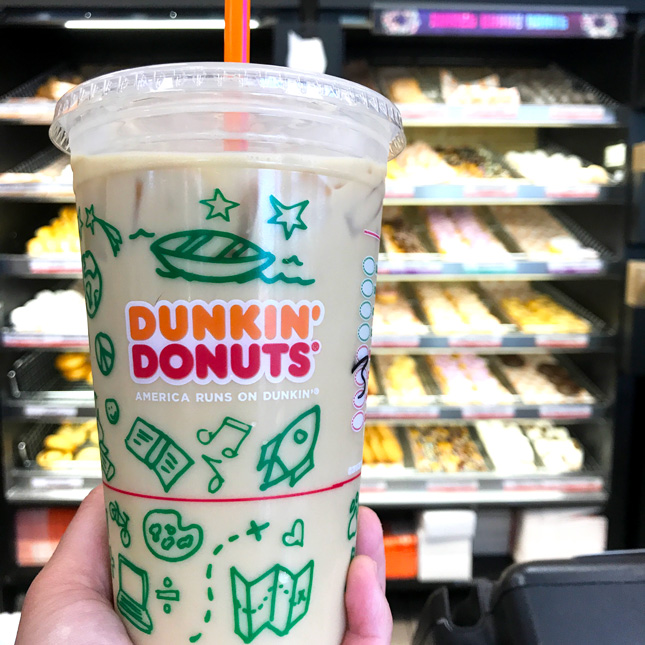 Dunkin' Donuts

207 South Broadway, 3014 Route 50, SARATOGA SPRINGS
80 West Ave, Saratoga Springs
3014 NY-50, Wilton
Most popular drink: Caramel swirl iced coffee with cream
While we have a robust community of locally owned coffee shops, sometimes you've been studying all night and you're dressed more appropriately for the drive-through than a public appearance. If that's the case, there are three Dunkin' Donuts stores within a five-minute drive from campus. Beat the downtown Saratoga Springs hustle and head to this New England favorite when you're in a rush and need a caffeine fix without the frills. You really cannot go wrong with the iced coffee!
Starbucks

351 Broadway, Saratoga Springs
Most popular drink: Caramel macchiato
Starbucks is everywhere, and Saratoga Springs is no exception. And the chain still seems to corner the market on specialty drinks and seasonal favorites. Students enjoy the trek downtown to get their Starbucks fix. The wildly popular international chain is a great study spot with "coffee house" jams and a wide selection for the more refined coffee drinker.
Bonus: Some tea time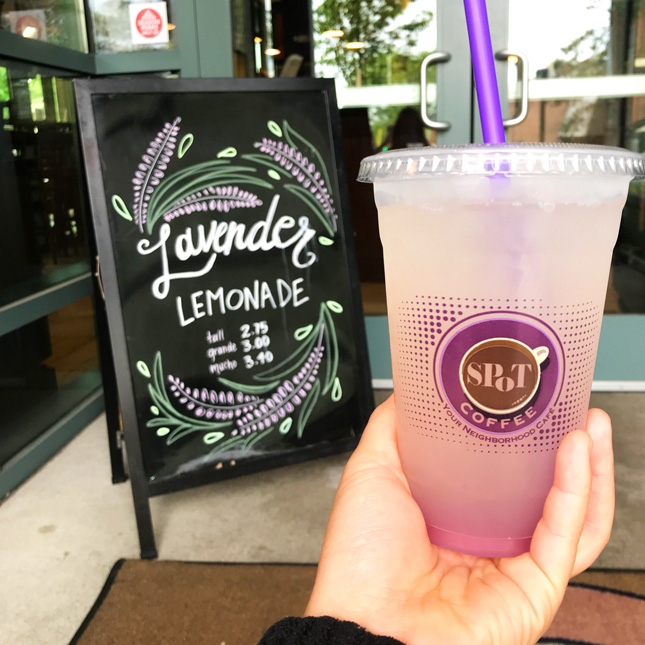 SPoT Coffee

55 Railroad Place, Saratoga Springs
Most Popular Drink: Lavender lemonade
Unofficially voted "best for group meetups" by our small sample of students, SPoT Coffee is another favorite in downtown Saratoga Springs. And while the coffee selections are excellent, the most popular order is actually a lavender-infused lemonade. A refreshing concoction, this drink speaks to the creativity of the SPoT Coffee experience, made even better by comfy couches, big windows and a quieter scene for dreaming up big ideas, studying or catching up with friends.
Mrs. London's

464 Broadway, Saratoga Springs
Most Popular Drink: Homemade iced tea
If you ever find yourself wishing you could take a quick flight to Paris and still be back in time for dinner, Mrs. London's is your place. With marble-top tables and an enticing display of fresh-baked pastries to die for, it's the perfect place for a coffee date. But, while we love Mrs. London's coffee, you simply cannot miss the homemade iced tea. It's infused with lemon and berries, and Mrs. London's uses three different teas with a splash of orange juice to make the perfect refreshing drink!
Learn more about Saratoga Springs on a Virtual Tour
A Skidmore specialty
Burgess Café

Case Center, Skidmore College Campus
Most Popular Drink: Caramel macchiato
Saratoga's coffee scene is vibrant with artistry and flavor, simple and international brews. But, truth be told, at the heart of the Skidmore experience is our very own Burgess Café. While it proudly serves Starbucks coffee, it's at our own special price and, if we re-cast our votes by Skidmore consumption, Burgess would be a landslide winner. The coffee is always hot and served by the friendliest people on campus; nothing beats a fresh cup on our own campus.
Photos provided by Jillian Seigel '18