Three itineraries for a day in our hometown, Saratoga Springs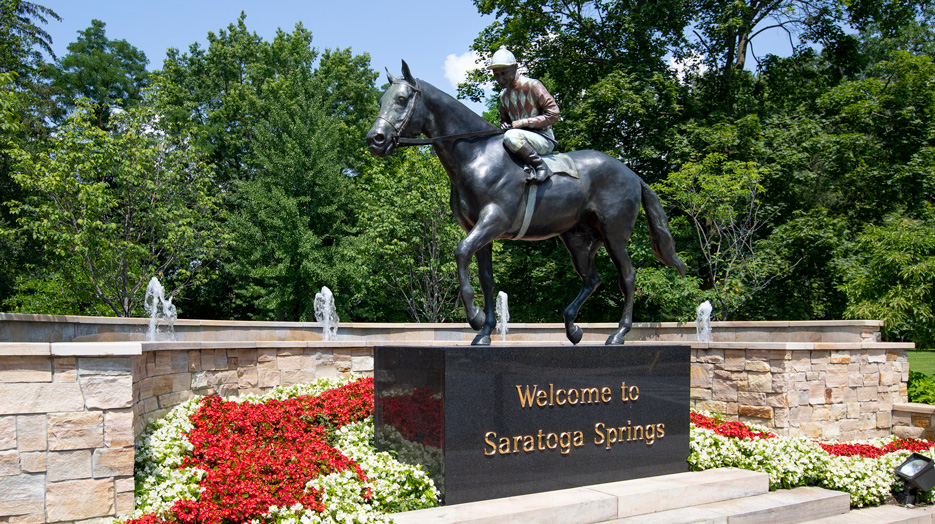 A visit to Skidmore College isn't complete without sampling some of the best experiences, dining, and sights that our hometown, Saratoga Springs, has to offer.
Repeatedly recognized as a great place to live with a beautiful downtown, healthy community, and must-see historic attractions, Saratoga is both a world-class tourist destination and a one-of-a-kind college town.
In short, there's a lot to see and do. In fact, it's said that Saratoga Springs has as many restaurants and nightlife spots per capita as cities like San Francisco and Chicago, but in a compact small-city size with a population of about 30,000 residents.
Whether you're here for a night, a weekend, or four college years, we hope these itineraries — compiled from recommendations made by students and locals — will help you make the most of your time in Saratoga Springs.
Itinerary 1: Shopping and Downtown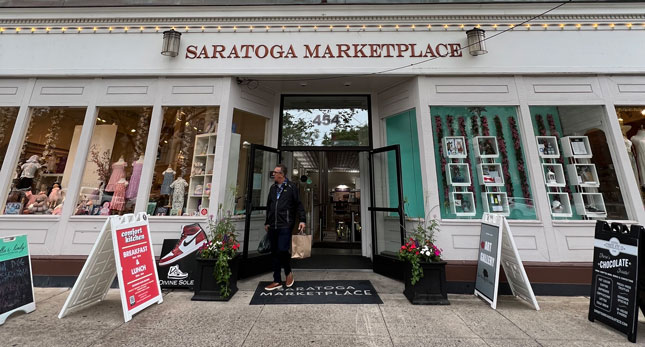 After taking a campus tour, turn right out of Skidmore's main entrance and walk or drive one mile to arrive in the heart of downtown Saratoga Springs.
Stop for some caffeine at one of downtown's many coffee shops. Some student favorites include Saratoga Coffee Traders, Uncommon Grounds, Spot Coffee, and the flagship store for Death Wish Coffee, the self-proclaimed strongest coffee in the world.


Saratoga Coffee Traders
Once you've refueled, take some time to stroll and visit the many small businesses that line the streets. Some student favorites include Magic Moon for crystals and spirituality-related items, Silverado for handmade jewelry, and Impressions or the Dark Horse Mercantile for Saratoga-themed souvenirs.
There are dozens of popular lunch options, but one hidden gem is Comfort Kitchen in the Saratoga Marketplace. You can stretch out afterward by exploring the other shops and boutiques it neighbors.
Dessert is a must, and you can't go wrong with a stop at Kilwins for a sweet or two on your way to one of Broadway's anchors, Northshire Bookstore, to browse books, vinyl records, locally made goods and gifts, and more.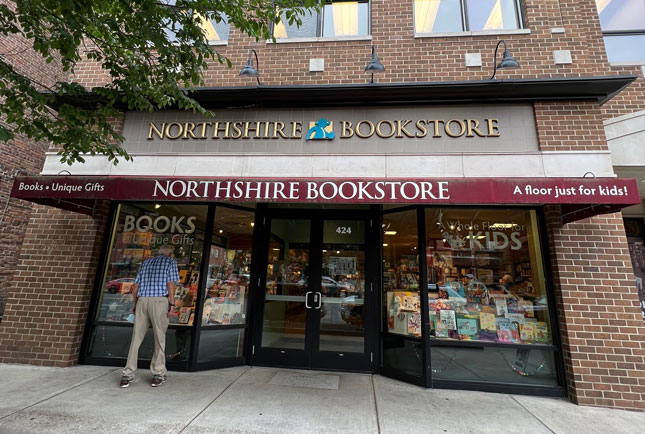 There are plenty of other spots to enjoy as well, with options ranging from tea shops and toys to gift shops and galleries. After a full day on Broadway, a great spot to rest your legs is at a local favorite famous for its fried chicken: Hattie's Restaurant.
Itinerary 2: Outdoors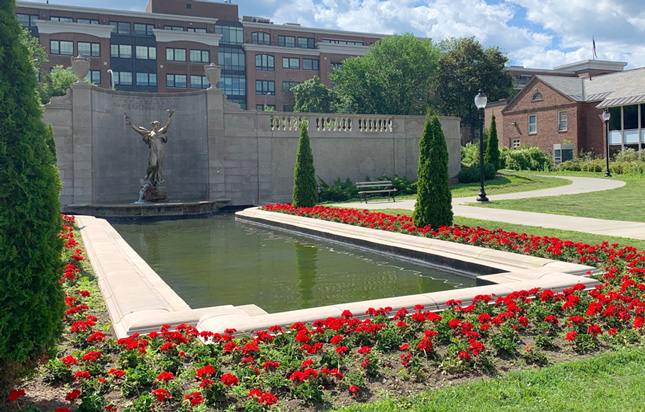 Congress Park
If you prefer to explore open spaces, consider an itinerary that celebrates the many parks and opportunities for recreation in the area.
After you finish your Skidmore tour, stop by Burgess Café or The Spa to grab lunch to go.
You can picnic on one of the many green spaces on campus — favorites include Case Green or the lawn by Haupt Pond — or head into Skidmore's North Woods, 150 acres of easy to moderate hiking trails on the northern edge of campus. The trailhead is behind Falstaff's. Another option is the Daniels Road State Forest, close to Skidmore's baseball field and equestrian center.
One of the largest recreational resources in the area is Saratoga Spa State Park, which features a five-mile hiking trail, natural springs, historic buildings, and more.
In the heart of downtown is historic Congress Park, another beautiful place for a picnic, short walk, and sight-seeing.
For more outdoor time, head over to Saratoga Lake and grab lunch with a view at 550 Waterfront or hop into the lake itself with a kayak or paddleboard rental from the Kayak Shak.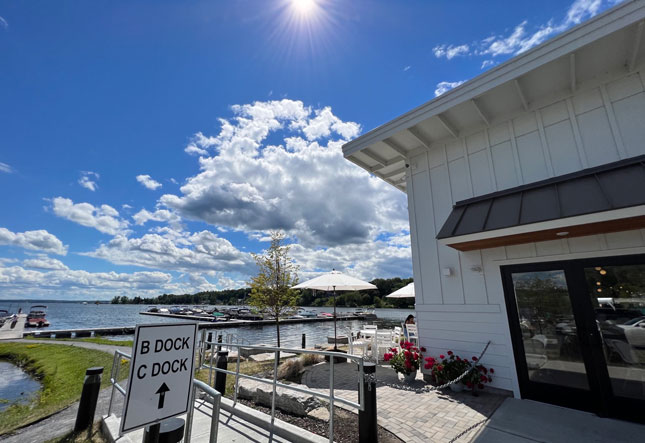 550 Waterfront Restaurant
If you prefer a relaxing outdoor experience, you may enjoy touring the gardens at the Yaddo Estate. Yaddo is a private artists' retreat that generously allows the public to enjoy its serene landscape.
After all that activity, you might be ready for ice cream, and there are plenty of choices. Among them are King Brothers Dairy, a dairy farm and ice cream stand in neighboring Schuylerville, and Dairy Haus, a seasonal spot that's close to Skidmore.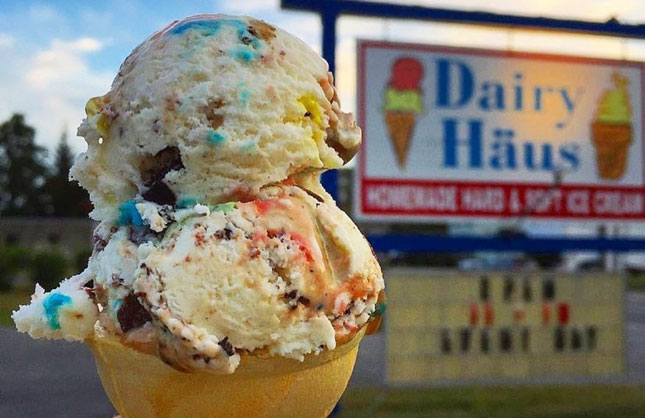 Itinerary 3: Saratoga Race Course and Saratoga Performing Arts Center
Saratoga Performing Arts Center
If you're visiting at the height of summer, you'll have the opportunity to enjoy two venues that are unique to Saratoga Springs and draw visitors from around the world: Saratoga Race Course and Saratoga Performing Arts Center.
Saratoga Race Course is the oldest continually operating sporting venue in the country and one of the most well-known thoroughbred racecourses in the world. It's open mid-July through Labor Day.
Before you head out for the day, grab an egg sandwich at Spring Street Deli or some sweets from Darling Doughnuts.
After breakfast, or with breakfast in tow, make your way down Union Avenue to find parking for your day at the races.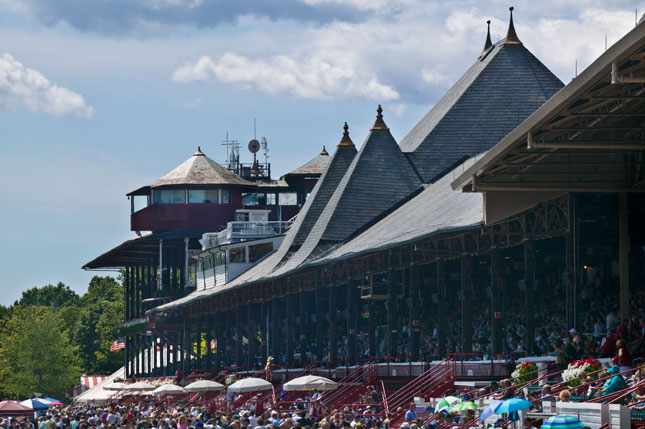 With the large selection of food vendors at the track, you won't go hungry or thirsty. Plan to enjoy the Mac Truck's macaroni and cheese, something savory from Shake Shack, or fare from one of the local restaurants — seafood from Eddie F's , for example.
If you plan to dine downtown after the races, be sure to make a reservation. Some spots that are particularly popular among Skidmore visitors include Druthers Brewing Co. and Cantina Restaurant.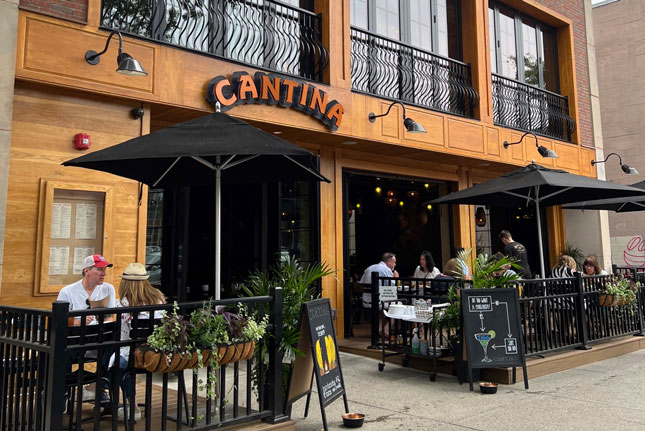 Or you may need to grab something on the run — for instance, at Five Points Market — because you're headed to Saratoga Performing Arts Center for a night of music under the stars. Open for concerts during the summer and early fall, some of its annual performers include Dave Matthews Band, Phish, and Dead and Company. Recent performers also included The Jonas Brothers, Cardi B, The Lumineers, and The Black Keys, among others.
Saratoga Springs is a beautiful, bustling small city that we're proud to call home. For more trip-planning advice or information about visiting Skidmore, visit the Admissions website.