Welcome to our home

It's a beautiful, bustling small city that The Princeton Review named a "perfect college town."
Known for the Saratoga Race Course, horses, mineral springs, and great restaurants and shopping, this exciting historical and cultural center is located minutes from Albany and is a short drive from most Northeast locations.
Travel & Leisure also says Saratoga Springs has one of "America's Greatest Main Streets" and Money Magazine rated it one of the top 100 places to live in the U.S. The Skidmore community can attest to all of this and more, but what really stands out for our students are the lifelong memories they make here.
What's college life like Here?
Five things Skidmore students love about Saratoga
Truthfully, you'll have to come and see for yourself to really feel the energy of this place. But to give you a preview, we collected some things our students have told us they love about spending their college years here.
1. Creative vibes and small-city charms
From the Revolutionary War, renowned healing springs, gilded hotels and horse racing, to the annual pilgrimage of Phish and Grateful Dead fans — our city hosts a variety of stories and passions. The result? A charming, creative community bursting with small-city charms. Ever been to a potato chip festival? Or tasted 30 different chowders in one day? Get ready. That's what Saratoga Springs is all about.

You might like: Saratoga traditions Skidmore students love
2. The right size in the right place
With approximately 30,000 residents, Saratoga Springs is big enough to bustle with activities on the weekends and small enough to ensure you always have a quiet spot to sip coffee outside a café. It's a community that's passionate about "shopping small" and as a result boasts an incredible number of unique restaurants, quaint shops, galleries and more. Feeling the big-city itch? We're only three hours from Boston, Montreal and New York City, too.
3. It's a hiking, biking, skiing haven
Consistently ranked as one of the healthiest communities in the region, "Saratogians" love getting outside and enjoying the many (25, in fact) public parks and trails within a few miles of downtown, including much-adored Congress Park, Saratoga Spa State Park and Saratoga National Historical Park. And that's just in our backyard. Let your eye wander to the horizon and you'll find some of the most stunning landscapes in the Northeast amongst the Adirondack, Berkshire and Green Mountains.
You might like: "My guide to Saratoga-area parks and trails"
4. The chance to lend a hand
Skidmore students care, just as our founder Lucy Scribner Skidmore did. Luckily, Saratoga has so many nonprofits and causes that it was only natural that we create the Office of Community Service to help students find ways to get involved. Whether it's supporting women and children, working to end homelessness, aiding senior citizens or connecting with religious communities, it's rewarding for all parties to lend a hand and give back. It's a passion that Skidmore and Saratoga residents share.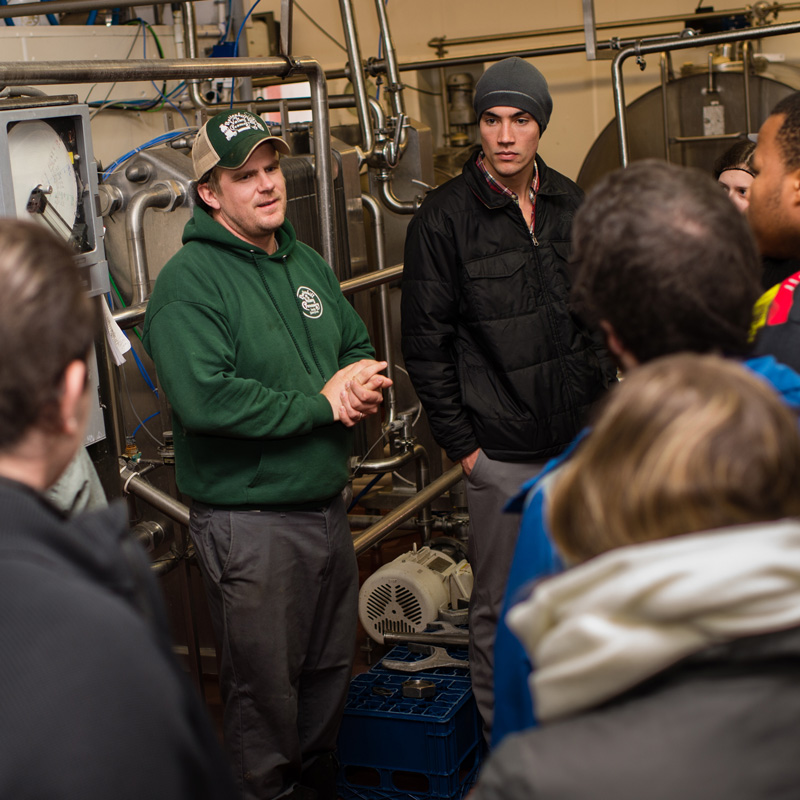 5. A strong college-city relationship
Since its founding in downtown Saratoga over a century ago, Skidmore has worked to create an environment with "no walls or gates, for we want the world to enter."

Examples include many years of successful social and economic initiatives and arts and culture programs. At any point in time, there are hundreds of Skidmore interns, and even more alumni, working here in virtually every industry — from finance and health care to tourism and environmental preservation, and on and on.

In many ways, creative thought is at the heart of this partnership.
See Saratoga yourself
Whether you come to see the fall foliage, experience the pulse of summer on Broadway, or watch pristine snow fall quietly on our small city — we'd love to show you around.