An affirming moment of joy
With appeals for social justice and charges to change the world — without forgetting to pause for moments of joy — Skidmore College conferred 589 degrees to the Class of 2022 during the College's 111th Commencement Exercises.
Family, friends, trustees, alumni, faculty, and staff gathered to celebrate at Saratoga Performing Arts Center (SPAC) on Saturday, May 21. It was the first time the ceremony was held fully in person and was open to all since the outbreak of the COVID-19 pandemic.
As recipients of 394 Bachelor of Arts and 195 Bachelor of Science degrees, members of the Class of 2022 hail from more than three dozen countries and from across the United States.
Award-winning director, playwright, and activist-in-art Moisés Kaufman and noted novelist, literary scholar, and philosopher Charles Johnson both received honorary degrees and addressed the graduates.
College leaders, Senior Class President Mark R. Alcantara '22, and faculty speaker Lisa Grady-Willis also shared words of wisdom and reflected on the historic nature of a college experience framed by a global pandemic, activism for racial justice, and other causes.


---

Nancy W. Hamilton '77, chair of the Board of Trustees, encouraged the graduates to continue to use their Skidmore education to engage and question information throughout their lifetimes while also remaining active members of the Skidmore community.
Nancy W. Hamilton '77
"Your Skidmore education is a gift and, yes, a privilege that you will use for the rest of your life. Learning never ends … This is not the end of Skidmore for you — at least I hope not. Rather, it is a new beginning. Going forward, Skidmore will not be Skidmore without you."




President Marc C. Conner said the endurance, grit, creativity, kindness, and community that the Class of 2022 stood for during a time of unprecedented challenge also represented the very principles of a liberal arts education at Skidmore.
Marc C. Conner
"Creative Thought Matters. A Community of Trust. This is what we believe, this is what we teach, and this is what you as a class embody … You have been a gift to Skidmore, and to me … I wish you joy, meaning, purpose, and love as you depart our school to change our world for the better. Thank you for all you have given us, and know that you are always, always welcome back."



In his speech, Charles Johnson, author of the National Book Award-winning novel "Middle Passage" (1990) and 25 other books, spoke of his longtime friendship with President Conner, who was his student at the University of Washington. Referring to the Founding Fathers, the writer Ralph Ellison, the philosopher Bertrand Russell, and civil rights leader Martin Luther King Jr., he encouraged graduates to defend democracy, to seek tolerance, and to continue to engage in the pursuit of knowledge that they started at Skidmore.
Charles Johnson
"If wisdom is the ultimate goal of the whole process of learning, then that process must go on for a lifetime … All together, each of you possessing what the others needed — as students and faculty — you formed a community that moved closer to enlightenment and completion. I hope that will be true in all your relationships as you move out into the world."



Moisés Kaufman, founder and artistic director of the Tectonic Theater Project and the recipient of a National Medal of Arts from President Barack Obama, spoke of his experience as a young gay and Jewish man growing up in Venezuela. Referring to Lin-Manuel Miranda's "Hamilton," he described his own journey of discovery as an individual and as a playwright. He also encouraged graduates to be present to moments of joy and to embrace fully their own identities in all that they do.
Moisés Kaufman
"If I do what I do remotely well, I must bring everything that I am into the process … So I want to invite all of you that as you think of your identity – as you think of the person you want to be with all of your complexity, all of your beauty, all of your grandiosity – you think that that is going to eventually identify who you are and the path that you are going to make for yourself in the world."



Lisa Grady-Willis, teaching professor and associate director of Skidmore's Intergroup Relations Program, who was selected by the class to speak, began her speech by singing Sweet Honey in Rock's "I'm Gon' Stand," which declares, "I will not bow down to racism … injustice … exploitation. I'm gonna stand." Calling the song "a declaration, a statement of clarity and intention, a call to action" and referring to the recent racially motivated shootings in Buffalo and other acts of violence and hate, she called for the graduates to affirm moments of celebration even as they work for social justice.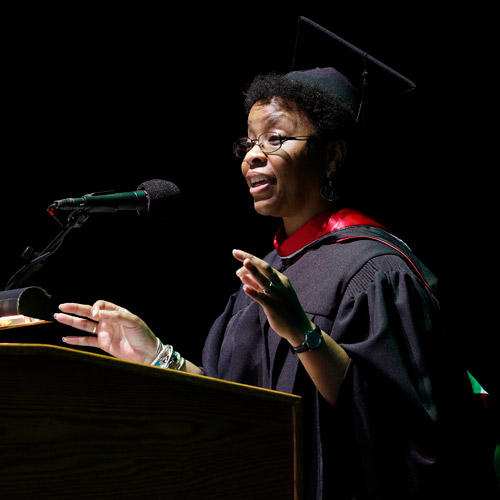 Lisa Grady-Willis
"Though it may be difficult, allow yourselves defining and affirming moments of joy, jubilation, and celebration ... You might strive to be vigilant in the fight against inequities, shed light on the horrors of injustice, be a steadfast force of change. But in the midst of it all, make time to express and experience joy."



Mark R. Alcantara '22, president of the senior class, spoke of his experiences as a first-generation college student and those of his class during a tumultuous period. His speech, loosely and jokingly following the letters of his first name – "M.A.R.K." – stressed classmates' motivation, ambition, resilience, and embrace of change as they took initiative and stood against racism, transphobia, sexism, and other social issues.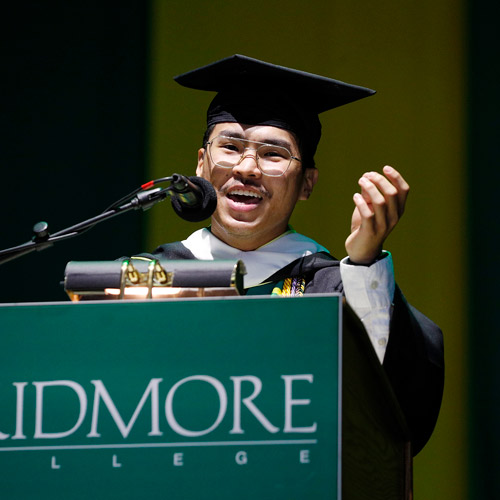 Mark R. Alcantara '22
"I want you to remember that when we first came to Skidmore, we were full of hopes and dreams. Yes, we faced difficulties, but we didn't let them stop us. And now, you're all here today. I want you to do the same thing in the next chapter of your life. Never stop dreaming, everyone. No matter how big or small your dream is, if you put your heart into it, you will achieve it."



Robert F. Resnick '88, president of the Skidmore College Alumni Association, officially welcomed the graduates as members of Skidmore's alumni community. He described the unique challenges faced by each generation of graduates and how these have strengthened alumni, created lifelong bonds, and prepared them for the next chapter of their lives.
Robert F. Resnick '88
"As Skidmore grads, you can do anything. No obstacle is too great. As Skidmore grads, you are never alone. You have an army of alumni nationwide, and even around the world, ready to help. This is what makes us Skidmore."




Graduates Austin W. Rook '22 and Katie J. Yan '22, senior gift co-chairs, also spoke about their efforts to give back to the College, presenting a gift of nearly $10,000 to support scholarships on behalf of the class. In total, 60% of this year's graduates contributed, the highest number since the start of the pandemic.

The ceremony was full of historical references as the community celebrates the centennial of Skidmore College, whose collegiate status was officially recognized on May 25, 1922. Recent retiree Mary Monigan opened the ceremony by reading a call to celebration that proclaimed: "Skidmore College is a college that has always placed special value on the bold, the daring, and the future. Yet we also honor our past."

The ceremony included traditional elements, such as processionals led by the Schenectady Pipe Band, a colorful display of stoles and cords symbolizing the graduates' many achievements, and a moving performance by Skidmore students of Skidmore's Alma Mater.

Commencement capped a series of celebrations on campus for the Class of 2022, including ceremonies hosted by the Office of Student Diversity Programs, Periclean Honors Forum, and Phi Beta Kappa.

On Friday, students and their families also participated in the Brick Dedication Ceremony for the Class of 2022 brick pathway in the heart of campus, bearing the names of each recent graduate.

The Skidmore community also participated in a naming ceremony and dedication for the new Billie Tisch Center for Integrated Sciences, named in honor of the esteemed alumna, trustee, and donor. Skidmore also held a ribbon-cutting ceremony for the new Wyckoff Center, a space underscoring the importance of diversity, equity, inclusion, and justice, named in recognition of Alicia and Bob Wyckoff, parents of Harry '22 and current chairs of the Parents Council.
A tribute
Dear Class of 2022 ... Love, Skidmore
A tribute to the members of the Class of 2022 from some of the people – Skidmore faculty and staff – who witnessed and supported their remarkable growth and success.
Watch the video
Roll call
Meet the Class of 2022
With passion, determination, honesty, and courage, the Class of 2022 has undeniably made its mark on Skidmore. Learn a little more about what these graduates accomplished and inspired.
Read the story
Honors Convocation
'A special and poignant' ceremony
For the first time since the start of the COVID-19 pandemic, the Skidmore community gathered in person, prior to Commencement, for Honors Convocation, the annual celebration of student academic excellence.
Read the story
Photo Gallery