Meet the Skidmore College Class of 2022
May 16, 2022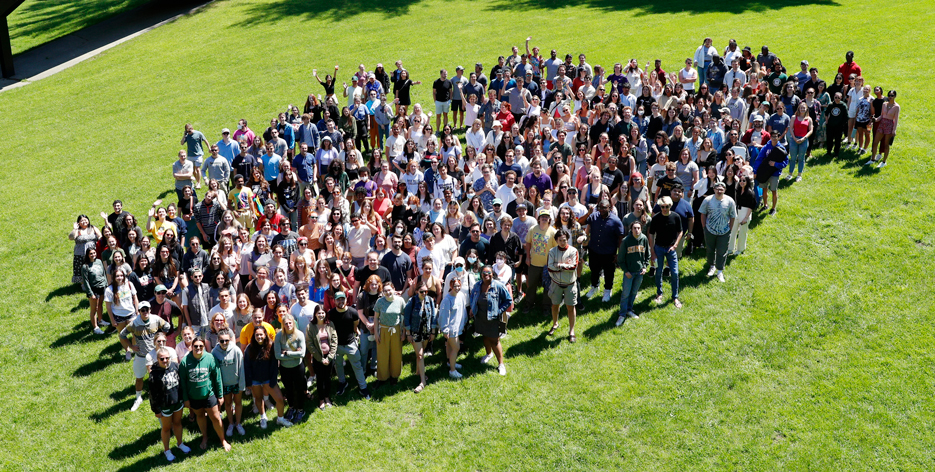 Beginning with their arrival in fall 2018, the members of the Class of 2022 have undeniably made their mark on Skidmore. And their story is one of both community pride and challenge that has included calls for support and justice.
Described by their professors and fans as passionate, determined, honest, and courageous, members of the class have shown up these past four years – for their studies (in person or on Zoom) and each other.
Of course, the Class of 2022, along with the peers they have shared the last four years with, will never forget what it was like to have their lives and college experiences upended by the COVID-19 pandemic. Members of the class have also consoled each other and spoken truth to power during moments of pain and division in our communities, this nation, and the globe.
Despite it all, they have held strong, completed their degrees, and pursued joy. They have celebrated big wins — internships, athletics, exam results — and also found small moments of tranquility and happiness — sunsets, the wave of a professor, a meaningful conversation with a friend. They have formed bonds that will last a lifetime.
As we prepare to say goodbye (for now) to the Class of 2022, we curated a few points to illustrate who this class is and what they've accomplished. But as they walk across the stage and transition from students to alumni, we know that their legacy will be defined by so much more.
589 Graduates
394 B.A. and 195 B.S. candidates
U.S. states and Puerto Rico represented
First-generation college graduates
Academics
In true multi-disciplinary fashion, the 589 graduates have collectively completed 708 majors and 348 minors. Their largest major is management and business (94), and largest minor is media and film studies (31). They have collected hundreds of awards and memberships in national honor societies, are the co-authors on published research, and have presented at numerous academic conferences.
Members of the Class of 2022 have participated in more than 50 faculty-student summer collaborative research projects, including some that were redesigned to continue remotely. Nearly 120 students took advantage of the Summer Experience Fund to pursue internships designed to broaden their horizons and support their dreams.
Nowhere did a mix of creativity and excellence manifest itself better than at the 23rd Academic Festival where students shared senior theses and projects with the Skidmore community as the culmination of their academic careers. This year's festival featured 139 seniors from disciplines across the arts, sciences, and humanities.
315
Memberships in national honor societies
4
President's Award recipients
29
Periclean Honors Forum members
25
Phi Beta Kappa members
76
Departmental honors and award recipients
4
Fulbright scholars and semi-finalists
13
Porter-Wachenheim Scholars in science and mathematics
5
Skidmore scholars in science and mathematics
6
Post-Grad Internship Award recipients
Athletics
Student-athletes faced unique challenges as the pandemic forced the cancellation of many competitions. Still, many of them say the comradery of teamwork was just as important as the competition.
In the classroom, 45 senior student-athletes earned a grade point average of 3.67 or higher, and 10 had perfect 4.0 GPAs when they were inducted in the Thoroughbred Society this spring. On the field, they contributed with their teams to some impressive accomplishments.
9
Conference championships
148
Conference academic awards
Campus Life
Fueled by the idea that Creative Thought Matters, members of the Class of 2022 have made this campus their own.
They have volunteered thousands of hours to local and national causes, addressing issues that are dear to them, including homelessness, food insecurity, healthcare, and climate action. They have launched mutual aid funds and found creative ways — from selling their own art and donating their time and skills — to support their peers in times of need.
As a class and a community, they've rallied for justice and challenged racism, transphobia, sexism, and other forms of bias and hate, all while continuing to work to build more inclusive communities and societies.
They have built businesses and led and launched new clubs and programs designed specifically to hold space and give voice to the voiceless. They wrote plays, composed music, and challenged our perceptions through sound and art. They have worked hard to protect and preserve the natural beauty of our campus and the fragile ecosystems we rely on.
As a community of individuals, every student has made a difference.
5,937
Pounds of apartment compost collected
4
President's Racial Justice Awards
29
Study-abroad countries
400,000+
D-Hall cookies consumed
2,000,000+
Hours spent on Zoom
Looking forward
Success in this moment, and for all those down the line, will mean something different to each member of the Class of 2022, as it has for decades of Skidmore College graduates. As we look forward to celebrating all our 2022 graduates in the coming months and years, several already have some exciting news to share. From graduate school to first jobs, some of the places they're headed to include:
Employment:
ADP
Aldea Cultural Santa Rosa de Lima, La Romana
AllianceBernstein
Analytic Partners
Arena Stage
Brigham and Women's Hospital
Commonwealth Care Alliance
Crisis Text Line
Crossroad Farm
CSL Consulting
Dana-Farber Cancer Institute
Deutsche Bank
Diakoniewerk Simeon
Epic Systems
EY
GoDaddy
Goldman Sachs
Grandell Rehabilitation Center
Guidepoint
HNTB Architecture
Langham Hall
Lutron Electronics
New Mexico State Rep. Roger Montoya
NBCUniversal, Page Program
Ogilvy
Skidmore College
Triumvirate Environmental
VA Boston Healthcare Systems
Wellington Management
Unique ventures:
Adventure guide
Contracting with multiple dance companies
Finishing their first EP
Launching their start-up
Producing a documentary film
Volunteering as an English language teacher
Further education:
Boston College, MSW in Clinical Social Work
Boston University, MA in Emerging Media Studies
Columbia University, Ph.D. in Physical Therapy
Duke University, Ph.D. in Physics
Harvard University, Ph.D. in Chemical Biology
Long Island University, MA in Data Analytics
New York University, MA in Music Business
Purdue University, MFA in Acting
Tufts University, MSW in Nutrition Science and Policy
University of California, Davis, Ph.D. in Political Science
University of Roehampton (London), Ph.D. in Dance Science
University of Washington, Ph.D. in Classics
Yale University, Ph.D. in Chemistry