'A special and poignant' Honors Convocation
May 17, 2022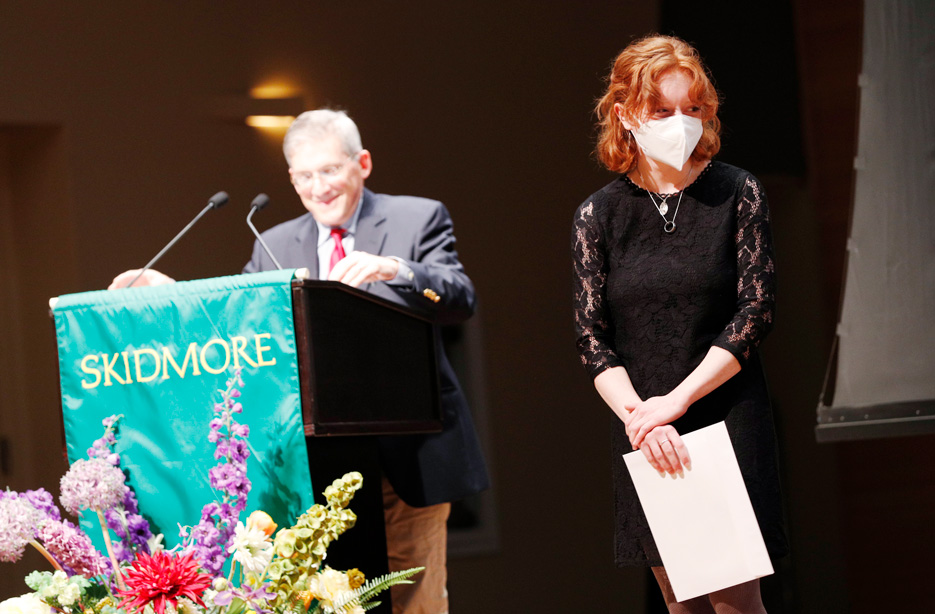 During a memorable, milestone-marking Honors Convocation on May 4 in Arthur Zankel Music Center's Helen Filene Ladd Concert Hall, the Skidmore community was able to come together, in person, for the first time since 2019 to celebrate Skidmore students' academic excellence, leadership, creativity, and service.
"Honors Convocation — the gathering of our community to celebrate the academic achievements of our most talented and creative students — stands as one of the great traditions at Skidmore College, and it is one of my favorite moments in the academic year," said Michael Arnush, associate dean for student academic affairs. "This year's Convocation is particularly thrilling because we are together again in a terrific space to honor student excellence."
The Skidmore Dynamics perform to kick off this year's Honors Convocation.
Following a performance by the Skidmore Dynamics, President Marc Conner emphasized what a true triumph the event is — not only for the honorees, but also for the faculty, staff, family, and friends who take such pride in what their students have accomplished.
"I think that at the time when we achieve the most, when we have the most intense moments of existence, it has little to do with ourselves and much to do with what we are putting ourselves in service of," Conner said. "It is many things — it is service to your classmates, service to the field, to the discipline in which you are taking such delight, and service to those things in which you most believe."
He spoke to the "remarkable foundation" that the student honorees have built for themselves at Skidmore, which will serve them well throughout their lives and in the face of difficult challenges.
"The future is bright. There is so much to which you have to look forward to, not least because you're going to make it so. You're going to brighten this world, and that, of course, is the greatest measure of a life of consequence," President Conner said. "So I thank you, and I congratulate you."
Here's a look at this year's honors, by the numbers:
20 national merit scholarship and fellowship honorees were recognized. Sixteen students were semi-finalists, nominees, or earned honorable mentions for these awards. Recent graduates Nicole Barry '21 and William Christmann '21 are the recipients of Fulbright Scholarships, Belle Finkle '23 is the recipient of a Goldwater Scholarship, and Dane Ford-Roshon '20 is the recipient of a National Science Foundation Graduate Research Fellowship.
7 department and program prizes and opportunity awards were given to a total of 11 students. These awards are given for papers, competitions, field and laboratory research, artistic projects, and other creative endeavors, and they build on close faculty-student collaborative work.
73 academic awards and prizes were bestowed. The awards and prizes are being presented across all disciplines, from economics, mathematics, arts, and the sciences to gender and religious studies, political science, and world languages, and everything in between.
25 senior class members of the National Honor Society of Phi Beta Kappa were acknowledged. The society exists to encourage and recognize outstanding achievements in liberal arts education, and Skidmore was granted a charter in 1970.
29 senior class members of the Periclean Honors Forum were acknowledged. Through honors-designated courses, planned co-curricular activities, and participation in community service, the forum strengthens intellectual life at Skidmore and provides positive leadership on and off campus.
315 memberships in national and international honor societies for specific areas of study, from the National Honor Society in Physics to the International Society in Sociology, were recognized.
Michael Arnush, associate dean for student academic affairs, delivers remarks to open the 2022 Honors Convocation ceremony.
The Skidmore community also paid special tribute to Pat Choukeir, coordinator of credit-bearing internships and project funds and the principal organizer of Honors Convocation for nearly 15 years, who died from cancer in March at the age of 57. With two of her sons and a daughter-in-law in the audience, Arnush recognized Choukeir's outstanding commitment to and deep appreciation of Skidmore's students.
"It seems only fitting that this year we honor Pat by dedicating this Honors Convocation, the celebration of fantastic students, to her," Arnush said. "Thank you, Pat, for the grace that you exhibited and making the Honors Convocation a truly distinctive and joyous event."