IGR Alumni
Alumni Facilitators:
Teshika Hatch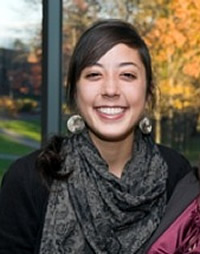 My first year of college was at times rough as I tried to engage friends in conversations around social justice issues and encourage them to think critically about their own position in society in relation to their race, class, gender or sexual orientation. I felt I didn't have the proper venue to express my frustrations with discrimination, ignorance or unrecognized privilege, so as soon as I could, I enrolled in "Race and Power" and by the next spring I was co-facilitating my own race dialogue course, focusing on multiracial identity. The experience was unbelievably powerful, and for the rest of my Skidmore career I looked for ways to stay involved with the Intergroup Relations Program.
I began working at the Office of Student Diversity Programs the same year, helping to raise awareness around social justice issues, and became a student assistant for Kristie Ford (associate professor of sociology and director of IGR), helping with research that related to the successes of the program. My senior year I wanted to give back and signed up to become the peer mentor for the Scribner Seminar course "Race in the Obama Era." Although I wasn't positive where exactly I wanted to go in life, my role as a co-facilitator during my sophomore year and then as a mentor my senior year led me to pursue education.
Currently I am an assistant director in the Skidmore Admissions Office and focus on multicultural recruitment and programming. As an admissions counselor I reach out to all students but try to focus primarily on those students who have not had the proper support, guidance or privilege in knowing how to navigate the higher-education admissions process. It was through IGR that I came to learn about the structures of institutional discrimination and now have a much better understanding of the education system and its inequities. The Intergroup Relations Program also taught me the value of effective communication and how to successfully reach out to those students who may otherwise see me as "the other." It is ultimately because of IGR that I am able to identify my own issues with my work in higher education and inspire me to look further into how I can become a better social justice advocate.
Luna Malachowski Bajak
I'm currently working for a transitional shelter in Manhattan that is designed to assist 43 women who are homeless, addicted and diagnosed with a mental illness. I work as a bilingual case manager providing direct services to a number of my own clients in hopes of empowering them and help place them into permanent supportive housing. I am particularly interested in the intersection of women's physical health and mental health.
I am also obtaining a master's in social work in the evenings. I was fortunate enough to be awarded a full scholarship by the Department of Mental Health and Hygiene. I hope to continue working within the mental health field upon graduation. I'm privileged to be working and growing from my peers, faculty, experiences and case management.
The Intergroup Relations Program exposed me to a lot of themes and/or bias (i.e structural inequality) that are central to the work I'm doing. I have the program to thank for strengthening my communication skills, self-awareness and ultimately my ongoing commitment to social justice.
Victoria Malaney
Victoria Malaney received her B.A. cum laude in English-Spanish and minored in dance and Latin American studies from Skidmore College. At Skidmore, Victoria was peer-facilitator in the Intergroup Relations Program. After college, Victoria enrolled in the national community service program, AmeriCorps VISTA (Volunteer in Service to America) in Albany, N.Y. During her first year as an AmeriCorps VISTA, she worked at Catholic Charities of the Diocese of Albany and developed a reentry mentoring program for women coming out of incarceration in Rensselaer County, N.Y.
Victoria committed to a second year of national service, fighting poverty as an AmeriCorps VISTA Leader at Siena College in the Office of Academic Community Engagement, where she served as the coordinator for training and enrichment. Victoria is a passionate social justice advocate. Currently, she is a fellow in the Office of Student Diversity Programs, where she serves as the liaison between the office and student diversity clubs, collects and organizes the institutional memory of past and present diversity initiatives, co-facilitates the multiracial student and transracial adoptee focus group and motivates all Skidmore students to be active in social justice issues. For more information about the Office of Student Diversity Programs (OSDP), please visit the website: skidmore.edu/osdp/.
Sarah Faude

As a sociology major I found that my research largely focused on conflicts across difference, and the Intergroup Relations Program provided that perfect opportunity for me to bridge my intellectual and personal interests through dialogue. My senior year, I co-facilitated the White Racial Identity Dialogue and affirmed my commitment to social justice.
After graduating from Skidmore in 2009, I moved to Philadelphia to join Teach for America and to attend the University of Pennsylvania's Graduate School of Education. I spent my past two years as a middle school language arts teacher in an Afro-centric charter school in North Philadelphia, and had the great privilege and opportunity to work directly with more than 200 students and families from all corners of the city. In all of the work I did, both academically and professionally, I know that IGR was the foundation of my success. As an intergroup relations facilitator I learned to think, question and listen in ways that profoundly affected my experience as an educator. As a classroom teacher in an urban school, I found that my IGR training gave me the strength, passion and calmness of mind to refocus me each day in order that I could give my all to my students.
After leaving a life of privilege to enter a challenged environment, I know that intergroup relations taught me how to reach across difference, listen with empathy and tirelessly work toward equity. With my students I made space in the classroom to talk about issues of identity, be they about race, gender, religion, sexuality and/or class. Through writing in particular, I worked to ensure that all of my students had the opportunity for their voices to be heard. For my master's thesis, The Skin We're In: Untapping Potential in One All Girls Classroom, I conducted practitioner inquiry to explore what happened when I challenged the power dynamic in the classroom so that we were co-teaching, co-learning and co-creating curriculum. I found that in listening to dissent, a skill I began to develop as an IGR facilitator, I was able to capitalize on the potential within my classroom to both increase the literacy and the humanity of my students. I know that my work with intergroup relations will continue to motivate the work that I do in the future.
Eric Moretti

Since graduating in the first class of 2013 intergroup relations minors, I have been employed at the Harlem Children's Zone as a student advocate and college access counselor. In this role I establish goals with a caseload of talented high school students to ensure their academic success. On any given day you can find me performing a range of tasks to help my students thrive, including representing them in school meetings, providing counseling and exposure opportunities, assisting with schoolwork and offering guidance through the college application process. Although these tasks become hectic, my IGR journey has fueled a desire within me to reverse the systemic inequalities I see within my sphere of influence and beyond.
Completing the IGR process has contributed to many triumphs in both my professional and personal lives. IGR's dialogue facilitation skills have allowed me to have many productive and thought provoking conversations about social identity and activism. PASK (passion, awareness, skills, and knowledge) is still a relevant motto that I apply to my all of my relationships in hopes of collaborating for social change.
Kali Block-Steele
The opportunities for experiences and for learning are infinite when you listen to the pulse of the world around you. As a student at Skidmore, my way to connect with the pulse of that world was through research and campus activism. I worked for Professor Ford as student research assistant in the Intergroup Relations Program for two years and stood among the first group of students to graduate with a minor in IGR. Being involved in the community and with IGR allowed me to connect deeper with my honest voice as well as taught me the balance of how to express myself in each situation, which has been immensely beneficial in my life as a graduate.
A few months after graduation I decided to pursue a different form of education, one that involves my biggest passion: travel. I organized my first solo travel exploration, a five-month trip through the U.S. and East Asia visiting family and friends around the world. I traversed the United States, crossed the majestic Pacific Ocean, became a certified yoga instructor in Vietnam, spent five weeks in Beijing, communed with former travel companions in Korea, saw friends graduate at Skidmore and then returned home ready to get clear on what I wanted to do next.
I decided to begin my own jewelry business in order to give space to my creative passions while also learning how to work for myself. I am continuing to grow my business, Muktih Creations Jewelry Design, and also work at a local arts high school as coordinator for a grant-funded extended day arts program. Most importantly, I have learned how to maintain the same passion and energy in my life at home as was so easily cultivated at Skidmore, and this has made all the difference as I build the world that calls from my dreams.