The Racial Justice Initiative
President Marc C. Conner announces the launch of the Racial Justice Initiative, a year-long series of projects that seek to address the realities of racial injustice locally, nationally and globally.
Diversity in the News
---
Skidmore's International Friendship Family Program offers international students a special way to immerse themselves in U.S. culture and allows faculty and staff to learn more about the world.

Skidmore has appointed Anita Jack-Davies and Christopher Barnes to two important diversity, equity, and inclusion (DEI) leadership positions at the College.
Diversity Events
---
Calendar Only Calendar Only : Join National Theater Institute (NTI) staff for information about the Moscow Art Theatre semester for 2022 and beyond! Here is a link to the virtual info session:…
Off-Campus Study & Exchanges
Go to Off-Campus Study and Exchanges
---
Student Clubs and Organizations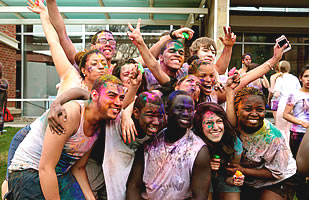 Go to Student Clubs and Organizations
---
Student Diversity Programs
Go to Student Diversity Programs
---
Intergroup Relations
---