Storytellers' Institute: 2016 Highlights
September 23, 2016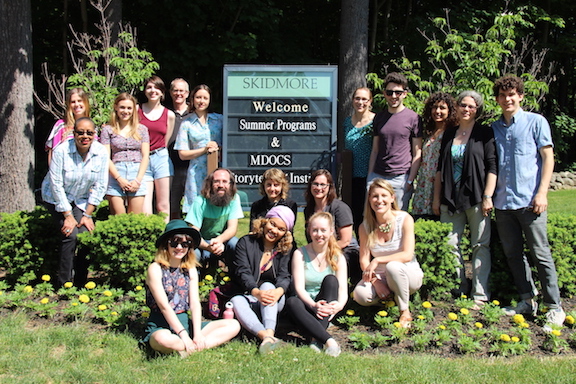 MDOCS' second Storytellers' Institute brought documentarians to campus in June 2016 to address the question of fact and fiction in documentary work through a residency for four professionals, eight Skidmore students and two faculty members, and visitors from the worlds of film, sound, photography, virtual reality, theater and curation for a
Point of Departure
(June 2),
Festosium
weekend (June 9–12) and exhibition, screenings and pop-up event at the
Spring Street Gallery
. Over five weeks, community collaborations with the Spring Street Gallery and Estamos Aquí flourished. Visiting fellows formed a tight bond with each other and with Skidmore members as Adirondack chairs in front of Sussman apartments created a front porch for all. Participants dug into favorite doc works that challenged our understanding of reality and reminded us of the importance (and often hidden) impact of how collection and curation often favors some kinds of stories over others. Storytellers built a theremin, compiled a 'zine, went behind the scenes at the race track and into the Adirondacks. They shared works in progress and held honest and helpful critique sessions led by Adam Tinkle and Nicky Tavares that often went well past the official "stop" time and into the lunch hour. And in the North Woods, members of the community came together to walk, think, reflect, grieve and seek understanding when lives were lost in moments of tragedy and violence that challenged our understanding of the world.
The national context of the summer of '16, in which some people's fact was others' fiction, also led to some tough and inspiring conversations about doing documentary work that covers other peoples' worlds and communities. Engagement with the world off campus brought repeated reminders that disparities and inequities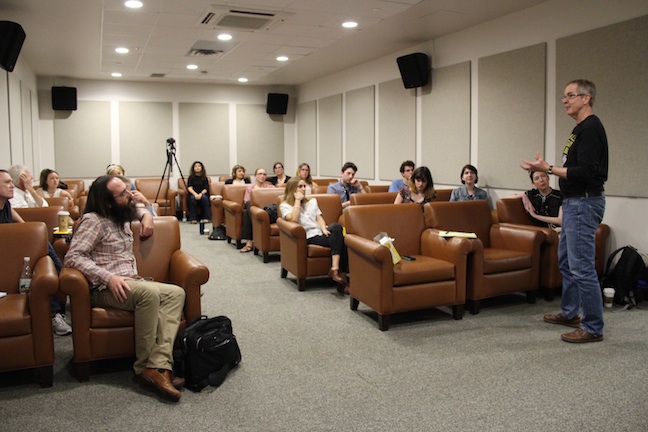 Initial Conversations
based on race, gender, class and other markers of "difference" continue to play an outsized and often corrosive role in the United States and world as well as closer to home.
In other words, the institute supported young and established documentarians working through and developing stories that matter. In their own words:
Festosium
Ann Heppermann has worked with countless public radio programs, including This American Life and RadioLab. Martin Johnson has worked for a number of years as an investigative reporter in Sweden. After years of work in nonfiction audio storytelling, and with a desire to push the radio genre forward, Heppermann and Johnson created Serendipity and the Sarah Lawrence College International Audio Awards to showcase great fictional audio stories.
"Why fiction audio stories? What makes them important? While elements of fiction writing may be fabricated—characters, their names and experiences, places—those elements can get at deeper truths just the way nonfiction writing can, sometimes fiction stories can get at these truths better than factual narratives can."
—Dan Plumer '16, on Ann Heppermann and Martin Johnson's presentation "The Truth that Fiction Can (and Cannot) Reveal"
| | |
| --- | --- |
| | |
| Ann Heppermann and Martin Johnson | Stephanie Spray and Emma Rose Foley '16 |

When it comes to her work, Stephanie Spray is clear that she values the process over the product. Speaking about her background in religious studies and eventual expansion into anthropology and media work, she explains, "I was more interested in the mess, the grit of life that couldn't be contained." While the structural technique had been set up from the beginning of filming Manakamana, the editing worked to enhance potential feelings of anxiety and discomfort. Spray was interested in exploring these reactions that often come when audiences are left waiting without an explanation. Manakamana worked to inhabit the "negative space that allows for multiple interpretations." While Spray admits that she doesn't worry about who her audience is (clarifying that this does not mean she doesn't care) the viewing experience is undeniably part of the equation. Spray creates the opportunity for audiences to reflect, stating that "discomfort can be a productive space." Perhaps part of this discomfort is the array of potential interpretations, interpretations that Spray admits she has no control over once the film is out in the world.
—mma Foley on Stephanie Spray's screening of Manakamana
With VR becoming the new futuristic form of entertainment, there is so much speculation of how VR will change our lives, whether through entertainment or education. VR "changes the way you tell a story, and that's not the case for every new technology," says Loic. Both Marc and Loic see virtual reality as a new way to tell a story, but will not necessarily replace or change any old forms of documentary or entertainment. The Unknown Photographer opens up so many questions to what we can consider documentary by using the new platform of VR, but also by being a completely fictionalized story. The photographs shown in the virtual space is the only thing we could consider a factual documentation of this unknown photographer, the rest is fictionalized through the creation of the virtual space and the script of perspective on war. Through creating such a unique experience we are left questioning what makes a documentary a documentary.
—Colleen Craven on Turbulent's The Unknown Photographer
It is difficult for me to quantify all that I learned this summer from the Storytellers' Institute. One lesson that is now permanently imprinted upon my artistic process is that I must not only be open to change but also somewhat detached. Our work is our baby and we must allow our baby room to grow, room to wander freely, room to completely transform in order to reach its highest potential.
I spent two semesters at Skidmore working on my film about IGR. I filmed five interviews, reenactments and b-roll and consequently believed I was fully prepared for the Storytellers' Institute. But about three weeks into the program, with the guidance and encouragement of the Institute fellows and Skidmore professors, I let go of my past vision and to my own surprise I did not care.
This new direction felt right. I had a new surge of inspiration and in just one week my documentary changed from a film to an audio diary. Using only recordings of my weekly assigned essays from the dialogue course, the sonic journey now allows viewers to enter my mind and my IGR experience so viewers themselves must only listen thus embodying one of the most important aspects of the dialogue course.
I am now currently working on the second chapter of the piece, which will depict my classmate's dialogue experience. I am looking forward to presenting my final project by the end of this semester at Skidmore and am hoping to show my piece at national IGR conferences, high schools and colleges, and social justice conferences to promote the importance of honest dialogue and self-reflection in the steps towards change.
—Emily Rizzo on her IGR documentary audio diary
Spray and Jeff Daniel Silva

Fellow Aggie Ebrahimi Bazaz tries

Turbulent's The Unknown Photographer

Festosium reception
Adam Tinkle leads student workshop
Brainstorming
Institute picnic lunch
Spring Street Gallery exhibitors
My favorite doc: photo books
LIB 113, home base